First Baptist Church Flora Group Makes First Fuge Visit at Mississippi College
---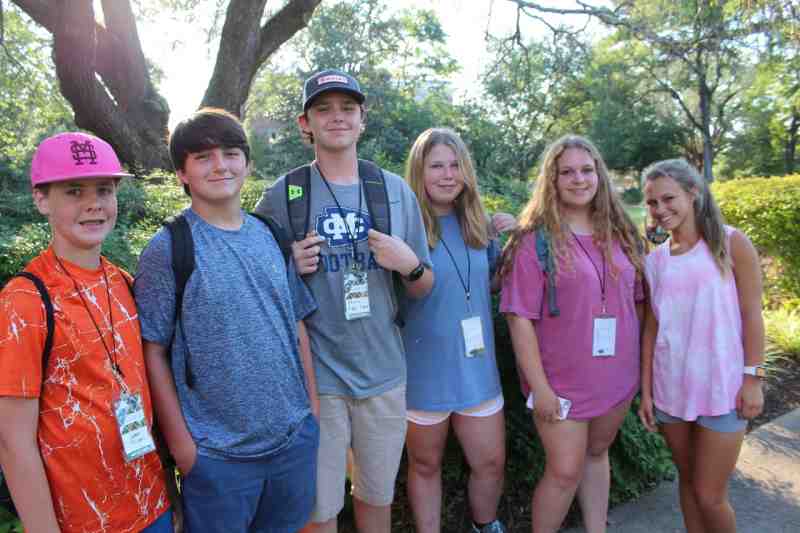 First Baptist Church Flora campers pictured at Fuge Camp at Mississippi College included (left to right): Colton Ross, Michael Broadwater, Shaw Lancaster, Lauren Costello, Riley Chandler and Alissa Burgess. The students are pictured on June 8 prior to attending a worship service at Swor Auditorium.
Dwayne Parker fondly remembers his Mississippi College experience as a student more than two decades ago.
"I absolutely enjoyed being at MC," Parker says. "I made lifelong friends."
Fast forward to June 2018. A 1996 MC social work graduate, Parker returned to his alma mater to lead kids from First Baptist Church Flora at the Christian university's Fuge camp. At the Madison County church, he serves as associate pastor of youth, education and missions.
Five days of Bible study, worship services, fellowship time, games, living in residence halls and meals in the school cafeteria are all jammed into their Fuge camp schedule. Twenty-six students in grades 7 through 9 made the trip.
Parker led Flora students to Fuge camps in Mobile, Alabama, and Nashville, Tennessee in previous years. But the opportunity for the Laurel native to be part of the marathon of activities proved extra special.
"It's awesome to be back on campus," Parker says. Five adults tagged along to help the 45-year-old graduate of Southwestern Seminary in Fort Worth. There was little time for anyone to rest. "It's been a full week."
The Flora students enjoyed serving in missions and ministries around metro Jackson. The visitors worked with inner city youth at a Jackson church and at a Crystal Springs apartment complex. Conducting Bible games with Mississippi children was a favorite assignment. Back on the Clinton campus, the teens loved every minute of the praise and worship band at Swor Auditorium.
There's a good chance Parker and his group will return to Fuge camp at Mississippi College next summer to draw closer to God. "I love this opportunity for my kids so close to home."
Students like Colton Ross of Germantown Middle School, and Michael Broadwater, Shaw Lancaster, Lauren Costello, Riley Chandler and Alissa Burgess all gave their experience at MC a thumbs up.
Following camp, Parker met with students at the Flora church Wednesday night to discuss lessons learned at the Baptist-affiliated university.
Life at Fuge camp was a blessing for visitors from Ebenezer Baptist Church in Bassfield, Mississippi. The church sits near the Jefferson Davis-Marion County line 10 miles from Columbia. Youth leader Chris Aultman and his wife, Tamatha, kept tabs on four teens from their 75-member church. They are: Jasmine Bennett, 15, Trisdon Broom, 16, Joanna Walden, 17, and Jonathan Simms, 15. Creative painting time, table games and worship, it was all good, the teenagers say.
Some Mississippi church-goers didn't go far to reach the Clinton campus. But that was different for visitors across state lines. Some Fuge campers traveled from Baptist churches as far away as Savannah, Georgia and Murray, Kentucky. It was starting to get hot in Central Mississippi the afternoon of June 13. Teens from Lighthouse Baptist Church in Arkansas cooled off with blue flavored cups of ice and sipped Cokes.
More than 5,000 kids from across the South and other parts of the nation will visit Mississippi College before the two-month summer camp season ends in July.