Alumni Spotlight: Mississippi College Grad Stakes Circuitous Claim to Big Sky Country's Soulful Riches
---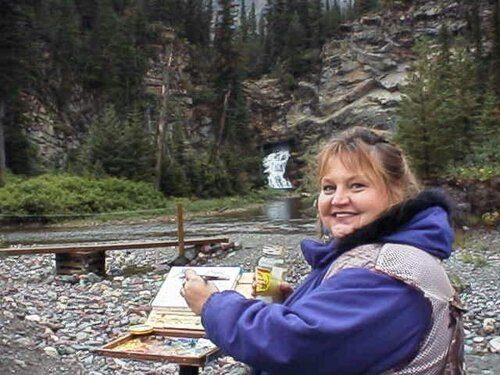 Half a century after her first visit to Montana, MC graduate BR Walker is finally able to call "Big Sky Country" her home.
Who would have expected the Mississippi College student who sang and danced as Lucy in "You're a Good Man Charlie Brown" to have a successful career in marketing, research, and strategic planning?
Billie Ruth Blalock (BR to all) first heard of Mississippi College while in junior high school, visiting her family in Moorhead. She met a trio of young Christian men who attended MC. George Fields ('69}, David L. Sellers ('67), and Buddy Wagner ('69) were all students leading "Youth Week."
"These guys gave their testimonies and encouraged me to attend MC," Blalock said. "I was star-struck. It was a done deal."
A family tragedy changed Blalock's plans to go straight to the Christian University. Her freshman year was spent at Mississippi Delta Junior College in Moorhead in 1971. When planning for the summer break, the BSU director suggested Pioneer Missions as an alternative to going home for the summer.
The Southern Baptist program sent students to Montana to conduct vacation bible schools and youth meetings in tiny towns without churches. The experience made Blalock more dependent upon prayer.
"That plane landed, and we were on our own," she said. "I had not been anywhere that far away from home. It was my first experience learning to depend completely upon God for every need. It was a faith builder."
She spent 10 weeks traveling throughout "Big Sky Country" – from Belfry to Hungry Horse – sharing the Gospel with young people there. During that time, the blue sky and mountains were creating a deep attachment for Montana in her that would never go away.
"We take faith for granted in the South that we have this spiritual heritage, but there are people in this country who do not," she said. "Spending time in Montana helped me believe I was created with a purpose. That it was a Godly calling – a lifetime calling."
Returning from Montana, Blalock enrolled at MC as an art major with the goal of teaching art. It was then that she received career-changing advice from her advisor, the "Founding Father of the MC Art Department."
"Sam Gore told me there were other professions," Blalock said. "Obviously, he thought I should find one."
The advice jolted her. After tears and regaining her resolve, she changed her major, but continued to study at MC.
"I became a communication major," Blalock said. "At that time, I could not hold my head up and speak. I trembled. I had mixed feelings about Dr. Gore for a while, but I came to realize the reason he was in my life.
"He was such an outstanding artist, and he had such a tremendous testimony. Understanding took time, but I came to realize why I had reached a block. It was not Dr. Gore – it was God's block. God knew what was best for me."
Blalock changed her major again to education and communication, which eventually became the foundation of a successful career. She earned both her B.S. and her Master's in Education at MC.
Her first working position was at MC before joining the Mississippi Senate and Thad Cochran's first Senatorial campaign in 1978. His successful bid led to opportunities in the Mississippi Republican Party. She became a familiar face to state and national political leaders and communicated with candidates. Blalock emerged as a key figure in Ronald Reagan's Mississippi presidential campaign.
"Politics at that time were not as pervasive as now," she said. "I found that making smarter choices with elections was important. As a strategist, you could learn more about the public will and align campaigns with what voters wanted.
"I thought that was a good reason to get into political polling."
Her political experience won Blalock a position with Dr. Verne R. Kennedy, Belhaven University president, at Marketing Research Institute. Although politics remained a major part of her responsibilities at MRI, Kennedy began to shift the firm's focus to business and banking.
"We applied the same principles of political polling to consumer markets," she said. "It was remarkably successful. We used micromarketing before it was widely available – we were developing it. Dr. Kennedy was a visionary."
Five years later, Blalock launched a research division at GodwinGroup, an established advertising and public relations agency. As vice president and director of research, she had an opportunity in the position to advance her career and develop new professional interests.
"I felt like Montana was my home, and I needed to get back," she said.
While with GodwinGroup, Blalock rediscovered her love of art. Exactly 20 years after her first trip on summer missions, the artist returned to Montana - this time, with brush in hand.
"I grabbed my friends, and we flew out there to paint," she said. "I felt as if the portal of Heaven is there. I felt at peace, and it confirmed my understanding that God is the Master Designer. Indeed, there is a divine Creator."
Periodically, Blalock would apply for positions in Montana, but found that relocation was not in the offering.
"I didn't understand why the door would never open," she said. "Now, I realized that God had a plan. We pray about things – the answer is usually a 'yes,' 'no,' or 'wait. Sometimes God responds that He can do something better than what I requested.'
"Meanwhile, I was putting together a career and building the experiences that I would need when He rewarded me with an opportunity to use them."
From GodwinGroup, Blalock accepted an offer to head up SkyTel's marketing research. Skytel, a telecommunications company, was introducing two-way texting – long before it was available on mobile telephones. In that position, she traveled nationwide, providing research for the technical development of two-way messaging and Wi-Fi, and conducting sales training.
"I remember going to companies like Microsoft and Motorola, being searched before entering Top Secret zones," she said. "The ideas we were discussing were new – but now taken for granted as every-day."
When WorldCom purchased SkyTel, Blalock managed to survive the initial crash brought on by the WorldCom accounting scandal, but eventually lost her marketing job.
"It was a personal crash," she said. "Art became my solace."
After the 1992 trip (and subsequent visits) to Montana that rekindled her love of painting, Blalock produced a substantial inventory of artwork. She opened the Blue Moose Gallery in Olde Towne Clinton, displaying her work and that of a variety of local artists.
A special guest attended the gallery's opening.
"Sam Gore was very pleased with the gallery," she said. "I had built a life separate from art, but now I had gone back to it. That was a good thing. I realized I had come full circle.
"Dr. Gore had been right in many ways."
The gallery was a stopgap measure. Blalock returned to research and grant-writing. She took a year off in 2019 and had every intention to retire. She married Tony Walker, a Clinton resident whom she had met while running the gallery. She thought Montana was in the rear-view mirror.
Unexpectedly, Blalock saw an ad for Yellowstone Wildlife Sanctuary in Red Lodge. They were seeking a grant writer. Something clicked. Why not?
Her credentials easily won her the spot. While working for the organization in Montana, she worked remotely from home in Clinton.
"I went to Red Lodge one time to meet everyone and get set up," Blalock said. "That was it. The rest of the time, I worked from home. I experienced joy from it, even though I was not onsite in Montana."
Hard work and opportunity knocked when Yellowstone Wildlife Sanctuary named Blalock its development director last spring. On May 9, she and her husband drove 1,751 miles to the sanctuary for the beginning of an adventure.
One month after their arrival, melted snow and rain combined to create what some reporters described as the "500-year flood" throughout Montana. Red Lodge was rapidly flooded, shutting down the town and surrounding areas in its wake. The Walkers felt displaced as bridges closed access to home and work.
"Fortunately, Red Lodge is resilient, and digging out from under boulders, rocks, and silt," Blalock said. "The sanctuary did not have to evacuate the 32 animals who are residents there.
"The sanctuary began 35 years ago, and is home to wildlife that are impaired and unable to return to their natural habitats. Our animals are here for lifelong care, so we are committed to them. They become ambassadors for teaching about the Greater Yellowstone Ecosystem, so the education background I received at MC is extremely helpful."
Development was a challenge following two years of the COVID-19 pandemic and the poor economy. The sanctuary depends on individuals and grants for survival. Admissions and gift shop purchases are the main sources of revenue.
The Walkers are working with the sanctuary to boost donations and admissions.
"Anyone who wants to help our animals and mission, learn more about us, or donate online can visit www.yellowstonewildlifesanctuary.org," she said. "Please give from your heart. And I am praying for your heart.
"My life is like the miracle of Jesus turning the water into wine at the wedding in Canaan. The best part was saved to the last. It is an amazing feeling after taking the time to get an education and build the career skills that were needed, I came back to Montana to serve. And there is real need here."
She said the journey to arrive in the place God prepared for her – in His time – was well worth the wait.
"I would tell students starting out today to never give up," she said. "It might not seem like it, but you are following a plan God has laid out for you. You might not be able to see the steps or understand that He is bringing you to a particular destination, but He is."
Sign-up For Our Newsletter
Get the latest news about Mississippi College delivered right to your inbox by subscribing to the Along College Street e-newsletter.