Tailgating with the Choctaws
Choctaws Fans celebrate football game day on the Quad with friends, family, and food. Plan to arrive in time for the Choctaw Walk featuring our athletes, band, cheer squad and dance teams 2.5 hours before kickoff. Remain on the Quad after the Choctaw Walk, making memories with families, alumni, faculty, staff, and students right up until game time. Please check the Choctaw Sports Instagram account for game day schedule updates.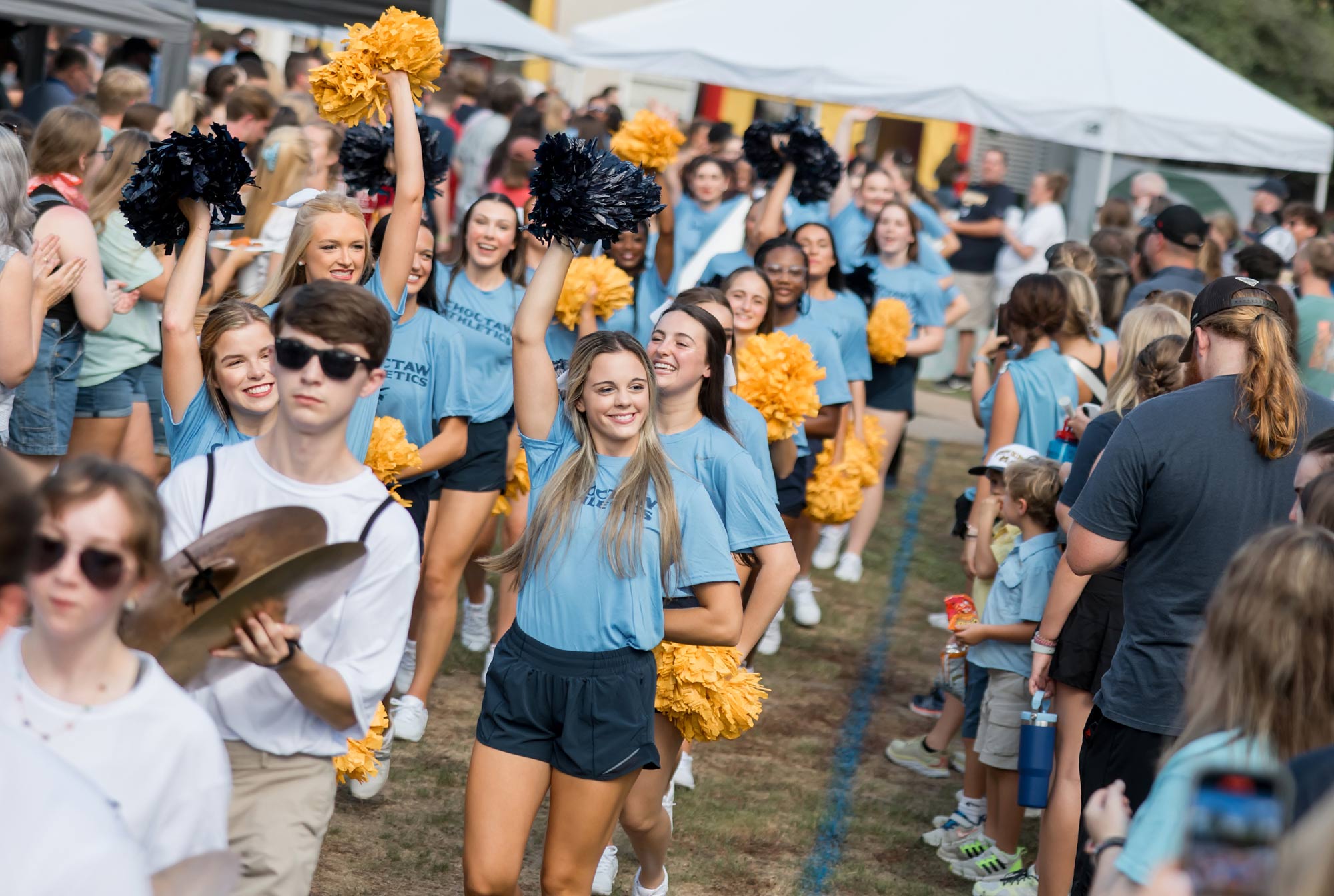 2023 Tailgate Schedule
September 16 (Family Weekend) - MC v. West Georgia
October 14 (Preview Day) - Valdosta State
October 21 (Homecoming) - Chowan
November 4 - West Florida
Tailgate setup begins on Saturday game days at 8:30 a.m. Bring your tent, decorations, food, and chairs and help us celebreate our Choctaws!
Tailgate Setup Guidelines
Tailgate spots are not assigned, but guests must register before setting up. We welcome you to bring a grill for cooking, but please remember grills must be attended at all times. If you prefer to keep it simple, you can grab a snack on campus and join any one of the MC organizations and family tents on the quad. See the map below for setup locations.
There are two tailgate supply drop off areas:
Corner of Nelson and Ratliff Drive on the west side of the quad and
Corner of McLemore and Nelson Drive behind Provine Chapel.
Fans are asked to unload quickly and exit the drop-off area to parking lots. In the interest of pedestrian safety and in order to keep traffic lanes open for emergency vehicles, guest vehicles should NOT be parked on Ratliff Drive except for drop-off during tailgate season. Please do not remove barricades for any reason and vehicles are NOT allowed on the Quad.
In case of sloppy, wet conditions on the Quad, tailgate tents will be placed on paved areas surrounding the Quad. Drop off areas remain the same.
Please note, Mississippi College is a tobacco-free and alcohol-free campus.
Third-party businesses and organizations may not pass out information or sell items without prior authorization from the Director of Student Engagement, nutt@mc.edu.
Email your questions to lbobo@mc.edu and we look forward to seeing you.