Elvis Tribute Artist Gets Rave Reviews at Mississippi College
---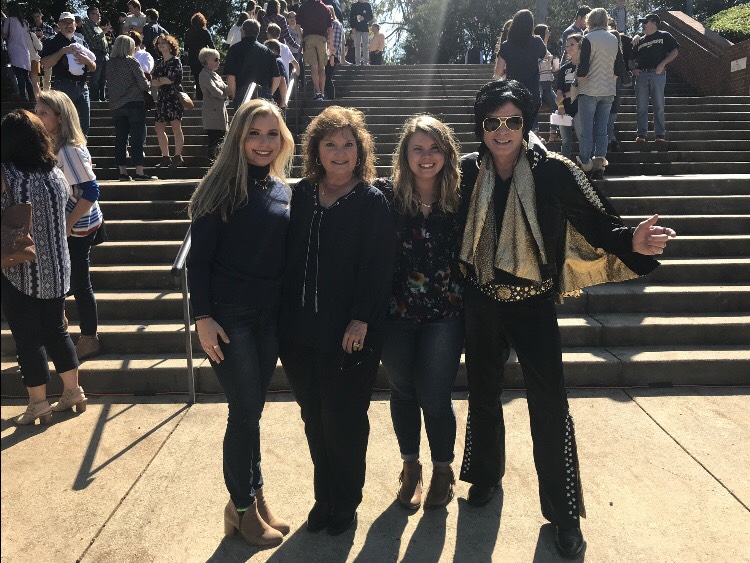 Wesley Brown and family
Elvis news rocks non-stop at Graceland. There's never enough information to satisfy millions of fans at the late singer's splendid home in Memphis or around the planet.
The Tupelo-born King of Rock n Roll received the Presidential Medal of Freedom from President Donald Trump at the White House November 16. In August, the Ultimate Elvis Tribute Artist Contest attracted 18 entertainers to Memphis from Japan, Canada, Brazil, the USA and other places.
Mississippi College's family has jumped on the bandwagon, too. This Fall, President Blake Thompson invited "Wesley Presley" to hop on a float and join him at the university's 2018 Homecoming along College Street in late October.
Better known as Wesley Brown, the Mississippian's visit to the Clinton campus happened because Dr. Thompson remains a diehard Elvis fan. A native of Rienzi in Alcorn County, the new MC leader is all in on Elvis. People cheering for the Blue & Gold also expressed their "hunk of burning love" to the Mississippi parent who resembles Elvis and sings like him, too.
Perhaps Wesley will once again leave the building and return to Mississippi College's 2019 Homecoming Parade next Fall? Don't be surprised if he's showcased again on the Clinton campus in the new year.
Wesley "Presley" wouldn't mind that one bit.
"I enjoyed participating in the Homecoming festivities at MC. It was an honor to be Dr. Thompson's guest and meet a fellow Elvis fan," Wesley Brown said. "It always amazes me to see so many people who love him and his music even though he's been dead for over 40 years."
He and Dr. Thompson are singing out of the same hymn book. "We share a mutual love for the King of Rock and Roll, and that's a special thing," Wesley said.
The Mississippi guy started singing Elvis tunes at Karaoke appearances decades ago. Since then, he's performed at birthday parties for children and adults, even one to salute a 90-year-old fan. He's entertained plenty of kids at Mississippi schools.
For his 50th birthday, Wesley and his wife, Lisa, traveled to the singer's birthplace in Tupelo and later stopped at Graceland in Memphis. He's faithfully gone to Elvis festivals and once won an impersonator contest a few years ago.
Nobody knows Wesley Presley better than his wife. She's thrilled about her husband's unusual hobby. He's impersonated Elvis since they met in 1993. Lisa helped her husband at various appearances by painting his blonde hair black.
His "career" as Elvis is off the charts in the Magnolia State.
"He has brought joy to many people by singing at various birthday parties, parades, and Valentine's Day banquets," Lisa Brown said. "He's always quite a hit with the ladies. I've always been an Elvis fan myself."
Singing classic tunes like "The Wonder of You" to "Peace in the Valley" to "Jailhouse Rock," Wesley Presley can do it all.
Away from the stage, Wesley Brown, 60, works as an equipment manager at Cooperative Energy in Hattiesburg.
His daughter, Mississippi College student Carley "Madison" Brown, helped land his MC Homecoming gig. A reporter for MC's sports media team, Madison was interviewing Dr. Thompson at his office in Nelson Hall and noticed a tiny bust of Elvis perched on his shelf. Before long, the MC president discovered Madison's Dad impersonates Elvis. The Homecoming invite soon went out. And Wesley Presley quickly won over MC Choctaws in his black and gold jump suit, while wearing dark shades.
"The feedback from the Blue and Gold family was tremendous," Madison Brown said. Off the float, her father joined MC grads for photos at the 50-Year Club reunion.
Elvis died in 1977, the year after her father graduated high school, so he never saw Presley in concert. He's made up for that, Madison noted. "We've got a huge collection of Elvis movies and memorabilia at home, as well as an endless supply of his records."
Madison Brown is part of the new generation of fans of the iconic singer born in Mississippi on January 8, 1935. Since she's gotten older, her appreciation for Elvis has grown stronger. "I'm proud of my Dad."
Her Dad's Elvis performing days are far from over, Madison Brown says, as a new year rolls around. "I think the fire was reignited after performing at the MC Homecoming. He enjoyed being back out there so much. I think he will try to find some more gigs."