Freshmen, New Student Orientation Gives 'Inside Scoop' on Life at Mississippi College
---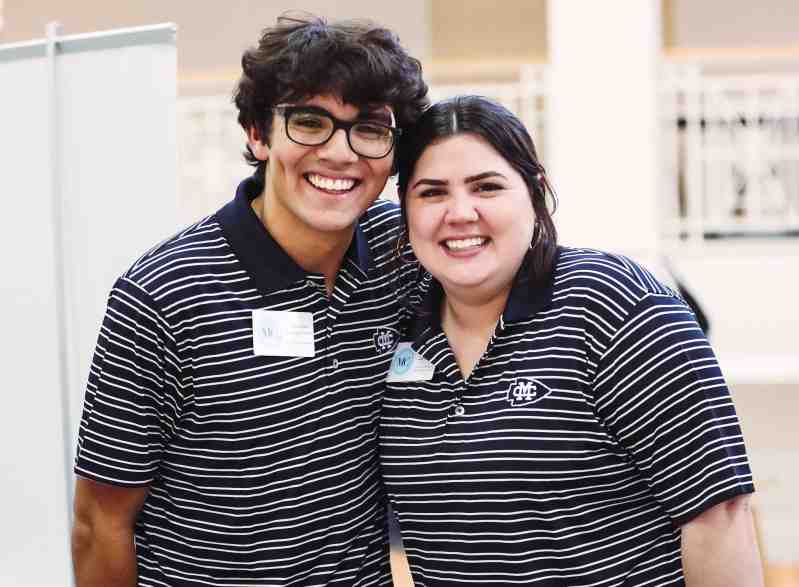 Jonathan Hestres-Rivera, student orientation director, and Kelsey Sanchez, assistant director of first-year experience, will welcome incoming students to the Mississippi College campus during three summer orientation sessions: June 2-3, June 6-7, and July 28-29.
Jonathan Hestres-Rivera was concerned that he may have made the biggest mistake of his life.
The Pensacola, Florida resident was taking the four-hour drive to Mississippi College for freshmen orientation when the reality of college life began to sink in.
"I had only been to the campus once for Preview Day, and I fell in love with MC," Hestres-Rivera said. "That was such an emotional day for me, but I was super nervous that I may have made the wrong choice of where I was to spend the next four years."
Once summer orientation at MC began, his fears were immediately assuaged.
"All the orientation leaders were jumping up, having fun, being a little crazy, and suddenly I felt at home here," he said. "I felt connected to the campus and made friends right away.
"I never regretted my decision."
Hestres-Rivera became so attuned to the culture at Mississippi College that the senior political science major now serves as an orientation director, along with another student he met during that initial orientation session – Dylan Robertson, now his roommate at MC – and Courtney Engel, a junior communications major from Birmingham, Alabama.
"I want to give an experience to students who may be on the fence like I was, or who haven't been to campus a lot," Hestres-Rivera said. "It's such a big decision that can affect their entire life, and they have to make it at only 17 years old.
"I want to make them feel comfortable about their decision and have a lot of fun along the way."
Summer orientation marks an important time of transition in the lives of incoming freshmen and transfer students at MC, and Kelsey Sanchez, assistant director of first-year experience, knows the old saying is true: "You never get a second chance to make a first impression."
"This is the first connecting point for all our incoming students," said Sanchez, who received her B.A. in English literature from MC in 2019. "It's the first chance for the students to switch from being prospective students to actual college students enrolled at MC. This is a time for them to get a perspective on what they want their MC experience to look like, and this is a time for us to show the students who we are as a community and let them know we want them to be a part of this family.
"Orientation is what solidified that MC was the place for me. It introduced me to the school that I love so well, and it's why I enjoy what I do and have this job today."
Orientation leaders will greet the students and their parents as they arrive on campus for orientation and guide them to a fun, highly energetic welcoming session, where they will hear a message from a campus administrator. The attendees will then break into small-group sessions, where they will receive all the information a new student could need, from registering for classes to becoming involved in campus organizations.
The groups will have an opportunity to participate in "Getting Connected" tours of the Clinton campus to learn about the valuable services MC offers. They will visit and interact with representatives from Student Engagement, Residence Life, Career Services, Public Safety, Counseling Center, and Christian Life.
"The breakout sessions provide an opportunity to hear from social clubs and tribes, find out what becoming a member is like, and learn what the recruitment process is," Sanchez said. "For the first time, we are also offering a session for the parents of students from out of state to meet and greet each other and form MC connections closer to home."
In the afternoon, orientation participants will reunite in the Alumni Hall Commons area for the Orientation Marketplace. Campus groups, local churches, and community representatives will sponsor tables packed with information, treats, and giveaways for attendees to browse and learn more about the myriad organizations available to new students at MC.
"The Marketplace provides an opportunity for students to make connections, so when they get to campus in the fall, they already have an idea of what organizations they would like to get involved with and what their activities are," Sanchez said.
During dinner, Camryn Johnson, a senior math major and servant leadership and educational foundation minor and MC Hall of Fame member, will address attendees and explain how the new students can make the most of their time at the Christian University. Afterwards, orientation leaders will entertain the audience with a popular, satirical theatrical performance dubbed "Inside Scoop." The program, a mix of video presentations and live-action skits, will share vital information about campus life in funny, relatable vignettes.
Day One of orientation will conclude with a late-night block party on the hill behind the B.C. Rogers Student Center. The event, based on a successful "water park in the dark" Board event last year, will consist of a giant water slide, a tie-dye station, volleyball matches, outdoor games, and fun snacks.
"We want to give the students a taste of what an event on campus looks like, and get them excited to participate in activities when they come back in a few weeks," Sanchez said. "While it's important for them to get ready for the academic demands of college life, it's just as important for them to get plugged in socially and feel involved as active members of the MC Family."
A morning worship session led by orientation leaders and other MC students kicks off Day Two, followed by the most anticipated aspect of orientation: class registration. The students and their parents will have the opportunity to meet with academic advisors, departmental leaders, and professors before selecting their first slate of classes at MC.
"The professors will give them some perspective on what will be required of them academically," Sanchez said. "The students like to have fun during orientation, but the parents care most about the information they receive. So, the instructors take time to answer all of their questions before the students come here in the fall."
MC's Summer Orientation will draw to a close with an informal farewell gathering, where the students will receive a keepsake to remind them that their university home will be awaiting them this fall.
Three orientation sessions are scheduled this summer – Thursday-Friday, June 2-3; Monday-Tuesday, June 6-7; and Thursday-Friday, July 28-29. Hestres-Rivera plans to be on hand for all of them.
"Considering what happened during my freshman orientation, not knowing anyone here yet being able to click so easily with everyone, makes me want to provide that experience for the new group of students coming in," he said. "It shows how MC can instill an interest in servant leadership. You see how something was done really well, and you want to try to make it even better.
"Meeting people who have similar interests and getting to know those you're going to be with for the next four years is special. It's an opportunity to make friendships that can last a lifetime."
Sign-up For Our Newsletter
Get the latest news about Mississippi College delivered right to your inbox by subscribing to the Along College Street e-newsletter.