GEER Grant Funds Unique MC-JSU Partnership to Improve Public Health in Mississippi
---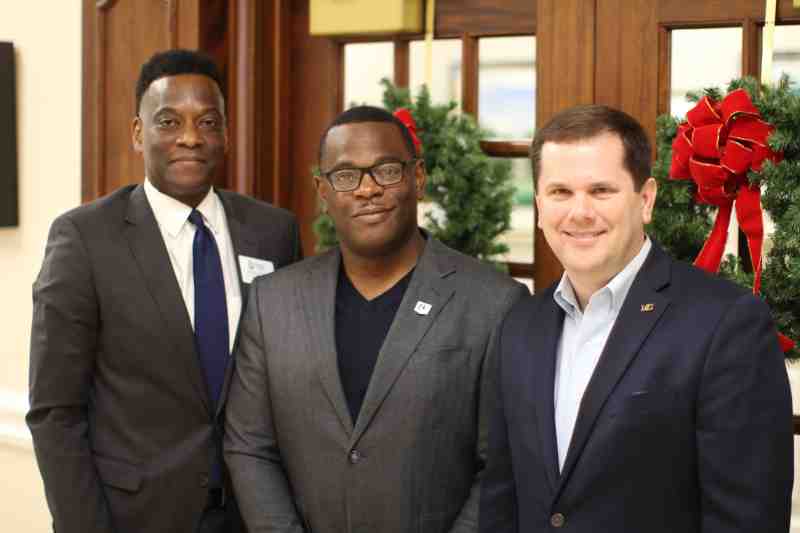 Cementing Mississippi College's partnership with Jackson State University are, from left, Dr. Keith Elder, provost and executive vice president at MC, Thomas K. Hudson, JSU president, and Dr. Blake Thompson, MC president.
In an effort to improve the state's public health infrastructure, Mississippi College has partnered with Jackson State University to obtain a $5 million Governor's Emergency Education Relief Fund (GEER) grant to fund public health programs and training at both institutions.
The three-year grant, part of the second round of GEER funding provided through the federal Coronavirus Response and Relief Supplemental Appropriations Act and administered by Gov. Tate Reeves, is the first undergraduate public health program in the state to be offered by a private academic institution.
MC is set to receive $2.25 million of the grant, including $1.5 million for support of the students in the first three years of the Bachelor of Public Health program. The program will create a new degree offered through the MC School of Nursing.
Dr. Keith Elder, provost and executive vice president at MC, said the collaboration with JSU came about because of the universities' mutual interest in meeting the needs of their fellow Mississippians.
"We met and thought through how, with the strengths of both our universities individually and collectively, we could come together to improve public health in the state of Mississippi," Elder said. "The needs of Mississippi, particularly in the area of public health, are great. By coming together, we can reach our goal of providing high quality public health training at every level throughout the state."
Dr. Brandi L. Newkirk-Turner, associate provost and professor in the College of Health Sciences at JSU, called the partnership a "wonderful opportunity" for the two schools to influence positive change in Mississippi.
"We were very interested in partnering Jackson State, an HBU (Historically Black University), and MC, a Christian private university, together in a relationship that guarantees to bring together people of different backgrounds," she said. "We thought it was a 'win-win' to accomplish the goal of collaboration while promoting appreciation for the important role of diversity in an academic environment."
The collaborative plan offers a three-pronged approach – academic, workforce, and community – to enhancing public health education throughout Mississippi.
Because the Bachelor of Public Health programs at both universities will be similar, specific resources, such as certain courses, faculty, and learning spaces like research and mobile health laboratories, can be shared between the institutions. The joint venture will help students at both institutions learn from and work with each other with the common goal of improving population health in Mississippi.
"At the undergraduate level, we want to bring together two campuses of students who might not otherwise have the opportunity to interact with and learn from each other and provide authentic learning experiences in class and through research," Newkirk-Turner said. "We are focused on designing a curriculum that responds to our changing world and meets the needs of our students, a curriculum that will best prepare them to be professionals in a state that really needs them.
"We have an opportunity to develop a dynamic curriculum that will draw students to our major."
Students who obtain their undergraduate degrees in public health from either institution and are inspired to further their education will be able to enroll in the Master of Public Health program at Jackson State, which can springboard them to a doctorate degree in the discipline, also offered at JSU.
The grant's professional initiative will provide pathways for individuals already in the public health workforce to earn their certificate or M.P.H. at Jackson State. They could then return to the workforce equipped with enhanced training to make a significant impact on public health in Mississippi.
"We also want to use our resources to train current professionals who are working in health care," Elder said. "It was important for us to provide them access to obtain bachelors and master's degrees in public health and use what they've learned to have a greater impact on public health in the state."
The third phase of the grant will equip community members with the foundational skills needed to develop and maintain an effective frontline public health presence in their respective neighborhoods. The training would offer data analytics and environmental courses to help them better understand their communities' health needs and how best to address them.
Elder said the School of Nursing at MC will provide a fitting environment for the new program.
"Nursing, in essence, is serving," he said. "This is what public health is all about. Public health is also highly collaborative and nursing will help facilitate the interprofessional foundation by working with mathematics, biology, and other disciplines throughout MC to prepare practitioners and clinicians for the workforce."
Elder said that by agreeing to fund the partnership between MC, a private institution, and JSU, the government is signaling the importance of improving public health throughout the Magnolia State.
"I think it's quite encouraging the state of Mississippi would have the confidence in Mississippi College and Jackson State to help fund training for the next generation of public health practitioners," he said. "MC has an excellent reputation in the sciences, and this aligns quite well with our University's strengths.
"Individually, we know we can accomplish a great deal, but by bringing MC and JSU together and sharing our resources, we will be able to do so much more."
Sign-up For Our Newsletter
Get the latest news about Mississippi College delivered right to your inbox by subscribing to the Along College Street e-newsletter.