Lance Barksdale Loves Umpiring at 2019 World Series
---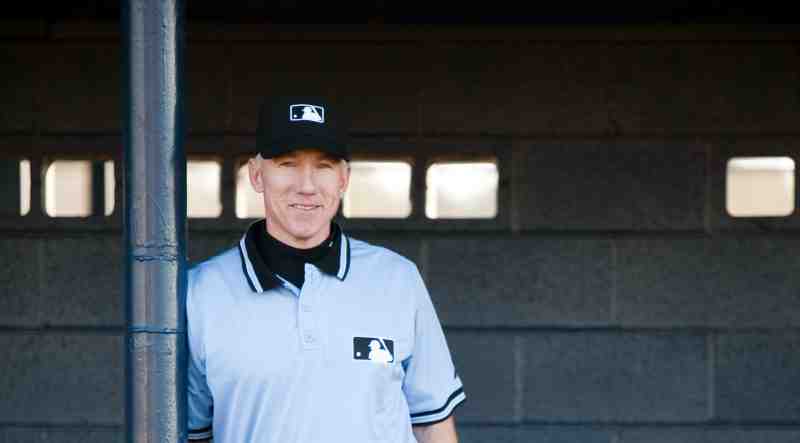 Lance Barksdale
Lance Barksdale is living the dream calling balls, strikes and foul balls at the 2019 World Series.
The Washington Nationals are up 2 games to 0 over the Houston Astros as the series heads to the nation's capital this weekend. Regardless of what baseball team gets crowned the MLB champion, the Mississippi College graduate calls them as he sees them.
His brother, Bo Barksdale, who oversees facilities for the Clinton Public School District, is a diehard Astros fan. The 59-year-old Mississippian never hesitates to tell his younger brother if the MLB umpire ever "misses" a call behind the plate. Right now, Bo is awfully proud of his brother. "This is very exciting – something he's worked for so many years. This is very special for him, truly an honor."
Lance Barksdale, 52, ranks among the premier umpires in Major League Baseball. To be selected to join the World Series umpire crew in late October, these professionals rate among the elite in their sport.
A wonderful Christian gentleman, Lance has won over the Mississippi College fan base.
MC athletic director Mike Jones leads the large contingent of Lance Barksdale admirers. "I've known Lance for a long time. His son and my grandson (Zach) grew up playing baseball together," says Jones, a former MC Choctaws baseball standout.
"It's great for a Mississippi College graduate to be representing our university in such a positive fashion," added Jones, the MC men's basketball coach. "More than anything, I'm really happy for my friend."
His high-profile status at the World Series is making his long list of admirers expand among the Blue & Gold family.
School of Education Dean Cindy Melton goes to bat for Lance Barksdale's strengths as a role model. "He is an excellent example of how so many of our MC grads are living out their faith in their professions."
While serving as an MLB umpire or referee in any sport poses major challenges and constant criticism from fans, Lance Barksdale hasn't let that stop his journey.
"He truly has a calling to his field," Melton said. "He has passionately pursued that calling and is living out his faith daily with consistency and integrity."
Lance Barksdale grew up in a Christian home in McComb. His parents, Margaret and Robert Barksdale, moved to Jackson in 1978. They are among his biggest fans. "Mom and Dad watch every game," Bo Barksdale said.
Serving as an MLB umpire is an awesome assignment for Lance, who began playing baseball as a young boy in Little League. "He always loved the game of baseball no matter what he's doing," Bo Barksdale said.
Bo Barksdale and other family members will travel to see Lance in action for games three and four as the World Series shifts to Washington. Millions more will watch the games on Fox TV. The Washington Nationals return to their hometown to host a World Series game for the first time since 1933.
Lance Barksdale is making history at his inaugural World Series. The Madison resident became a full-time MLB umpire in 2006 after working as an ump in the minor leagues.
A 1985 graduate of Forest Hill High in Jackson, Barksdale received a business degree at MC. Lance gave up playing baseball as a Choctaw, including a stint as a pitcher, after sustaining injuries.
At the top of their game, MLB umpires boast an accuracy rate of 93 percent.
Bo Barksdale shows no bias as he rates his younger brother, Lance. "He has one of the best percentages when it comes to being right." Bo rates him highly in other important aspects of his life. "He sets a wonderful Christian example."
A member of Pinelake Church in Madison, Lance Barksdale is getting rave reviews in his hometown, too. His wife, Jennifer, and their children, daughter Jordan, and son, Hayden, are the biggest fans in the family's household.
But the former Byram resident has gained all-star status at his alma mater in Clinton. MC administrator Tom Williams joins the fans congratulating Lance Barksdale. "This is an outstanding achievement. It may be harder to make it to the World Series as an umpire than as a player. He's had a great career."
Sign-up For Our Newsletter
Get the latest news about Mississippi College delivered right to your inbox by subscribing to the Along College Street e-newsletter.