MC Students Caleb Shipman and Catherine Reed Win Awards
---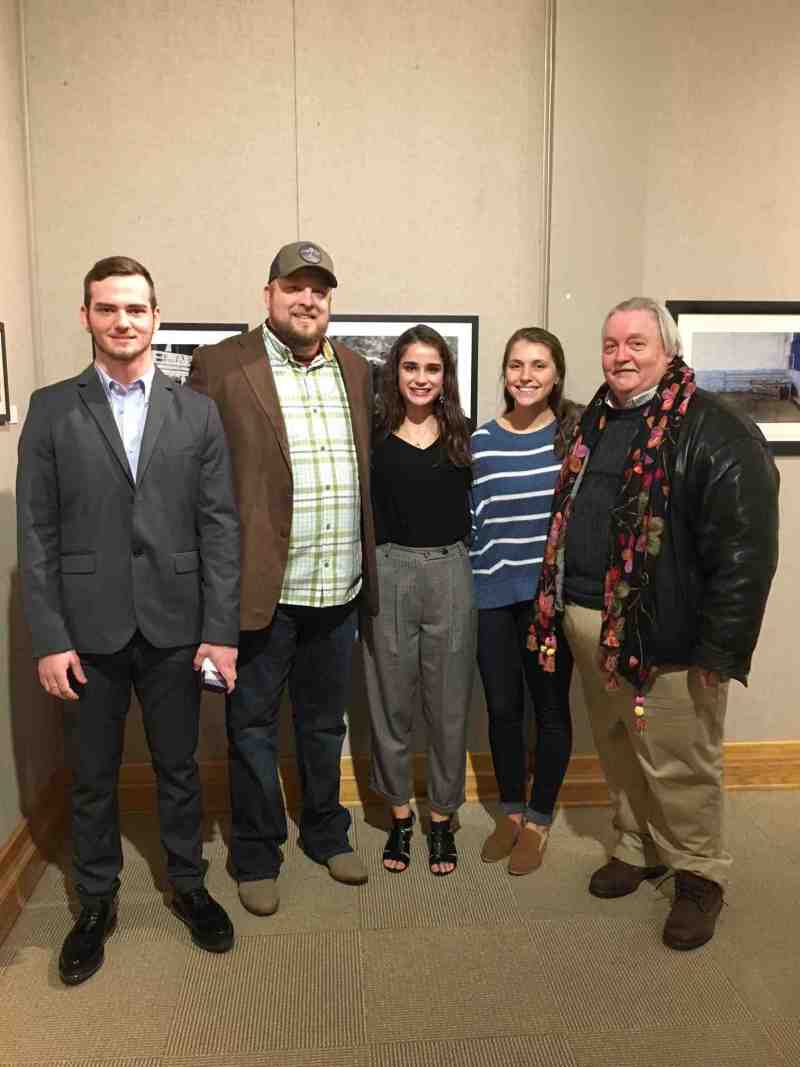 Mississippi College art students Caleb Shipman, JT Smith, Emily Dacus, Katie Robinson and Randy Jolly, director of the Gore Galleries. MC student Catherine Reed is not pictured.
Caleb Shipman's photo of a pair of shadowy figures at the Mississippi State Fair in Jackson was good enough to receive a major award.
In fact, the Mississippi College art student received the top honor for his work at a statewide contest.
"State Fair Shadows" was chosen the best in its photography category at the 69th annual Mississippi Collegiate Art Competition. The recognition came at the program's awards ceremony on January 26 at Delta State University.
Being recognized No. 1 in the competition's photography division is quite an achievement. It should also make Caleb better at his craft.
"Getting the award has made me want to keep on improving my skills as a photographer," Shipman says. "I am very happy that I won the award."
Studying graphic design, Caleb is the talented son of longtime overseas missionaries. He's also among seven players on Mississippi College's nationally ranked table tennis team.
Shipman's photo will remain on display at Delta State's Fielding Wright Art Gallery through February 21 on the Cleveland campus. Other winners will have their works on display there as well.
MC art student Catherine Reed received an award of excellence at the event. Her beautiful drawing portrays the late Rosa Parks. An American civil rights activist, Parks is best known for her pivotal role leading the Montgomery, Alabama bus boycott in 1955. Then a black Alabama seamstress, she refused to give up her bus seat to a white man. Parks died in Detroit in 2005.
There were 900 entries submitted by college students in various categories in the statewide contest.
Catherine Reed, Caleb Shipman, JT Smith, Katie Robinson and Emily Dacus were the five Mississippi College students submitting entries.
"We are very proud of all our students who entered and those who got in the show and placed," said Randy Jolly, director of MC's Gore Galleries. "These students are to be congratulated for their talents and diligence in pursuing the high talents that God endowed them with."
Of the 900 entries turned in each year, the list is narrowed to about 100 chosen for the show. The competition is open to all art students from four-year colleges across the Magnolia State. Jenny K. Hager, a sculpture professor at the University of North Florida, served as the juror selecting this year's award winners.
Sign-up For Our Newsletter
Get the latest news about Mississippi College delivered right to your inbox by subscribing to the Along College Street e-newsletter.