Mississippi College Blood Donors Fuel Up, Answer Call for March MBS Drive on Campus
---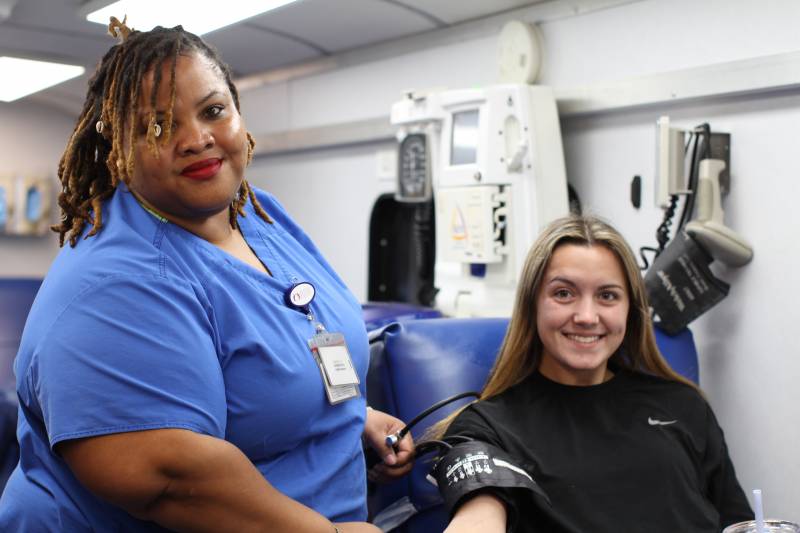 Corey Knox, MBS donor specialist, draws blood from Clara Ann Yeates during the January MBS Blood Drive at Mississippi College.
Clara Ann Yeates recently discovered that even when things don't go exactly as planned, it's still possible to make a difference in other people's lives.
Donating blood is one example.
"My Mom has always given blood – she has high blood pressure – and I've always done so because of her," said Yeates, a sophomore exercise science major from Yazoo City. "One of my 'love languages' is acts of service. Donating blood is a good cause. It makes me feel good about myself."
While giving blood during the Mississippi Blood Services drive at Mississippi College in January, Yeates noticed something was amiss.
"I got light-headed and dizzy," said Yeates, who has donated blood on several occasions. "I'd never experienced that before."
MBS donor specialists quickly sprang into action. They placed ice packs on her neck and stomach and gave her ginger ale to drink. In a matter of minutes, she felt fine and could proceed with the donation.
"The donor specialists were helpful – they noticed I was having an issue before I even realized it," she said. "They got me feeling better right away."
According to the American Red Cross, a very small percentage of donors may feel faint during or after blood donations. To minimize this experience, MBS suggests donors eat within four hours of their appointment and drink plenty of fluids before and after giving blood.
Her rare experience hasn't put Yeates off donating – in fact, she recommends everyone participate in the upcoming MBS spring blood drive at Mississippi College, scheduled from 11 a.m.-5 p.m. Wednesday-Thursday, March 29-30, in the MBS donor coach parked between the B.C. Rogers Student Center and Provine Chapel on the Clinton campus.
"Giving blood does a lot for people you don't see, and it can save people's lives," she said.
Tammy Bouchillon, MBS senior marketing representative, said her organization can count on Mississippi College donors to do their part to contribute to the state's supply of blood.
The January drive netted 40 donations, raising MC's total contribution for the Academic Year 2022-23 to 186 units of blood. In appreciation for the University's contributions, MBS recently presented Shari Barnes, director of MC's Community Service Center, with an award naming Mississippi College No. 3 among the state's top colleges – public or private – for blood donations in 2022.
"MC has done a great job of getting the word out and getting donors in," Bouchillon said. "The blood collected (during the MBS on-campus drive) is shipped to a local hospital within a couple of days for transfusion.
"Every two seconds, a blood transfusion occurs. We have to be vigilant to keep the blood coming in for the next patient. No matter what type you are, someone needs that type."
Everyone who donates at MC March 29-30 will receive a $10 Chick-fil-A gift card and a Mississippi Blood Services T-shirt. Valid photo identification is required to donate, and participants must weigh at least 110 pounds.
Individuals who donated whole blood during the January blood drive at MC are eligible to donate again.
Participants are encouraged to make appointments online to avoid overcrowding during donations. Donors without online appointments will be accepted as soon as openings become available, but may be subject to longer wait times.
"Having appointments makes the drive more efficient and more pleasant for everyone," Bouchillon said.
To shorten the donation time, Bouchillon suggests donors complete a confidential Donor History Questionnaire online on the day of donation – not before. The questionnaire is easily accessible from all mobile devices. To register to donate March 29, click here; to register to donate March 30, click here.
MC students can receive community service hours for participating in the drive. For more information, email Barnes at sbarnes@mc.edu.
For more information on how your organization or club can host an MBS blood drive, call Bouchillon at 601.573.4181 or email her at tbouchillon@msblood.com.
Sign-up For Our Newsletter
Get the latest news about Mississippi College delivered right to your inbox by subscribing to the Along College Street e-newsletter.