Mississippi College Leaders Visit Engineer Research and Development Center
---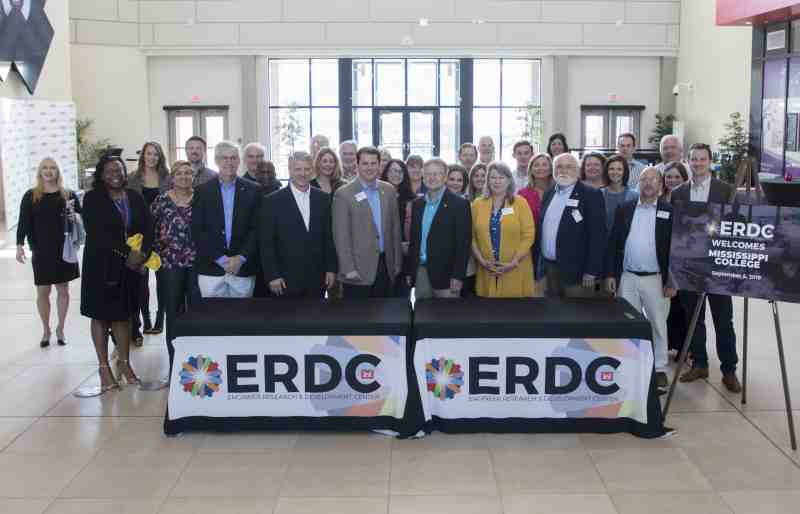 President Blake Thompson and other MC leaders visited the ERDC in Vicksburg on September 4.
Mississippi College leaders felt right at home during their visit to one of the world's premier engineering and research facilities.
Located less than 35 miles from the Clinton campus, the Engineer Research and Development Center in Vicksburg employs more than 60 MC graduates. And the outlook appears promising that more MC alums will join them in the future.
President Blake Thompson, MC Mathematics Department Chair John Travis and others toured the research center's operations on September 4.
It's one of several ways that Mississippi College and the research center will be linked for years to come. In July, leaders of both institutions signed an agreement to establish their innovative partnership. The high-tech lab featuring the world's fastest supercomputers is now connected to the Blue & Gold family.
Key components of the agreement will encourage employees at the center to earn graduate degrees in mathematics and other academic fields at MC. Faculty and staff would be involved in defense lab projects. MC students will discover doors are open to internships. And their employment opportunities will be enhanced at the federal facility in Warren County. The center remains a key part of the U.S. Army Corps of Engineers.
In the Mississippi River Port City, Travis was thrilled to attend the initial session at the world-class research center.
"The meeting was valuable in exploring ways that ERDC and Mississippi College can exploit our new relationship," Travis said. "MC continues to look forward to implementing specifics that will foster this relationship as we seek to serve as the ERDC home institution."
Along with Dr. Thompson, computer science professors Missy and Glenn Wiggins, Travis met dozens of MC alums on the job. "Hearing their reports on the effective work they do in each lab was illuminating and gratifying at the same time."
Many of the 60-plus MC graduates at the facility are employed in scientific positions. The alums hold degrees in disciplines like chemistry, biology, mathematics and computer science. Others at the facility work in support roles, with MC diplomas in accounting, the MBA and law.
One of the division leaders serving at the Engineer Research and Development Center is Jerry Ballard. He earned his bachelor's degree at Mississippi College in mathematics and computer science. He received his master's in mathematics at the Christian university. His wife and son are MC graduates, and his daughter is a junior on the Clinton campus.
ERDC director David W. Pittman leads the premier team of engineers, scientists, physicists, mathematicians, technicians and support personnel. They are taking on extremely complex assignments. The employees, he said, are committed to "solving the toughest challenges faced by our nation and military today." Their work to assist USA soldiers ranges from military to humanitarian missions.
ERDC's seven labs nationwide operate with 2,100 federal employees and contractors with an annual research budget topping $1 billion. Outside Mississippi, the agency's labs are located in Virginia, Illinois and New Hampshire.
Dr. Thompson, Travis, Wiggins and others were pleased to get the warm welcome on Thursday. The Mississippi College delegation thanked ERDC leaders for serving as gracious hosts in Vicksburg.
Sign-up For Our Newsletter
Get the latest news about Mississippi College delivered right to your inbox by subscribing to the Along College Street e-newsletter.