Mississippi College Students Getting Offers at Jobs Fair
---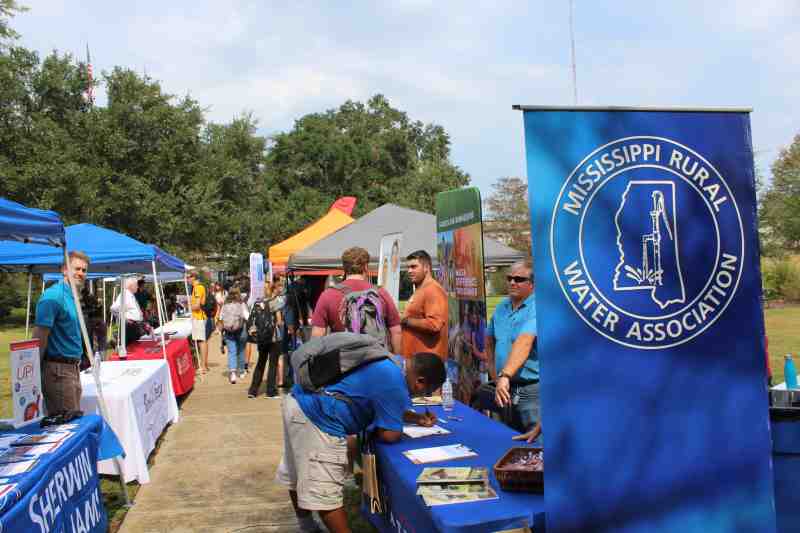 Mississippi College students visited with 23 employers at the part-time jobs fair on Oct. 3. Sponsored by the Office of Career Services.
Amid sizzling summer-like temperatures, MC students got connected with area employers at a part-time jobs fair.
On the Quad, recruiters made their pitches Thursday to students sizing up a plethora of opportunities. The visitors came from 23 companies, a record number for a part-time jobs fair on the Clinton campus.
"Everybody needs nurses," says Lauren Faulk, a registered nurse and recruiter with the University of Mississippi Medical Center in Jackson. "Careers with real benefits" was the message on her promotional materials.
The MC Office of Career Services sponsors the Fall part-time jobs fair to get Central Mississippi employers to network with students. The ninety-minute fair wrapped up at 1 p.m. as temperatures in the Magnolia State soared to the mid-90s.
Students appreciated the effort. "MC actively works to help students prepare for the real world, and today was a good example of it," said senior Abigail Cole. The public relations major is a resident of St. Hedwig, Texas.
Making their first trip to Mississippi College on October 3, Rick Pure and Devonte Lee got their message across with a stack of literature on their table. Their Nike store in Pearl wants to hire more students for their growing sales team.
"Between 85 and 90 percent of our staff are college students," Pure said. He could use at least 15 to 20 more students to join the Nike team at the Outlets of Mississippi mall.
Located at 200 Bass Pro Drive, Outlets of Mississippi is the state's largest outlet shopping destination.
Recruiters from the Morgan White Group in Ridgeland are pretty familiar with the campus. A December 2018 Mississippi College graduate, Christian Paz first got introduced to the company as an MC senior at the part-time jobs fair last Fall. Paz landed a part-time job, and now works full-time as a software developer. Another recruiter joining him was Brandon Mann, a 2009 MC grad.
The company's operations stretch across the USA including California, Florida and Pennsylvania. Other locations are in Puerto Rico and the Bahamas.
A newcomer to the MC event was Zea, a Louisiana-based restaurant due to open next month in Ridgeland's Renaissance Mall. General manager Barbara Coultas wants to hire college students as cooks, servers and other employees at the restaurant. Specializing in ribs and barbecue plates, the restaurant chain operates in such cities as New Orleans, Baton Rouge and Covington.
Taylor Ormon, associate director of the Office of Career Services, thanked the nearly two dozen employers for coming, despite the heat.
Ormon is getting ready for the university's 2020 Career Day on February 25. More than 80 employers are expected. Recruiters make the trip to Clinton from school districts, hospitals, insurance companies, government agencies, banks and other firms.
In late September, Ormon, and staff colleague Piper Walters unveiled MC's new career counseling studio. Brightly equipped with new furniture, lighting, and helpful career materials, it is the cozy to-go spot for students planning to soon enter the workforce.
Peer mentors received training during the summer to give students advice about resumes/cover letters, interviewing tips and much more.
Ormon learned of the idea by attending a conference in Orlando, Florida and turned the concept into reality. The career studio on the third floor of Nelson Hall is a hit with students. "I transformed a space that was previously used as a closet," says Ormon, an instructor at the Christian university.
The MC Office of Career Services is open from 8:30 a.m. until 4:30 p.m. Monday through Friday. Ormon encourages students to take advantage of its many services on the Clinton campus.
Sign-up For Our Newsletter
Get the latest news about Mississippi College delivered right to your inbox by subscribing to the Along College Street e-newsletter.