New Orleans Native Brings 'Big Easy' Repertoire, Unabashed Enthusiasm to MC's Band Director Post
---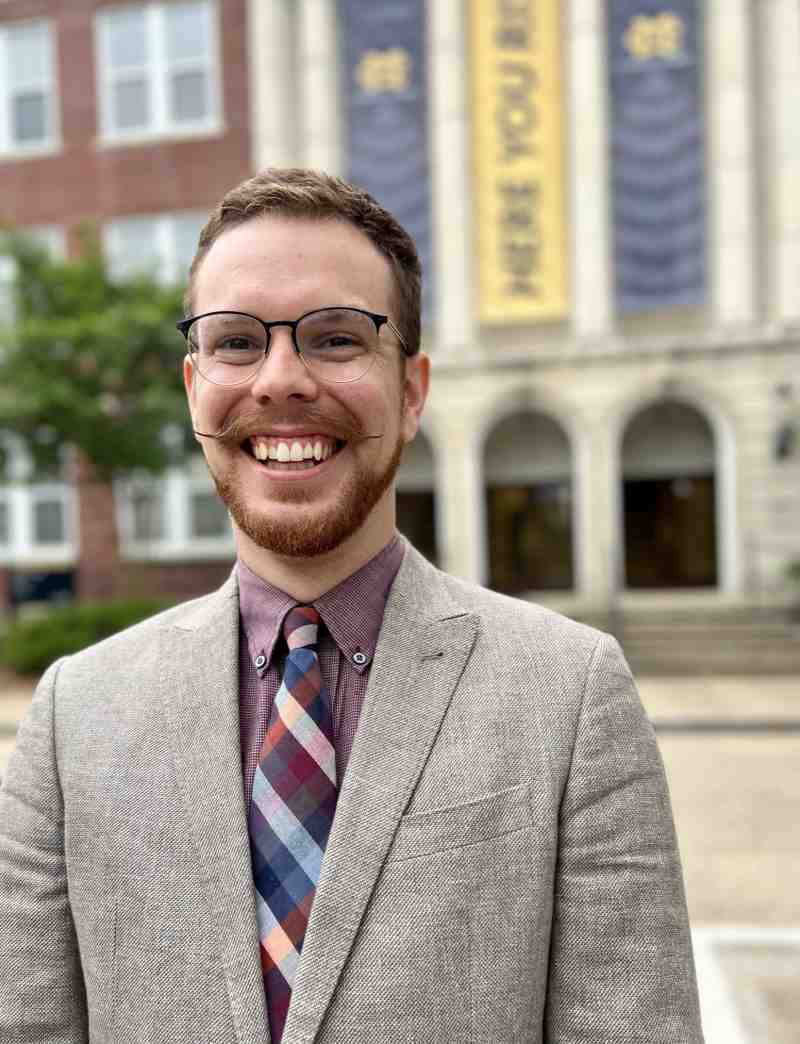 Duval Salvant, MC's new director of bands, says when a band is enjoying its performance, the audience will enjoy listening to it.
When Ben Williams, chair of the Department of Music at Mississippi College, informed members of Symphonic Winds that Duval Salvant had been selected as MC Music's new director of bands, the announcement before the classic wind ensemble's Spring concert was perceived more as a reunion than an introduction.
A native of New Orleans and a former member of Symphonic Winds himself, Salvant obtained his Bachelor of Music Education in 2018 and his Master of Educational Leadership in 2022 from MC. His younger sister, Eugenie, a four-year veteran of the ensemble, was performing in that Symphonic Winds concert. She graduated from MC last month.
"Dr. Williams wanted to make sure they got to meet me before it was officially announced during the performance," Salvant said. "When I talked to the ensemble, it wasn't like I was a complete stranger – the students knew me through my sister.
"I think they were happy to have a young, new director taking the baton."
Salvant's rich musical background, mastery of numerous instruments, and deep connection to Mississippi College drew the attention of the Department of Music faculty who were seeking a leader that could match the dynamic repertoire and unbridled energy of Dr. Craig Young, the legendary band leader who had spent more than two decades developing instrumental talent at MC.
During the leadership transition, Duncan Goff and David White restarted MC's Marching Band, while Renee Wilson served as interim director of Symphonic Winds. Williams said Salvant was the ideal candidate to lead MC's bands full-time.
"Having grown up in New Orleans, Duval Salvant has been around excellent music-making his entire life," Williams said. "He'll be no stranger to our faculty that invites students to 'join the tradition of musical excellence at Mississippi College,' as we often say.
"Much like his predecessors, his enthusiasm as an alumnus is apparent in everything he brings to campus life, and we're all excited to get him back on the field this fall with the MC Marching Band. His fun and gregarious manner of making music – while also getting down to business – will undoubtedly attract students looking for an outlet for school spirit and camaraderie."
Salvant was introduced to Mississippi College when his piano teacher – whose parents lived in Clinton – urged him to attend a summer piano camp at MC. He met Robert Knupp, professor of music, and other MC Music faculty, fell in love with the campus, and never missed a summer music camp while attending Brother Martin High School.
He had played piano since kindergarten, but his elementary music teacher also taught him how to play the French horn. Entering eighth grade at Brother Martin, he decided to join a beginner band – as a saxophone player.
"I had been playing the saxophone for less than a month when the band director said, 'We have a lot of saxophone players. Can you play a clarinet?' I said 'Sure,' and I started playing the clarinet.
"By December, the director had caught wind that I was learning the French horn on the side just for fun, so he looked at me and said, 'You're a French horn player now.' I played French horn until I graduated high school."
By then, Mississippi College had established a recruiting advantage with Salvant.
"Getting to know the Music Department faculty during the summer music camps sold me – I wanted to be part of that program one hundred percent," he said. "Because I had focused on piano, I didn't even know they had a band here."
He arrived at MC as one of five freshmen French horn players.
"There were zero tuba players in the band at the time," he said. "I asked Dr. Young if I could play the tuba. He asked if I knew how. I said, 'No, but I can figure it out.'
"He let me figure it out, and I graduated from MC as a tuba player."
And quite a tuba player, at that. Not only did Salvant perform in Austria as part of a piano recital in collaboration with a documentary of the lives and relationship of 20th century Hungarian-American classical pianist and educator Edward Kilenyi and Hungarian composer and pianist Ernst von Dohnanyl, but he was also featured as a tuba soloist as part of MC's honors recital, which included members of the Mississippi Symphonic Orchestra. Salvant was also a charter member of MC's Theta Kappa chapter of Phi Mu Alpha Sinfonia Fraternity of America.
Among his favorite performances were tours of high schools and churches as a member of Symphonic Winds and a "Kaleidoscope Concert" featuring chamber, brass, and flute ensembles.
"I remember we played a piece called 'Cave,' he said. "We struck the stage – there was nothing on it but a bass drum, and my wife, Jordan, who was the bass drummer in that piece – and every section came onto the stage at different points in the music. The lights were very dim, and we were all required to wear sunglasses.
"I convinced Dr. Young to let the tuba players walk in from the back of the auditorium and play with the audience a little bit. That was one of the most fun pieces of music that we played."
He attributes his knack for performing and his ability to play multiple instruments to his background in piano.
"Growing up in a musical setting in New Orleans, I heard instruments all of the time and understood what they're supposed to sound like," he said. "From piano, I learned how to read music. All I had to do was transfer that to a different instrument. They're all interconnected in some way."
His understanding of that "interconnectivity" of instruments is what led Salvant to pursue a career as a band director.
"Some of the best band directors take keeping up their knowledge of instruments very seriously," he said. "They continue to play different instruments whenever they can.
"At MC, we took method courses to learn how to play brass instruments, woodwinds, percussions, and strings. We had to be proficient in knowing how they work, how to play them, and how to teach them."
Upon graduation, those skills led him to Laurel, where Salvant and his wife each served as assistant band directors at different schools. The following year, the couple returned to Clinton and became head directors at other schools. Salvant spent four years as director of bands at Wesson Attendance Center.
Salvant describes what he enjoys most about being a band director is his students' "light bulb moment."
"It's when you've worked every angle you can think of to try to help every student in the classroom, and you're up there on the podium, and suddenly all the music clicks and you hear a significant difference between working the music and performing the music," he said. "There have been many moments in my career where I have to step back and bask in the glory of what just happened.
"At that time, I always ask my students, 'Did you hear that?' Most of them will answer, 'That was amazing. Can we do that again?'"
Salvant said he is looking forward to enjoying those moments at Mississippi College.
"With the Speed Scholarship, we're going to have a young band next year," he said. "It's going to be good for those students when they have that moment in a collegiate setting.
"The first step is spreading the word that we're going to put on a show. We're going to make sure that the product we put out for the public, whether it's the marching band, Symphonic Winds, the Jazz Band, and everything in between, sounds good, and we're having fun while doing it."
It's a philosophy that aligns with how Salvant was brought up.
"I was taught to always play good music," he said. "Don't make the band sit through a boring piece. When you have a band that enjoys what they're doing, you have an audience enjoying listening to what they're doing. You never want a stagnant moment in a program or a performance.
"We're going to introduce some big things this year – some new music, some different types of concerts. We want everyone to check out the band at the football games, the halftime shows, and on the Quad during tailgating. We want them to put all of the Music Department's performances on their calendars and have them come to check us out. We're going to produce good, quality music."
For more information about MC Music's ensemble options, click here.
Sign-up For Our Newsletter
Get the latest news about Mississippi College delivered right to your inbox by subscribing to the Along College Street e-newsletter.