New SGA Leader Aims to Make Government Association More Relevant to MC's Student Body
---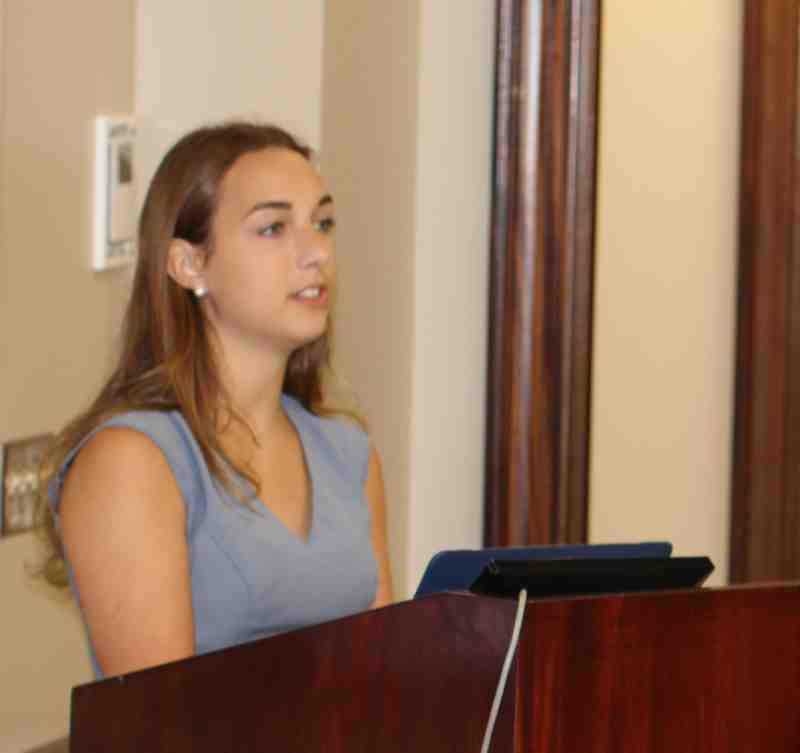 Rachel Smith, 2022-23 SGA president, addresses the Mississippi College National Alumni Board during its Convocation meeting.
Rachel Smith, 2022-23 Student Government Association president at Mississippi College, has one major goal during her tenure in office: never let a student ask what the SGA does.
Her aim for the governing body is relevancy, for students to see what the organization is doing on campus. Along with the Executive Council and her cabinet, Smith seeks to "continue to promote outreach that is going to visibly promote community" to serve best and support the student body.
Smith's plans include increasing the association's social media presence and making the SGA members easily accessible.
"We don't get responses to our work because people don't know SGA is actually doing things," Smith said.
Smith wants to focus on three areas this year: outreach, reconstruction, and community. She believes the SGA can be relevant to the MC student body by emphasizing these three areas.
"You can't have a strong hand to help others when you don't have a strong foundation and roots," Smith said.
The "roots" include members of the Executive Council, which serves as the head of the SGA. Besides Smith, the council consists of Dylan Robertson, vice president; Abby McCoy, business manager; Caleb Hall, chief justice; and Jamison Cook, chief of staff.
Smith said she wants the council to be "proactive as well as reactive" in responding to the needs of students. Whenever students express their ideas or concerns, Smith said it is important that the council members take an active role in seeing changes made.
In addition to the Executive Council, Smith had appointed a six-member cabinet with the goal "to reach different parts of campus" because the students who are a part of this group "didn't know what SGA was before they were chosen." Smith's main point in selecting these students was to ensure the cabinet members knew the issues that needed to be addressed.
Community is a vital part of the SGA's focus this school year. The SGA council will use a tech-savvy way to invite students to participate in a helpful forum to share the needs they see on campus. Students will be able to respond to forums posted on SGA's Instagram weekly, and then SGA will review the comments and concerns of students.
The SGA is also reaching out to promote smaller organizations on campus by offering grants that these organizations can apply to receive.
In collaboration with the Physical Plant, the SGA plans to build a new activity that will give students – especially first-year students – a place to have fun and make relationships.
The SGA believes it will help foster community and give support to students.
Because many of the organization's tasks are administrative, the idea of rooting the SGA into the community may seem complex, but the association is striving in its reconstruction to create more social outreach.
Smith believes the SGA should function as a body that "comes to students."
Recently, Smith went from table to table in the cafeteria to ask students their thoughts about overall campus needs. She sought to include as many students as possible because they are more likely to give feedback when they see the SGA in action. Picnicking in the Quad is another way the organization involves students.
The SGA strives to create an "open-door" policy this school year, proactively initiating student engagement. By making its goals clear, the SGA will be able to communicate more efficiently, and students will have an accessible way to voice their concerns and ideas.
Smith said the SGA will become relevant when "students see the fruit of labor – when they see something they're concerned with come to fruition." By meeting students where they are – instead of students not knowing the SGA – the student government for the 2022-23 school year can achieve greater notoriety among the student body.
To offer feedback on current issues, students can visit the SGA Instagram @misscollegesga or the SGA webpage at mc.edu/SGA/executive-council.
Sign-up For Our Newsletter
Get the latest news about Mississippi College delivered right to your inbox by subscribing to the Along College Street e-newsletter.