Physician Assistant Professional, Microbiology Specialist Join Mississippi College Faculty
---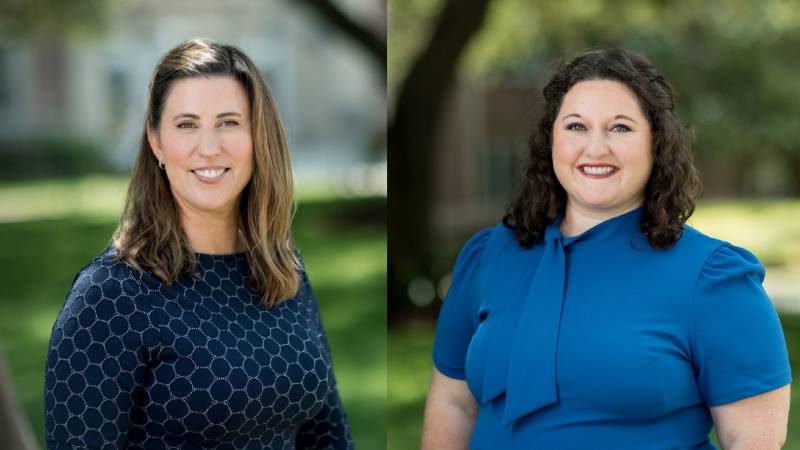 Dr. Julie Kasperski, left, assistant professor and director of student success in the Department of Physician Assistant Studies, and Courtney Thompson, assistant professor of biology, bring their expertise to the MC faculty.
A seasoned medical professional with faculty experience in physician assistant services and a highly trained microbiology and immunology expert have joined the Mississippi College faculty.
Dr. Julie Kasperski, a physician assistant at the Hospital for Sick Children in Toronto, the most research-intensive hospital in Canada and the largest center dedicated to improving children's health in the country, serves as an assistant professor and director of student success in the Department of Physician Assistant Studies at MC, while Courtney Thompson, who recently earned her Ph.D. at the University of Mississippi Medical Center in Jackson, serves as an assistant professor of biology at MC.
According to their respective department chairs, each new faculty member will enhance Mississippi College's cadre of exceptional science faculty.
Steve Martin, professor and program director in the Department of Physician Assistant Studies at MC, said Kasperski's skills and expertise will serve the department well.
"All of our faculty are valued due to the clinical experience they each bring to teaching our students and Julie is no exception," Martin said. "She has experience as a PA in critical care settings, on a blood and bone marrow transplantation unit, and in pediatric practice. Additionally, the has experience as a faculty member at a Colorado PA program and in the Department of Physiology and Pharmacology at the University of Western Ontario.
"I have most appreciated her positive spirit and love for our students."
After receiving an associate degree in medical laboratory technology from Mohawk College in West Hamilton, Ontario, where she was class president, Kasperski obtained her B.S. in medical laboratory science with honors from Lakehead University in Thunder Bay, Ontario; her M.S. in clinical laboratory science from the Medical University of South Carolina in Charleston; her M.A. in teaching from the Citadel in Charleston; her B.H.S.-physician assistant from McMaster University in Hamilton; and her D.M.Sc. from A.T. Still University.
Kasperski served as a medical technologist for the American Red Cross, the Medical University of South Carolina, the Washington Hospital Center, and the Eggleston Children's Health Care Center before becoming director of educational development for the Canadian Society of Medical Laboratory Science. A lecturer at the University of Western Ontario, she was a physician assistant in pediatrics at Beech Tree Medical Center and in critical care at Hamilton Health Sciences while concurrently serving as an adjunct faculty member at McMaster University. Her previous academic appointment was as an assistant professor in the Physician Assistant Program at Rocky Vista University.
An inductee into the Phi Kappa Phi national honor society and the Kappa Delta Pi international honor society in education, Kasperski received the 2021 Excellence in PA Education Award.
Beth Barlow, professor and chair of biological sciences at MC, said Thompson's initial teaching load will consist of several microbiology courses.
"She is a wonderful fit for the Biology Department," Barlow said. "She genuinely loves students and is willing to help them in any way she can. The faculty love working with her.
"She brings energy, compassion, and a gift for teaching to our department."
After receiving her B.S. in biology and psychology with a perfect 4.0 GPA from William Carey University, Thompson obtained her Ph.D. in microbiology and immunology from the University of Mississippi Medical Center. A biology, chemistry, and physics teacher at Prentiss Christian School, she served as an adjunct professor in the Nursing Microbiology Lab at MC in fall 2021.
An active member of the American Society of Microbiology and the Mississippi Academy of Sciences, Thompson has given eight presentations at scientific meetings nationally and has coauthored of a pair of articles published in professional journals. A member of the Alpha Chi National College Honor Society and recipient of the Higher Education Appreciation Day-Working for Academic Excellence Award, she received the Jenkins Chastain Citizenship Award at William Carey, the STAR Teacher Award at Prentiss Christian, and the Dean's Scholarship at UMMC.
Sign-up For Our Newsletter
Get the latest news about Mississippi College delivered right to your inbox by subscribing to the Along College Street e-newsletter.