Criminal Analysis: MC Students' Intelligence Reports Benefit Local Law Enforcement Agencies
---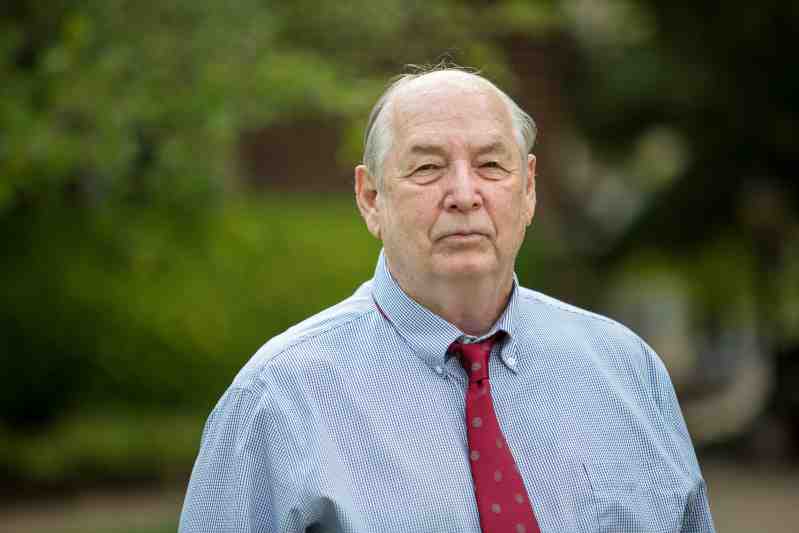 Students in Dr. Godfrey Garner's intelligence analysis program at MC are helping the Clinton and Jackson Police Departments by analyzing burglary and violent crime statistics and sharing the trends they discover.
Intelligence analysis reports presented to local law enforcement officials by Mississippi College and Jackson State University students are helping to allocate assets and shape policing strategies to protect residents of Clinton better.
Homeland Security Program students in an intelligence analysis program at MC have been analyzing criminal data covering the last decade in Clinton and briefing law enforcement agencies about the trends they have discovered. The program is taught by Dr. Godfrey Garner, visiting assistant professor of history and political science and director of the Center for Counterterrorism Studies at MC, in concert with Dr. Etta Morgan, chair of the Department of Criminal Justice and Sociology at Jackson State University, and Dr. David Bandi, adjunct professor of biological sciences at MC.
The information the undergraduate and graduate students uncovered after examining burglary data last fall and violent crime statistics this spring has been well received by local officials like Ford Hayman, chief of police, Clinton Police Department.
"They took raw data from various criminal activities and painted a picture through crime mapping," Hayman said. "They were able to provide a different outlook on information that we already had. They have done a wonderful job mapping information and ideas.
"I have been impressed with Dr. Garner's students and have had the pleasure of meeting and working with Dr. Morgan of JSU. The presentations have risen to the challenge of learning, interpreting, and presenting information to teachers, staff, and law enforcement personnel."
A textbook Garner wrote with Patrick McGlynn, "Intelligence Analysis Fundamentals," serves as the framework for the program's instruction. Garner offered his students' intelligence analysis on CPD's crime statistics to the department as a formative class project one year ago.
"Most large police departments' budgets are big enough to hire professionals to do their intelligence analysis, which shows how to distribute assets more efficiently," said Garner, who teaches classes on basic intelligence analysis and domestic and international terrorism at MC. "Smaller departments like Clinton don't have that kind of budget. We walked them through our proposal and let them see they would get usable intelligence information without paying for it."
After gaining approval from the Clinton Board of Alderman last summer, Garner and Morgan's students at MC and JSU went dutifully to work analyzing and mapping data.
The students discovered an increased volume of crime in the southwestern part of Clinton, typical of the larger population density located adjacent to the city of Jackson. Garner also approached the Jackson Police Department for additional information to do a combined analysis of the area. The students presented their results to members of both departments in December.
During the spring semester, the students pivoted their analysis to violent crimes, including murder, aggravated assault, domestic assault, and rape. Employing the same analytical process, they shared the trends they discovered with law enforcement officials in April.
Joseph Wade, assistant chief of police, Jackson Police Department, was impressed by the reports.
"The students from MC and JSU were quite exceptional during their presentations," Wade said. "They reviewed locations where crimes were more prevalent and reviewed possible strategies to be utilized going forward. They offered data analysis of crime and possible ways to address crime from an academic perspective.
"Dr. Garner and Dr. Morgan were very professional and knowledgeable and offered great information and feedback to the Jackson Police Department. The presentations were truly advantageous."
From criminal data reports CPD and JPD provided, the students extracted temporal data – such as time of day or day of the week – when the number of crimes either rose or fell. They considered which locations had higher or lower rates of crime. They looked at victim and offender data, including ages, genders, and socioeconomic status. And they examined the resulting trends to develop a clearer picture of which areas might require more proactive solutions to crime.
Students in the class relished the opportunity to play an active role in supporting local law enforcement efforts.
"It was exciting to interact with law enforcement and present an analysis of data they already knew, but hopefully highlight the information they may have overlooked," said Catherine Bell, a senior administration of justice major from Kosciusko. "We were able to go beyond the classroom, and being hands-on can make all the difference.
"We hope that both Clinton Police Department and Jackson Police Department will be able to jointly share information in order to best secure areas of high crime that may correlate with each other. A better allocation of resources will cause crimes to lessen, or at least for more cases to be closed."
She said the program has given her a greater understanding of how to analyze data and use the state-of-the-art mapping software and other tools that are now available.
"If I need to use this in a professional capacity, I will be one step ahead," she said. "Dr. Garner and Dr. Morgan sought to help us understand the material, learn with us, and learn from us students what they could change and do better. I could not ask for better professors, and I am open to any future intel analysis projects that may occur, if I am able to do them."
Yanez Newsome, a graduate student from Mendenhall pursuing a master's degree in homeland security, researched burglarized homes and used mapping software to discover that many were repeatedly victimized.
"I believe the information we presented was beneficial to both police departments," Newsome said. "There were quite a few interesting points that we brought out that I don't think would have been noticed otherwise. Our suggestions were not given based on mere speculation, but on invaluable research that would benefit not just the police departments, but also the citizens of Clinton and Jackson.
"The officials were shocked that we had found such interesting information, and probably impressed that we would be bold enough to make such speculations and suggestions. The officials were extremely receptive to the information we shared and were pleased overall with the presentation. Several of them stopped me after the presentation and commented on a job well done."
Newsome said Garner made sure the students were prepared to conduct a professional briefing for the law enforcement officers.
"Dr. Garner is such an amazing professor and person," Newsome said. "He has a real passion for seeing students in our department succeed. He wanted to be sure we knew exactly what we were doing and that we were comfortable. It was a bit nerve-wracking at first, because there were several different officers from many different agencies, but briefing the law enforcement officers was fairly easy and came naturally.
"I feel this project has opened up limitless possibilities. The area of intel analysis within different branches of law enforcement is extremely vital. Going forward, I will use the knowledge I have gained with this project as a building block to expand my knowledge and expertise."
Garner said he has been impressed by the zeal his students have shown for the project.
"They love it because they're the ones driving the boat – they're looking at the data and making decisions about where to go and what to focus on," he said. "They're doing the decision-making. They put the presentation together, and they do the briefing. They're in charge."
Hayman said the information the students have shared reinforces the value of local law enforcement officials forming a successful working relationship with Mississippi College.
"We want to portray a professional image and build relationships with students to encourage their willingness to rely upon our agency for assistance, if needed," he said. "A positive relationship is a great bridge-builder for recruitment into our agency."
The collaboration has been so beneficial that the Mississippi Office of Homeland Security and JSU have applied for a grant to continue funding the program, which Garner said will be offered again at MC this fall. His goal is to establish a multi-course curriculum within the Homeland Security Program that will consist of Basics of Intelligence Analysis, Concepts of Intelligence Analysis, Mapping, Grant-Writing, and Advanced Intelligence Analysis classes.
"These agencies are getting free intelligence analysis data – something they would ordinarily pay quite a bit for – and the product they're receiving is valuable," Garner said. "As we move forward, it will get better and better."
For more information about the Homeland Security Program at MC, email Garner at ggarner@mc.edu.
Sign-up For Our Newsletter
Get the latest news about Mississippi College delivered right to your inbox by subscribing to the Along College Street e-newsletter.