Freshmen Discover Student Organizations at Orientation
---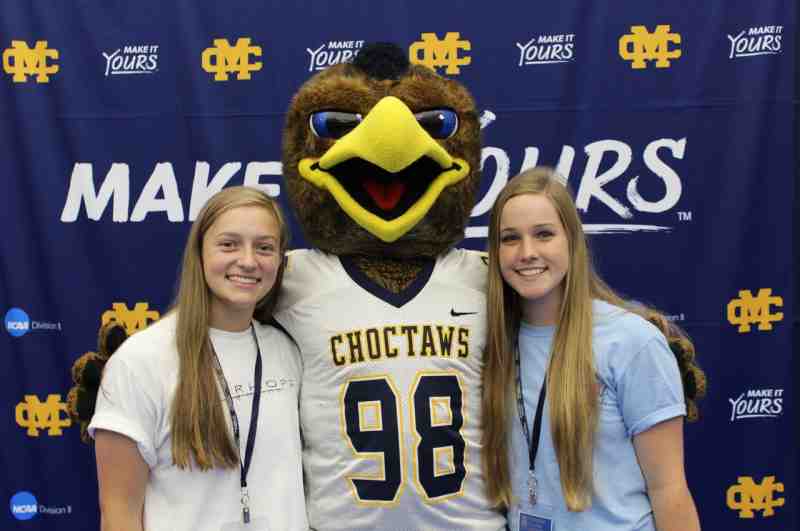 Mississippi College sports personality Tom. A Hawk stayed busy taking pictures with incoming freshmen during orientation on the Clinton campus. The two-day event July 12-13 attracted 200 students and many parents from more than a dozen states.
Opportunities to join Mississippi College's Choctaw Chorus, the Writing Center, MC Mock Trial Team, SGA & scores of other organizations remained on the agenda for 200 freshmen.
Roaming around the A.E. Wood Coliseum Thursday afternoon, they also gulped gallons of McAlisters sweet tea, munched popcorn, and got a taste of the culture at the 5,200 student university.
It's what the 2018 Summer orientation is all about on the Clinton campus. During the event, President Blake Thompson helped direct traffic, posed for pictures with students and greeted new members of the Class of 2022. Dr. Thompson served as keynote speaker of Thursday evening's orientation dinner at Anderson Hall.
Students traveled from more than a dozen states for the July 12-13 orientation. Some came from as far away as California.
Mississippi College appealed to freshman Emma Robinson of Pineville, Louisiana for several reasons. She wants to play goalie on the Lady Choctaws soccer team this Fall and compete on the track squad next Spring. But MC's Christian environment and the opportunity to study homeland security are big attractions, too.
Playing tackle and long snapper on the MC Choctaws football team helped draw Hunter Gates of Huntsville, Alabama. MC's first home game will be August 30 against the Clark Atlanta Panthers.
Coming to Mississippi College for athletics, academics or due to recommendations from friends, students are delighted with their choice of the Baptist-affiliated university.
As she enjoyed lunch with new classmate Kenya Johnson of Greenwood, Mireya Garcia said why she joined the MC family.
The Christian university's excellent pre-medical program got her attention, said Garcia, a 2018 Pearl High graduate. "I like the people and it's not far from home," the MC freshman said.
Mississippi College sits only 30 minutes away from home for freshmen like Tyler Easterling of Vicksburg, Jared Collum of Brandon and Brevin Quichocho of Richland.
But it's quite a distance for freshman Kendall Platt of Anaheim, California. The drive from the West Coast takes 28 hours.
The future MC Lady Choctaws volleyball player made the journey with her parents. Her dad, Jeff Platt, is a high school athletic director and her mom, Tammie Platt, is a teacher. Kendall played volleyball at Yorba Linda High in Southern California. She's thrilled to play her favorite sport under new Lady Choctaws head volleyball coach Shawna Laurendine.
In January, Athletic Director Mike Jones announced her selection. Laurendine came to MC after serving six seasons as head volleyball coach at the University of the South in Sewanee, Tennessee.
During orientation, SGA President Anthony Jackson of Mound Bayou and student senator Crisalynn Moses of Raymond fielded questions from freshmen about their organization on the Clinton campus. At a nearby table loaded with sweets, assistant director Lingshan Song and student Emmalyn Foy of the Writing Center stayed busy meeting newcomers.
Freshmen also met professors, visited with ministry leaders from area churches, and registered for classes. Incoming students made plenty of new friends, too.
Day classes will begin August 22 as Mississippi College launches its 193rd academic year.
Sign-up For Our Newsletter
Get the latest news about Mississippi College delivered right to your inbox by subscribing to the Along College Street e-newsletter.