Incoming MC Honors College Students Welcome Leadership Change, Embrace Sense of Community
---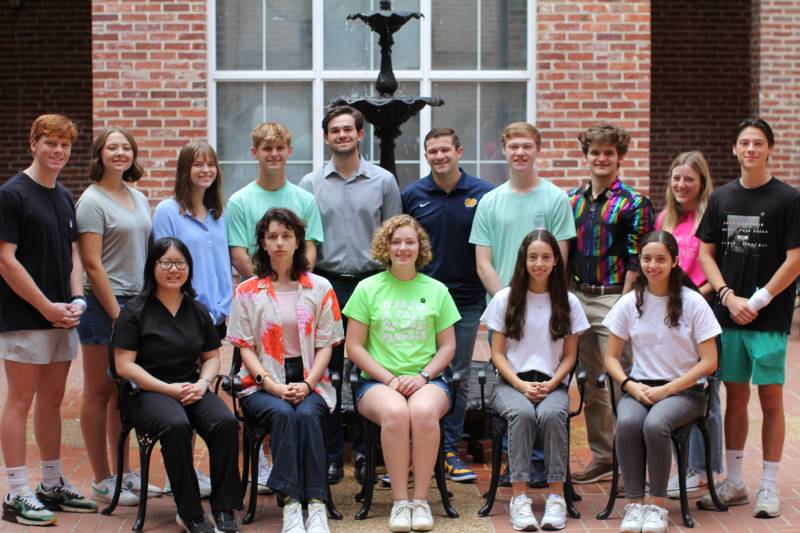 Members of the Honors College Class of 2027 enjoy a sense of community while excelling in interdisciplinary honors courses in addition to their regular curricula.
The Honors College at Mississippi College may have a new leader, but members of the fifth cohort of exceptional students that comprise the elite program's Class of 2027 are prepared to be challenged by a rigorous interdisciplinary curriculum dedicated to academic excellence, spiritual growth, and civic engagement.
Christopher Weeks, associate professor of biology at MC, has succeeded Erin Norcross, the original director of the Honors College program proposed by MC President Blake Thompson during his inauguration in 2018.
Established by a generous gift from J.L. Holloway, a well-known Mississippi businessman, MC's Honors College provides students with a four-year, full-ride scholarship covering all educational costs at the Christian University, including a summer international experience. The first cohort of Honors College students graduated from MC last spring.
Weeks said he is committed to following the college's mission to produce students who "imitate Christ, cultivate virtue, and pursue human flourishing."
"Erin Norcross, along with help from the Honors Council, had the monumental task of creating something from the ground up," Weeks said. "I am not sure that many appreciate the level of care and dedication she showed to the building and curating of the Honors College. It was a labor of love for her.
"I have inherited leadership of the Honors College at a moment when you could say it is going from early childhood to late childhood. We know there will be new changes that will take place and new initiatives to start – all the while building on a great foundation. Shepherding the Honors College through some of these growth places is probably the biggest challenge I perceive."
He said MC leaders have spent much of the last four years laying the foundation for what the Honors College could become. Not only has the program grown from 15 initial students to 60, but it has taken them on learning expeditions to Thailand and New Zealand.
"I love inviting people in on learning and experiencing the wonder of all God has placed around us," Weeks said. "I am so excited to walk alongside students who already show an aptitude for a deep exploration of transdisciplinary learning. The changes planned are aimed at building a thicker community inside of each cohort and between the different cohorts of Honors College students."
The opportunity to build lasting relationships with other Honors College students and faculty members attracted Breck McCalop, a biology pre-med major from Madison, to Mississippi College – although he had never met an Honors College student before applying to the program.
"The Honors College at MC was prestigious," McCalop said. "I was attracted to the idea of having a small group of people that are different from me that I would learn and grow with.
"The older Honors College students have been extremely helpful and friendly. They have offered great advice and have been very supportive. The Honors College is a great community of students."
To encourage their shared experience, many Honors College students live in University Place, the modern residence halls on the University's East Campus. Each cohort's first class together is Honors 101, which sets the tone for their undergraduate experience at Mississippi College.
"The Honors 101 class has taught me why I'm here and how I can take advantage of the opportunity I've been given," McCalop said. "I have a challenging class that will transform me for the better, as well as a cohort that I get to learn and grow with. I also have the responsibility that comes with being in an Honors College: showing up to class and being willing to learn and think every day, setting a good example for other students, and being committed to becoming a lifetime learner.
"Dr. Weeks is leading the Honors College program very well. As a first-year Honors student, you come in feeling a bit nervous. He has done a great job welcoming all of us. I expect Honors College to be challenging in a way I have never been challenged, and it has lived up to its billing so far."
The main threshold for Honors College consideration is an ACT score of 29 or above or an equivalent SAT score. Each participant was selected after a rigorous application process, which was important to Will McCleese of Clinton. The business marketing major had always been aware of the "Christian University in his own backyard," but didn't give MC strong consideration until he attended a Preview Day event, took a tour of the campus, and began to research the Honors College.
"The full ride the program provides was very enticing, but I also enjoyed the idea of being challenged and furthering my education through the unique learning opportunity of the Honors Program," McCleese said. "The experience we get differs from what others offer because of the unique teaching methods. In every other class I have taken, an instructor stands before the class and teaches students what they need to know. Honors College is the first class I have taken that doesn't fit that structure.
"Instead of telling us the information we need to learn, the professor asks us questions that point to an answer. As a class, we discuss and deliberate until we find the answer ourselves. It challenges our thinking and allows us to explore our ideas freely through group discussion. This method encourages everyone to develop their own ideas."
He said the innovative learning method is helping to lay an academic foundation for his cohort that should serve the students well throughout their undergraduate careers.
"I do expect the course to be a challenge," he said. "but I think the challenge is exactly what we need to become better scholars who truly have a different way of thinking and seeking knowledge. I couldn't speak highly enough of Dr. Weeks. I love everything he is doing with the program, and it makes me excited for the next four years."
The Honors College students' desire for academic and spiritual growth will be tested throughout their undergraduate careers. The students will be expected to excel in their regular curricula while taking additional interdisciplinary honors courses throughout their first two years of college. During their later years, many will undergo honors research and acquire a deeper understanding of their chosen areas of study, making them more marketable to professional schools.
For many Honors College students like Lori Madison, a chemistry medical science major from Huntsville, Alabama, the program's sense of community is as important as its academic rigor.
"Honors College comes with some heavy expectations," Madison said. "We have all been identified as having something that sets us apart from our peers, which comes with a certain type of responsibility. At the same time, we have been given the freedom to pursue education without debt, and I am incredibly grateful.
"The full tuition and the nice dorms are a great bonus, but I really care about the people and the opportunity to do more with my education. What drew me in was the idea of a cohort, of having a group of people to build a community. It's very unique, especially compared to honors programs at other colleges and universities."
Honors College students have the opportunity to interact with notable guests, including community leaders, physicians, politicians, and athletes, and gain valuable insight into numerous professional fields. Before their senior year begins, the students can participate in a two-week summer international experience to explore their education in a more global context.
Each spring, the Honors College students take a two-week cultural immersion tour abroad. The students select the location and communicate the experiential knowledge they gained through individual research projects.
McCalop said the excursion will present a tremendous learning opportunity for the class.
"Changing your learning environment is very important to continue looking at things through new lenses and angles," he said. "The variety of experiences will present me with new ways of learning and growing."
Madison believes her cohort's study abroad trip will be a bonding experience for the group.
"I am looking forward to it because I have lived overseas in Europe," she said. "It was an enriching experience. I would love to do it again now that I can appreciate it even more. I am looking forward to any activity that I can do with my Honors cohort."
Weeks intends to impact the lives of other students at Mississippi College by fostering a deep sense of community within the Honors College cohorts.
"I desire to help foster a deep sense of community with the Honors College, but also take this community and turn it outward to do good at MC and beyond," he said. "I would like the Honors College to increase the presence of transdisciplinary classes here at MC.
"I want this way of thinking to bleed out of the Honors College and attract all of MC's students to think in a bigger, broader way – not just about education, but about all of life."
The invaluable life lessons the Honors College offers its student cohorts will undoubtedly benefit them in their future endeavors.
"Learning how to discuss with others, how to think through a transdisciplinary lens, and how to learn information in new ways will be a benefit," McCleese said. "Being in Honors College is such a humbling opportunity. I feel blessed to be a part of this program and share it with other students with big dreams and goals. I'm incredibly grateful to be poured into by the extraordinary minds who run the program.
"Most of all, I'm grateful that no matter what we are learning or discussing in class, it is always related to our Heavenly Father and how we can make our time here on Earth more impactful."
For more information about the Honors College at Mississippi College, click here.
Sign-up For Our Newsletter
Get the latest news about Mississippi College delivered right to your inbox by subscribing to the Along College Street e-newsletter.