Internationally Celebrated Christian Artist Sam Gore Passes Away
---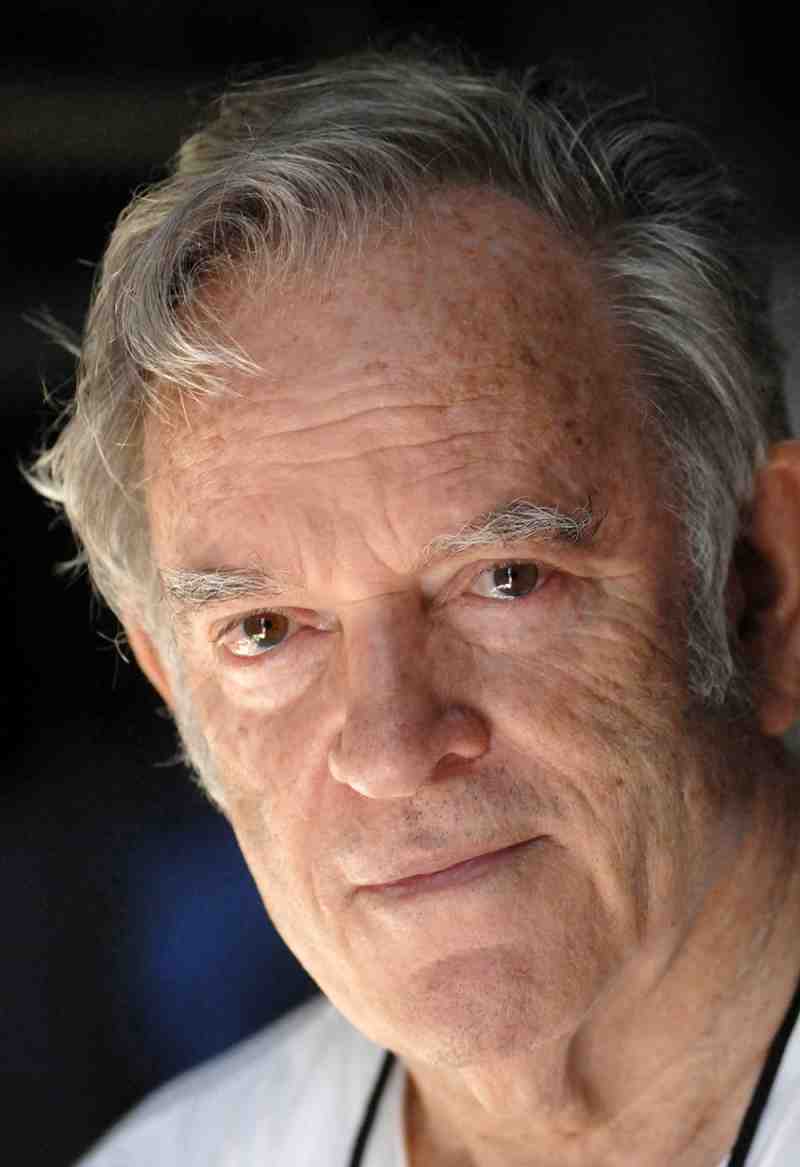 Photo by Barbara Gauntt
An internationally celebrated artist and Founding Father of the Mississippi College Art Department in the 1950s, Samuel M. Gore passed away Wednesday. The beloved 91-year-old Clintonian leaves a legacy of compelling Christian sculptures underscoring his deep faith and compassion.
A beloved Mississippian, longtime mentor and friend to many, Dr. Gore died of cardiac arrest at a Jackson hospital. Arrangements remain incomplete, but a funeral service is expected this weekend at First Baptist Church Clinton.
President Blake Thompson led the sea of admirers expressing their deep admiration for the man who meant so much to Mississippi College and the art world beyond.
"No one in the modern era has served Mississippi College as faithfully and with as much impact as Sam Gore," Dr. Thompson said. "In my short time here, like all of you, I grew to love him and his family, to revere his great work, and to marvel at his many artistic contributions to MC. His life was simply a masterpiece."
What's so amazing to Dr. Gore's admirers was his hard work at an advanced age crafting pieces of extraordinary art.
After the March 29 unveiling of his bronze sculpture "Christ in Gethsemane" in the Rhoda Royce Prayer Garden, the 1952 MC graduate clearly wasn't finished. He recently crafted two disciples to add to the sculpture. He completed half of the third disciple.
The dramatic piece in the peaceful garden of fountains and flowers illustrates Jesus praying in the Garden of Gethsemane, prior to His betrayal, arrest, and crucifixion. Ceremonies near Alumni Hall that Friday reflected a significant part of Inauguration Week ceremonies for Thompson as MC's 20th president.
During remarks at the 193-year-old institution, Dr. Thompson said the new prayer garden addition represents the "essence of our Christian university."
It speaks to MC's vision statement "to be recognized as a university known for academic excellence and commitment to the cause of Christ."
Thompson sees Dr. Gore as a distinguished Mississippian who speaks to MC's cornerstone values. He does it with the labor of his gifted hands to shape pieces of clay into magnificent artworks. "We thank Jesus for sending Sam Gore our way."
He's a painter, sculptor, mentor, teacher and "friend to all of us," the MC president told the audience assembled near the garden's rocks inscribed with Biblical passages.
Barbara Gauntt's book "Samuel M. Gore Blessed with Tired Hands" is filled with her stunning photographs showcasing his art during a career spanning more than six decades.
It took Sam Gore nearly a year to craft the 450-pound "Christ in Gethsemane." Its location is a short walk to Provine Chapel near his sculpture of Jesus washing the disciples' feet.
Outside the School of Education sits his sculpture "Jesus and the Children." Mounted on exterior walls of MC Law School in Jackson are Dr. Gore's enormous bronze sculptures "Moses, Deliverer of the Law" was unveiled in 2007 and its companion piece "Christ, Fulfillment of the Law" came two years later.
A Mississippi College graduate, artist and retired professor at the University of Mississippi Medical Center, Dr. Gearheart spoke at the unveiling of his newest sculpture nearly a month ago. When her Dad sculpts, he prays, she said.
"He prays for those who will view the sculpture, and yearns for the story to be told through art," Dr. Gearhart said as her Dad, other members of the Gore family and university supporters looked on. As people see "Christ in Gethsemane," they should know that it is not just an image of Christ praying, but a prayer itself."
Throughout his career, the Clintonian noted he was inspired by his late wife, Margie, the love of his life. He said he was never finished learning. Until recently, Dr. Gore taught a sculpting class to a much younger generation.
In a forward to Gauntt's book, one of his former students, artist Wyatt Waters praised his mentor. "When he paints, draws or sculpts, it becomes an act of worship that makes one want to participate in a celebration of creation." He admires Dr. Gore's persistence. "He does not quit," Waters said. "He transforms lives through his art and his teaching."
Thousands of people at churches across Mississippi know Gore as the artist shaping the head of Jesus out of pieces of clay in less than an hour. During the demonstrations, the sculptor worked while accompanied by the sacred music of his faith.
"For more than half a century, Dr. Gore was Mr. Art at Mississippi College," said Wayne VanHorn, dean of the School of Christian Studies and the Arts. "His artwork and sculptures are ubiquitously spread across the Mississippi landscape."
Drawing art lovers of all ages, the Samuel M. Gore Art Gallery is named in his honor at Mississippi College.
---
Sign-up For Our Newsletter
Get the latest news about Mississippi College delivered right to your inbox by subscribing to the Along College Street e-newsletter.