Partnership Strengthens MC's Longstanding Relationship with Mississippi Band of Choctaw Indians
---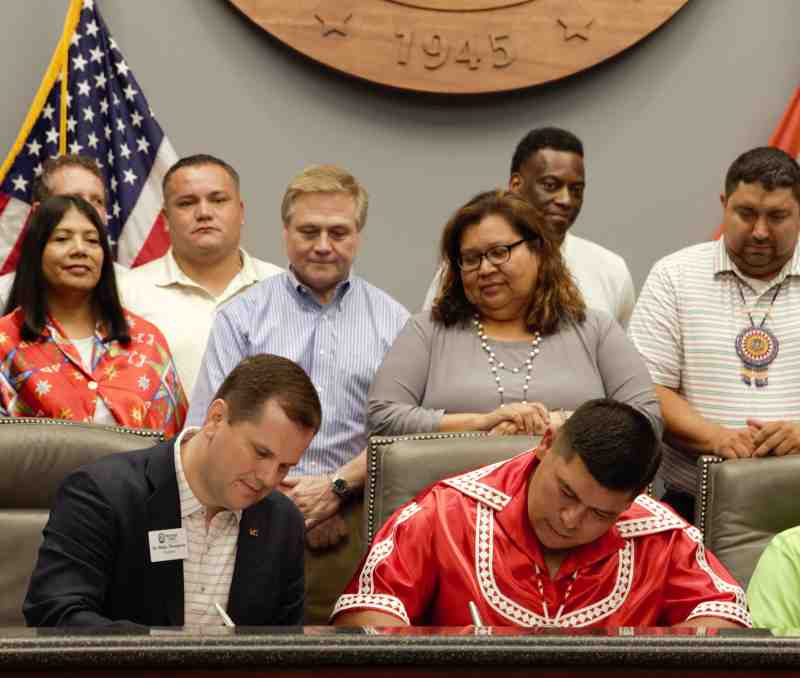 Surrounded by Choctaw Tribal Council members and Mississippi College leaders, Dr. Blake Thompson, front left, MC president, and Chief Cyrus Ben, front right, Mississippi Band of Choctaw Indians tribal chief, sign the memorandum of understanding between MC and the MBCI.
Mississippi College administrative leaders witnessed what it means to be a proud member of the Mississippi Band of Choctaw Indians during a visit to the Tribal Lands in Neshoba County on July 12.
They viewed demonstrations of intricate bead-making and basket-weaving by hand. They watched craftsmen turn weathered tree trunks into ornate drums. They observed young men and women dressed in vibrant clothing participate in social dances. They sampled succulent hominy and banaha, traditional foods that have nourished the Chahta people for generations.
They learned to catch and toss balls wound with leather strips while holding a pair of kabotcha sticks used in competitive stickball games. They hurled homemade spears and "rabbit sticks" at wooden targets in a training simulation for hunting wild game. And they toured a modern historical museum filled with artifacts chronicling the Choctaws' history in North America through thousands of years.
Then they gathered with members of the Choctaw Tribal Council to witness Dr. Blake Thompson, MC president, and Cyrus Ben, MBCI tribal chief, sign a memorandum of understanding solidifying the Christian University's special relationship with the only federally recognized American Indian tribe living in Mississippi.
The MOU creates a valuable tuition assistance program for Choctaw students. MC will provide $10,000 (on-campus) or $7,500 (off-campus) in tuition to all qualified, full-time, first-year MBCI students each academic year.
The agreement also establishes an expanded cultural exchange between Mississippi College and the MBCI. MC will host MBCI students and leaders on the Clinton campus for cultural exchange and educational programs designed to address the academic interests of MBCI members and descendants.
Thompson said the agreement further strengthens the longstanding relationship MC has enjoyed with the Choctaws.
"We are delighted to extend this higher education opportunity to deserving Choctaw students," Thompson said. "No people are more entwined in the rich history of our state than the Mississippi Band of Choctaw Indians. We are honored to partner with them to develop meaningful programs that will raise awareness and understanding of their influence on American culture."
In 2019, Ben was the fifth – and youngest – democratically elected tribal chief of the Mississippi Band. He said the agreement between the MBCI and MC extends their relationship beyond the 2005 Tribal Resolution regarding the use of the Choctaw name.
"We worked on and completed this MOU with the hope that we can build a relationship that includes expanding the education of Choctaw history and culture to the faculty, staff, and students at Mississippi College," Ben said. "The MOU is the start of a relationship that will educate our Choctaw students that one of Mississippi's great universities wishes to incorporate our culture and history onto the campus.
"The interactions between MC faculty and staff and our cultural programs will allow for a level of understanding and appreciation that has not been pursued before by Mississippi College. There is now an opportunity for a great relationship on many fronts."
The agreement has particular significance for Ben, a 2001 MC graduate, who told the group of Choctaw and MC leaders how he first came to Mississippi College.
After initially studying at another university in Mississippi, Ben sought to enroll at MC and also wanted to continue to play football.
Dr. Jim Turcotte, who was serving as vice president of enrollment at the time, said, "It's an example of how God's hand is on this institution. He was someone who should be here, and God worked that out."
Now vice president and executive director of the alumni association, Turcotte was among the MC leaders on hand for the MOU signing in Choctaw. He applauded the effort for an enhanced cultural exchange with the MBCI.
"The MOU lays the foundation for academic and cultural exchange," he said. "We would like our faculty to engage with their faculty and teach in their high school."
The importance of the agreement was reflected by those in attendance for the signing: Ben said it was the first time all tribal leadership, cultural and tribal scholarship personnel, and Choctaw Tribal School leadership had met in person with MC leadership.
"This was a big step in a relationship that I hope continues to build toward great things," Ben said. "This MOU is a great recruitment tool for Mississippi College and is another scholarship option for students to access education. It will also allow for the presence of our history and culture to be taught and immersed on the MC campus.
"It is my hope that this MOU will not only help MC students, faculty, and alumni develop a better understanding and appreciation for our tribe, our culture, and our heritage, but help facilitate that understanding and appreciation to others within our state and country."
Future generations of native Choctaws will have the opportunity to follow in their tribal chief's footsteps at a university that values their tribe and culture.
"Our Tribal Scholarships Program serves on average 360 students per school year," Ben said. "Having this type of tuition assistance from such a highly respected school opens yet another door for our Choctaw students.
"Mississippi College is an outstanding school, and as an alumnus, I encourage all students to take a serious look at MC. I am a proud Choctaw by blood and by education."
The MBCI is the only federally recognized tribe in the state of Mississippi. It is a sovereign nation with more than 11,000 tribal members. Tribal Lands encompass more than 34,000 non-contiguous acres. There are eight tribal communities, with Pearl River serving as the headquarters of the tribal government.
Sign-up For Our Newsletter
Get the latest news about Mississippi College delivered right to your inbox by subscribing to the Along College Street e-newsletter.