Tupelo Area Alumni Enjoy Visit with President Blake Thompson
---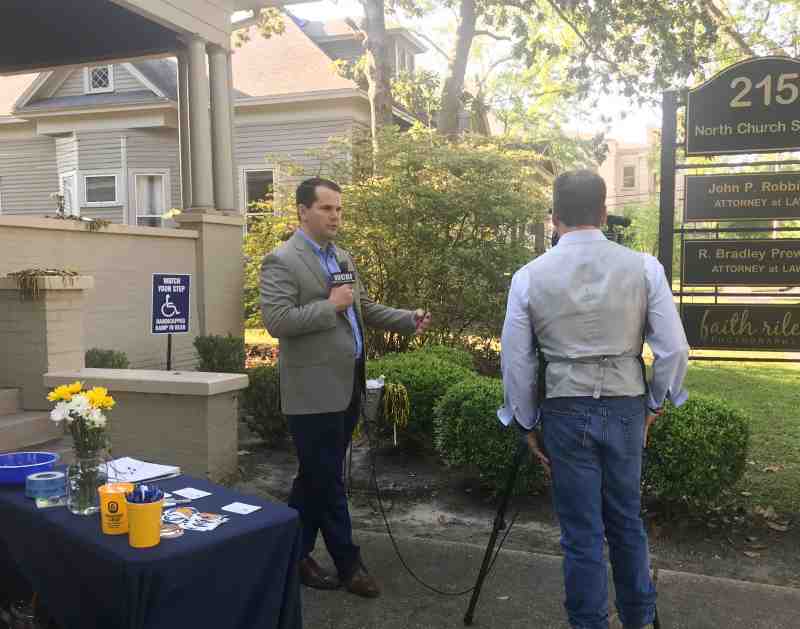 President Blake Thompson is interviewed by WCBI-TV Columbus reporter Allie Martin prior to an MC alumni gathering in Tupelo on May 16. Martin serves as chief of the television station's Tupelo Bureau.
For several Tupelo area alumni, it marked their first visit with Mississippi College President Blake Thompson.
There are exciting developments happening at MC – from the new Honors College on the Clinton campus this Fall, to the expansion of international programs.
Dr. Thompson was happy to share the latest news with the Christian university's graduates from Northeast Mississippi.
About 30 MC alumni, family and friends turned out for the May 16 gathering at the Tupelo law office of Bradley Prewitt. His wife, Dr. Mindy Prewitt, a MC graduate, was among those welcoming the university's 20th president.
"It was a wonderful event," said Lisa Williams, regional associate with the MC Alumni Affairs Office. "Several MC alumni and MC Law alumni attended and were able to meet Dr. Thompson for the first time."
The program was held at the 215 North Church Street law office in a beautifully restored residence built in 1910.
The Thursday evening meeting attracted other administrators from the Clinton campus such as Jim Turcotte, vice president of enrollment services and dean of students. Lori Bobo, assistant director of the alumni office, was also on hand.
Allie Martin, Tupelo Bureau chief for WCBI-TV in Columbus, interviewed President Thompson. For many years, Martin served as an adult leader at Super Summer camps at Mississippi College. Supported by the Mississippi Baptist Convention, the five-day camps in July build leadership skills and the faith of more than 1,000 Baptist teens across the Magnolia State.
A news crew from WTVA-TV in Tupelo also covered the informal gathering in Lee County.
For Dr. Thompson, it marks another stop in a busy road schedule. The Rienzi, Mississippi native will soon visit with MC alumni in Alabama and Georgia.
He stopped by Chuck's Fish in Tuscaloosa, on May 20. The event was held at a popular restaurant offering a diverse menu of seafood, sushi, and pizza. Vice President for Advancement Bill Townsend was also on hand to visit alumni Monday evening.
In the neighboring Peach State, President Thompson will address MC graduates on June 13 in the Atlanta area at the Vintage Pizzeria in Dunwoody that Thursday evening.
MC graduates in North Georgia are invited to the 10th annual Mississippi in the Park in Atlanta's Chastain Memorial Park from 9:30 a.m. until 2 p.m. EDT on June 15. There will be live music, delicious fried catfish and chicken from the Mississippi Delta to spice up the event. The night before (June 14), MC graduates are coming to see the Atlanta Braves game vs. the Philadelphia Phillies. The game begins at 7:35 p.m.
For more details, contact Lisa Williams at lwilliam@mc.edu or 205-332-4100.
Sign-up For Our Newsletter
Get the latest news about Mississippi College delivered right to your inbox by subscribing to the Along College Street e-newsletter.