Baptist Student Union at Mississippi College Opens New Headquarters
---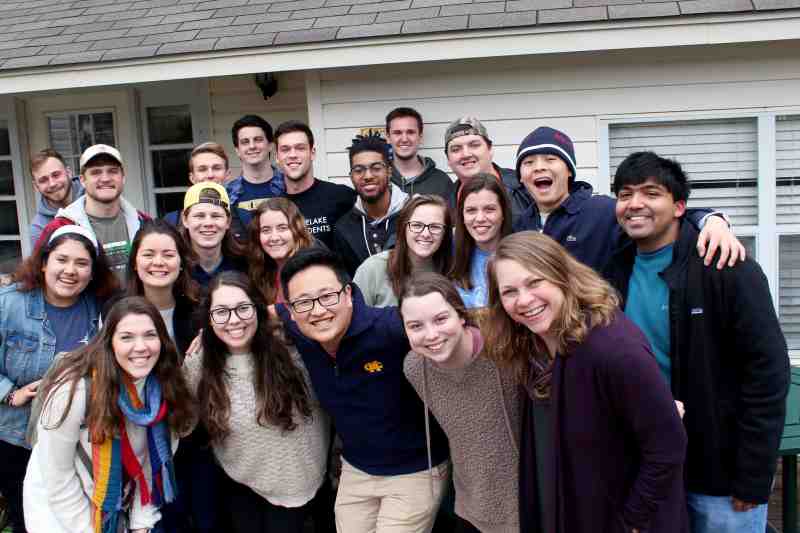 BSU leaders and students are pictured outside their new headquarters at 203 Monroe Street in Clinton.
Next-door to Cups, Mississippi College's Baptist Student Union found a new home.
So far, so good, BSU supporters say. "I like that it is homey," says sophomore Libba Dudley, 19, of Scooba. "We are a family," adds the social work major.
There are other benefits being so close to Cups, where a steady wave of MC students drink coffee, enjoy fellowship time and study. "I love Cups," Libba says.
In its new two-story location, the BSU leadership stays committed to making disciples of Jesus Christ on the Clinton campus and around the world.
This winter's switch from offices tucked away below the cafeteria in the B.C. Rogers Student Center to a stand-alone building is truly a blessing, leaders say.
"It's definitely in a great place," says BSU President Haley Moore, 22, of McComb. "Hopefully, students will feel more welcome in a home than an office."
The BSU serves about 250 students on the Clinton campus. And there's always room for more at 203 Monroe Street. The group includes 37 BSU student leaders.
"We are overjoyed at the prospects that come with our move to this house," says BSU director Mandy Phillips. "This new location and atmosphere will allow us to have a more inviting, casual setting that helps our students feel at home."
So far in 2020, "we have already seen our students having more gospel conversations, commitments to Christ and deeper discipleship," Phillips said.
The new location off one of Clinton's busy streets with plenty of foot traffic will "keep the momentum going and enable us to engage more students."
While office assignments get tweaked in the new year there will be room for a little fun, too. Space will be available for lively games like table tennis.
Completely unfinished, the BSU's upstairs area is locked up for now. A fund drive will eventually produce the dollars to renovate the vacant space. Donations can be made to the Mississippi College BSU.
"We need the help of alumni, churches, and friends to help us meet this goal," Phillips said. "The potential for this space is unbelievable, so we are accepting donations big and small."
The upstairs will be utilized as a go-to space for students to study and hang out when not used for other activities. "This could be one of the prime hang-out spaces for students on campus," the BSU director said.
The building was previously used by MC's Intensive English Program that relocated on the Clinton campus. IEP offices were set up in the Office of Global Education and Jennings Hall.
To formally celebrate the new Baptist Student Union location, there will be an open house on February 10. The event begins 6 p.m. The BSU worship service or "Vision" will be moved to 6:45 p.m. Monday in the First Baptist Church Clinton Activities Building.
For additional details on the BSU fund drive, contact Mandy Phillips at 601-925-3238 or mphillips@mc.edu
Sign-up For Our Newsletter
Get the latest news about Mississippi College delivered right to your inbox by subscribing to the Along College Street e-newsletter.