Broadway Retold Shines at Mississippi College
---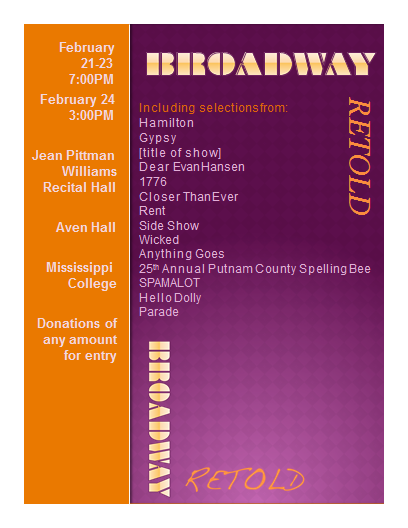 "Broadway Retold" February 21-24 for the Music Department's program at the Jean Pittman Williams Recital Hall.
Broadway's hit musical "Hamilton" tells the fascinating story of America's Founding Fathers. Inspired by Ron Chernow's book on Alexander Hamilton, the show hits the road with its touring company in late January to entertain audiences in Pittsburgh, Orlando, and Columbus, Ohio.
Coming soon to a Mississippi College stage, MC students will perform a selection from the Tony-winning show. It will be part of the diverse lineup for the university's "Broadway Retold" production. Dates are February 21-24 for the Music Department's program at the Jean Pittman Williams Recital Hall.
Tickets for "Hamilton" at New York City's Richard Rodgers Theatre are pretty pricey and hard to find. But Mississippians will encounter no such problems on the Clinton campus. Donations of any amount will be accepted at the door to get audiences into the production at the Aven Fine Arts Building.
Lin-Manuel Miranda supplied the book, music and lyrics to "Hamilton."
"Hamilton" is among several notable Broadway musical selections that Mississippi College students will perform in late February.
Arts patrons on the Clinton campus will get a glimpse of scenes from "Hello Dolly" that became a Broadway success story starting in 1964. Featuring Barbra Streisand as the bold and enchanting widow Dolly Levi, the show reached audiences nationwide as a popular movie in 1969. The character Dolly portrayed a socialite turned matchmaker in the 1890s.
"Broadway Retold" rehearsals are going full blast in late January and into February. Mary Spivak-Perna, who's found success in concert as well as on the operatic stage, serves as the show's director.
"This show is unique in that we are presenting ensembles from iconic musicals that have never been seen here at MC," Spivak-Perna said. "The cast is currently working diligently to prepare these songs. It is going to be a treat, and you may just get to hear some stories from the cast as well."
Scenes from shows like "Gypsy" that made its New York City stage debut in 1959 are featured in "Broadway Retold." So are selections from Broadway shows like "1776" and "Wicked."
Playwright Peter Stone penned the story of "1776" based on events surrounding the signing of the Declaration of Independence. It dramatizes efforts by John Adams to convince his colleagues to vote for American independence.
Audiences at Mississippi College should remember "Wicked" as the blockbuster Broadway musical based on the Wizard of Oz. Stephen Schwartz supplied the music and lyrics. The show made its American premiere in San Francisco in 2003.
Audiences that loved the Tony-award winning musical "Rent," including a cast with Stevie Wonder in 1996, will be treated to scenes in "Broadway Retold."
Among the student cast members: Sallie Kaye Streeter and Ashlynn Grissom, both of Madison, Jalysa Jones of Jackson, Molly Sorto of Pontotoc and Queta Cavalier of New Orleans, Louisiana.
Show times for "Broadway Retold" will be 7 p.m. February 21-23 and 3 p.m. on Sunday February 24.
Sign-up For Our Newsletter
Get the latest news about Mississippi College delivered right to your inbox by subscribing to the Along College Street e-newsletter.