Career Day 2019 at Mississippi College Attracts Record Number of Employers
---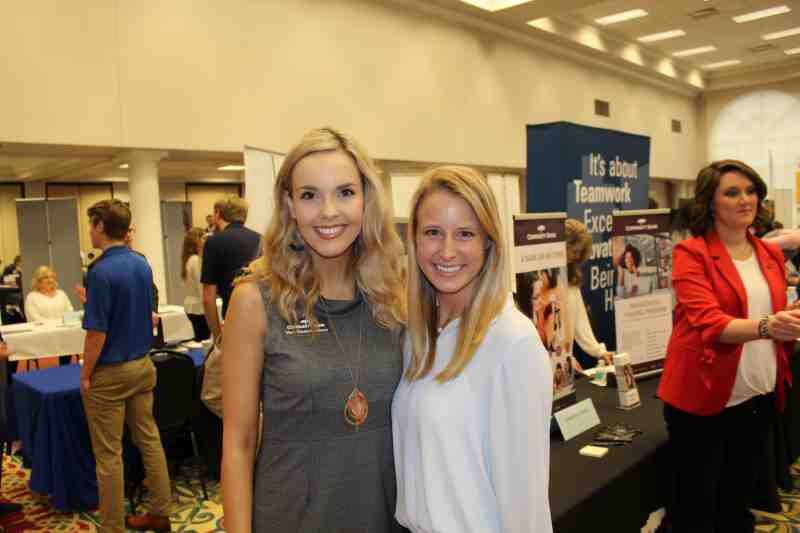 Community Bank recruiters Mary Elizabeth Dulaney and Olivia Mabry were among representatives from 87 employers attending Mississippi College's 2019 Career Day. The annual event at Anderson Hall also attracted hundreds of job-seeking students. A former MC Lady Choctaws basketball player & cheerleader, Olivia earned her bachelor's and MBA degrees on the Clinton campus.
Hours before Mississippi College's 2019 Career Day got started, Navy and Air Force recruiters signed up. It boosted the turnout to 87 employers sizing up hundreds of MC students.
The MC Office of Career Services sponsored the February 12 event that shattered records. Recruiters from banks, hospitals, accounting firms, school districts, the government and other employment sectors networked with hundreds of students.
After Tuesday's four-hour event wrapped up, MC leaders were elated with the response at a packed Anderson Hall. "The 87 employers was the most we've ever had," said Taylor Ormon, associate director of the Office of Career Services. "We worked hard to get more healthcare people here. All of the employers seemed very pleased."
Employers visited from across Mississippi as well as states like Tennessee and Alabama. From the FBI to the Secret Service, from WJTV-12 in Jackson to the Clinton Public School District, recruiters filled tables with loads of job-related information.
Ormon was delighted with the strong response from students in fields such as nursing, business or education. A Career Day fun run on the Clinton campus Monday helped promote the annual event.
MC senior Jamie Cosby, 21, of Richland liked seeing so many recruiters under one roof within a few minutes.
"This is a good place to get my resume out there," Cosby said after meeting with Clinton public schools leaders. "I don't need to travel to each school district," adds the education major.
Clinton District Superintendent Tim Martin and public information officer Sandi Beason believe students came to the right place. About 65 percent of the teachers and staff in the Clinton district are Mississippi College graduates.
It's clearly a sign that Mississippi College maintains a strong partnership with one of the Magnolia State's premier school districts.
SGA Vice President Alex Rodriguez stopped by the Trustmark bank table and chatted with staffer Grant Melancon, a 2018 MC finance graduate. "They bring it all to you," says Rodriguez, a senior from Houston, Texas. "This helps."
Students like Rodriguez were sharply dressed in suits or other formal attire as they made the rounds.
A former Lady Choctaws basketball player with an undergraduate degree and MBA from Mississippi College, Olivia Mabry loved returning to her alma mater. Olivia works for Community Bank. She teamed up with colleagues Tammy Phillips, Mary Elizabeth Dulaney and Jacqueline Williams to recruit students.
Nursing students Madison Beall of Birmingham, Alabama and Allie Wilson of Winona took advantage of the chance to instantly network with potential employers.
Mississippi College graduate Chris Roebuck, marketing coordinator with WJTV-12, says there are several sales positions open at the Jackson TV station. "It's a good economy."
MC graduate Mitchell Castro, a financial analyst at Raytheon in Forest, encouraged students to give his national company a good look. Raytheon now employs 800 people at its Forest plant and the number will grow in the new year. "There is so much work going on."
Students with engineering degrees are welcome, but so are other majors, like business, at Raytheon in Scott County.
FBI recruiter Erica Parker says students should check out internships as well as full-time jobs. Six MC students are taking part in FBI internships. "We are always hiring special agents, but also non-law enforcement positions all over the USA."
Jobs are available at the Mississippi Department of Health. Recruiter Dawn Cuello says the Jackson-based agency will pick up a $25,000 to $50,000 student loan repayment for graduates working in underserved areas in Mississippi.
Sign-up For Our Newsletter
Get the latest news about Mississippi College delivered right to your inbox by subscribing to the Along College Street e-newsletter.