Christmas Season Arrives with Lighting of the Quad
---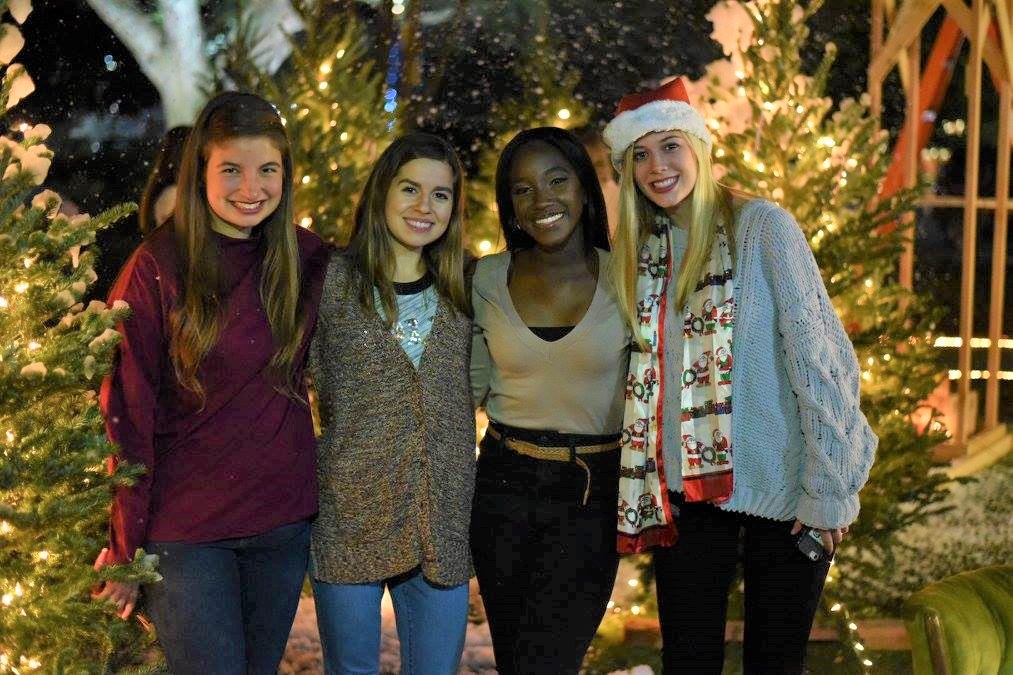 2017 Lighting of the Quad at Mississippi College
Lights brighten the Clinton campus, Santa arrives for photos and readers share the joyful Christmas story. It's all happening at Mississippi College's Lighting of the Quad.
Other activities the evening of November 27 include a toy drive to benefit patients at the Blair E. Batson Children's Hospital in Jackson.
Delicious holiday season treats such as hot chocolate, apple cider and cookies will be served. Activities near Nelson Hall, Provine Chapel and other university landmarks begin that Tuesday at 8 p.m.
Once again, MC's Campus Activities Board will serve as the sponsor of this family-friendly event. And it appears the 2018 edition of the festive occasion will be better than ever.
Students at the Christian university will supply holiday season music. In the heart of the 320-acre campus, the popular activity is open to the public. The event is free.
In late November, MC's Lighting of the Quad signals the start of the Christmas season in Central Mississippi.
Over the years, guest readers sharing the Christmas story have included English professor David Miller, communication professor Mignon Kucia and Terry Dent, director of the Office of Student Success.
This year's event welcomes guest readers and writers. People stopping by the Lighting of the Quad nearby Nelson Hall will be encouraged to write Christmas cards to nursing home residents.
"Lighting of the Quad is one of MC's favorite traditions," says Becca Benson, director of Student Engagement. "We would love for you to join us as we celebrate!"
Students in charge of planning the event at the Baptist-affiliated university are Carney Holloway and Jo Doucette.
The Lighting of the Quad lineup also features an appearance by Mrs. Santa Claus. She will read Christmas books and hand out chocolate chip cookies.
Visitors are asked to bring only new toys to lift the holiday spirits of young patients at the Blair E. Batson Hospital. The facility is part of the University of Mississippi Medical Center.
Lighting of the Quad color T-shirts will be sold earlier in the month (through November 12) at the university's Student Life Offices on the Clinton campus for $20.
Leaders in Clinton see the Lighting of the Quad as a terrific event for area residents.
"It is awesome that the college is opening this event to the community," said Tara Lytal, director of Main Street Clinton.
Her organization and Clinton Chamber of Commerce officials will promote the activity on social media.
"We see it as a win-win for everybody involved," said Tracey Harrison, president of the Clinton Chamber of Commerce. "We view Mississippi College as a vital part of Clinton. We can't wait to see the MC campus illuminated and shining bright as the Christmas season nears," adds the director of public relations at MC.
For more details, contact Becca Benson, director of student engagement, at 601-925-3830 or rbenson@mc.edu