Claudia Conklin Named Leland Speed Library Director
---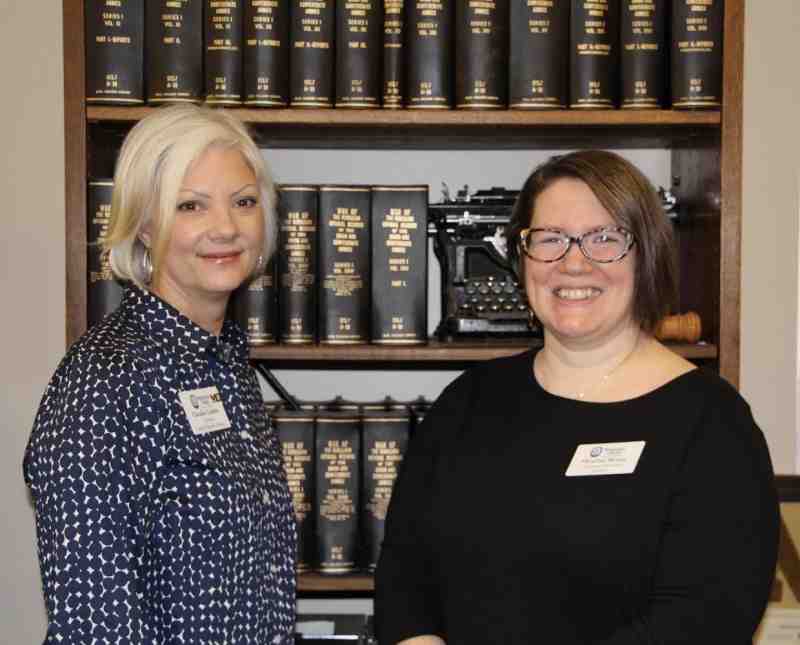 Claudia Conklin and Heather Moore
Claudia Conklin provided excellent leadership as interim director of Mississippi College's Leland Speed Library since January.
In late October, MC officials erased the interim title and selected Conklin as director of the library along College Street.
Conklin already devoted two decades to her career as a professional librarian. And she's expected to keep serving the Blue & Gold family for many years.
"We have a great group here, and I look forward to working with them and the rest of the MC community for a long time to come."
The Mississippian succeeds retired Leland Speed Library director Kathleen Hutchison. She is thrilled to have Claudia aboard as the new director.
"She brings new energy, vision, and leadership that will not only move the library forward, but will serve the MC academic community well," Hutchison said.
Hutchison retired as the Speed Library director in June 2019. She continues to work as a part-time librarian at Mississippi College.
During her tenure as interim provost in 2019-2020, Debbie Norris said she enjoyed working with Conklin as well as Heather Moore, the library's new assistant director. Moore will continue to serve as the director of the library's special collections. That includes the Baptist Historical Collection.
"These two women offer strong leadership for Mississippi College, its faculty, staff and students," says Dr. Norris, now the associate provost and dean of the Graduate School.
Both women, she said, are mindful of "the importance of the role the library plays in the learning process."
The Leland Speed Library is much more than a collection of books, prominent academic journals and study areas for students. The facility is a multidisciplinary collection with more than 174,000 titles. The Leland Speed Library houses the MC Writing Center, special collections featuring extensive information about Mississippi's Baptist churches, university history, a display of old typewriters, and so much more.
In recent months, Claudia Conklin and her capable staff faced major challenges amid the COVID-19 pandemic.
In the Spring of 2020, "the shutdown tested the library's services and resources, as we had to move quickly to strictly online." Conklin said. "Luckily, the librarians and staff were able to continue providing reference assistance and keep the online resource humming along."
Conklin received her master of library and information science degree from the University of Southern Mississippi in 2000. She earned a bachelor's in English from Auburn University. Claudia joined the Speed Library in 2013 as a reference and instruction librarian. Prior to that, Conklin worked as a reference librarian at William Carey University in Hattiesburg.
Claudia lives in Ridgeland with her husband, Dennis, an Upper School history teacher at Jackson Academy. The couple attends the Cathedral of St. Peter the Apostle Catholic Church in Jackson.
Sign-up For Our Newsletter
Get the latest news about Mississippi College delivered right to your inbox by subscribing to the Along College Street e-newsletter.