Clinton Endorses New Archery Field for Local Teams
---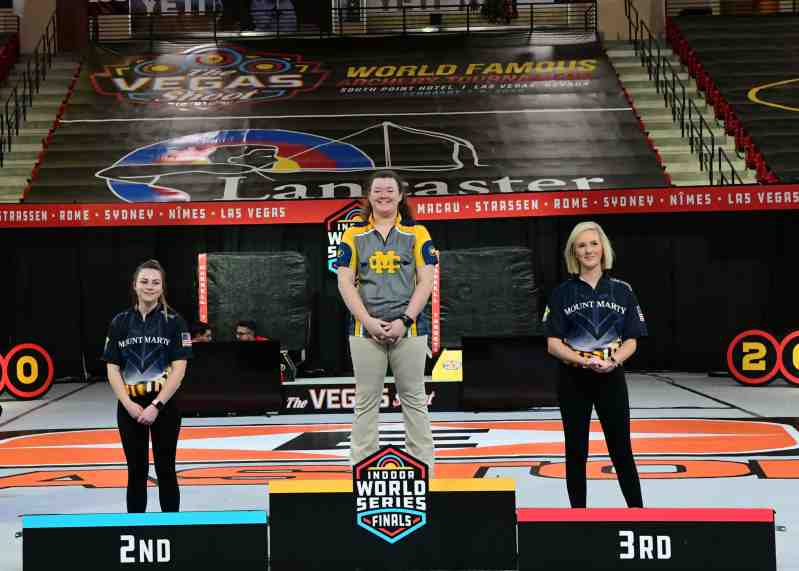 MC archery team member Kathryn Freeman, a freshman from Natchez.
The United States stands tall as the global leader when it comes to its phenomenal interest in the Olympic sport of archery. It's been that way since 2008, the World Archery Federation reports.
And student-athletes on target with this fast-growing sport are plentiful in Clinton, Mississippi. That number should keep expanding for years to come. Sparking interest will be a new archery range to be based at Clinton's Traceway Park.
Leaders on February 18 approved the local archery field that partners Mississippi College with Clinton Christian Academy, the Clinton Public School District and the city.
Mayor Phil Fisher and the Clinton Board of Aldermen approved a memo of understanding to make it happen for talented archers. They are members of MC Choctaws, Clinton High Arrows and CCA Warriors teams. The archery range will be located near offices of the city's Parks and Recreation Department.
MC leaders applaud the move and see benefits ahead for archers to step up their game.
"The Clinton archery facility will enable Mississippi College students to practice their skills and improve their competitive abilities," says MC administrator Jim Turcotte. "The location of the range is ideal for archery and should become a well-known destination for competitive archers."
The vice president for enrollment services and executive director of alumni affairs, Turcotte oversees archery along with three other MC outdoor sports.
"We anticipate that multiple tournaments will be hosted in Clinton due to the Central Mississippi location and the quality of the facilities," he said.
"The partnership will provide a nice area for our students and others in our community to practice," says Sandi Beason, public information director for Clinton public schools. "We hope it helps our archery program to continue to grow."
The movie "The Hunger Games" helped boost the sport in the United States. It's a competitive sport designed for people of all ages.
Mississippi College archers enjoyed remarkable success in recent years. In May 2017, MC archers competed in the national field archery championships in Yankton, South Dakota. In October 2019, MC archers participated in the USA 3D Nationals. On January 26, MC freshman archer Kathryn Freeman of Natchez earned second-place honors at the first Lancaster Youth and Collegiate Tournament in Pennsylvania.
It's a sport growing exponentially in the USA. The number of Americans participating in archery stood at 21.6 million just a few years ago.
John McDonald serves as the coach of the Mississippi College Choctaws team. The MC squad turned in exceptional performances with their bows and arrows in February at The Vegas Shoot. Kathryn Freeman won first-place in the collegiate women's bow hunter division. Anna Carraway and KrysLynne Poole also recorded outstanding showings.
The prestigious indoor archery tournament attracted more than 3,800 archers from around the world. In the collegiate division, student-athletes shot 30 arrows for two days.
Archers at the February 7-9 tournament in Las Vegas ranged from beginners to Olympic champs. Archers traveled to the venue from all 50 states and 50 nations. The event drew more than 6,000 spectators.
Sign-up For Our Newsletter
Get the latest news about Mississippi College delivered right to your inbox by subscribing to the Along College Street e-newsletter.