Comedy Comes to Aven Little Theatre
---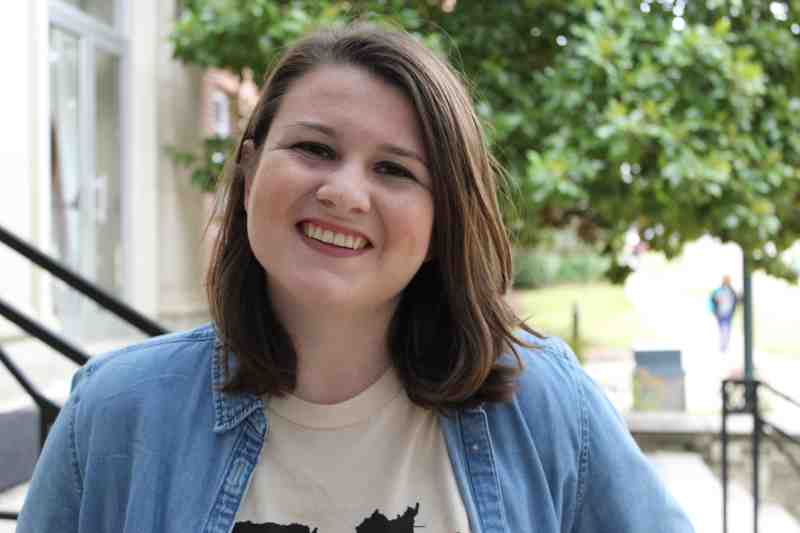 Mississippi College communication major Kat Tate, director of the comedy at the Aven Little Theatre.
Call it a series of dates that go off the rails. People with an irresistible urge to steal, grandma's favorite bridge partner and a talented mime get star billing in this zany comedy.
"Check, Please!" is the title of the entertaining Fall show coming to Mississippi College on November 8-9. Fans of the one-act comedy by Jonathan Rand will want to see it for the blitz of laughs.
The public is invited to the Communication Department production at 7 p.m. each evening at the Aven Little Theatre on the Clinton campus. Tickets cost $3 and can be purchased at the door.
The stage setting is pretty simple. It consists of four chairs and two tables in a restaurant. The 35-minute play tells the series of hilarious tales revolving around blind dates. The blind dates couldn't get any worse, but they do.
"Check, Please" remains a pretty popular theatrical production at high schools across the USA. It's catching on at colleges, too. The Education Theatre Association rates "Check, Please" as the most produced one-act play at American high schools for more than a decade.
Communication major Kat Tate, a senior from Dallas, serves as the show's director under the guidance of MC professor Phyllis Seawright.
Audiences "can expect a witty script, lightning-fast humor, and unexpected plot twists," Seawright says.
Tate has prior experience in other MC Communication Department productions. Kat's acting credits include a leading role in William Shakespeare's play "Much Ado About Nothing" last spring.
Perhaps a similar version of the one-act play will come to a Mississippi College stage in future years. Living in New York, Jonathan Rand has written two sequels to "Check, Please!."
Mississippi College students in the cast include: John M. Pinter of Forest, Ian Campbell of Clinton, Caleb Davis of Brandon, Bradley Ducote of Bogue Chitto, Danielle Youngblood of Meadville and Melissa South of Hernando.
Other MC students with acting roles: Ellen Quinn of Kimberly, Alabama, Calen Doty of Englewood, California, Meagan Brown of Bedford, Texas and Catherine Cape of Huntsville, Alabama. Student Alex Thompson of Rogersville, Alabama handles the lighting and serves as the play's sound technician.
Sign-up For Our Newsletter
Get the latest news about Mississippi College delivered right to your inbox by subscribing to the Along College Street e-newsletter.