Commissioner Sean Tindell Salutes MC Law Professors
---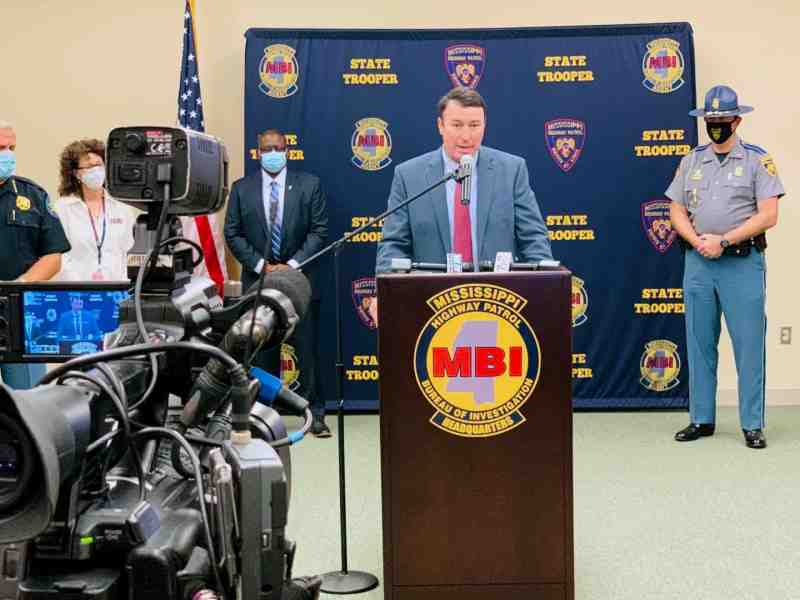 MDPS Commissioner Sean Tindell is a 2001 MC Law graduate.
Mississippi Department of Public Safety Commissioner Sean Tindell leads a vital agency serving the state's three million residents.
From the Highway Patrol to the Driver Service Bureau, Homeland Security, State Crime Lab, and much more, the Jackson-based agency includes over 1,100 employees. On May 20, Gov. Tate Reeves appointed the Gulfport native to command a dedicated team of men and women committed to making Mississippi a safer place.
Created in 1938, the department is led by a 2001 graduate of the Mississippi College Law School in Jackson. Tindell appreciates MC Law professors for equipping him with valuable skills to succeed. He's got solid credentials as an assistant district attorney, state senator, appellate judge, and now as the MDPS leader.
Patricia Bennett, Matt Steffey, and Carol West were among his outstanding teachers on the East Griffith Street campus. Bennett now serves as the MC Law dean.
"Dean Bennett was a wonderful professor," Tindell said. The same holds for the institution's award-winning faculty members as Sean studied criminal law, constitutional law, domestic relations and other subjects.
"They were a great influence," Tindell said. As a student, the Gulf Coast native became impressed with Mississippi College "as a place to get a wonderful education."
MC Law School appealed to the University of Southern Mississippi graduate because of its location just blocks from the state Capitol. The school sits in the vicinity of many prominent law firms and government agencies. "It affords students an opportunity for internships in the Jackson-metro area."
When his father died at the end of his first year at MC Law, Sean spent the summer on the Gulf Coast with his grandparents. He landed an internship in the District Attorney's office in the region to spark his interest in criminal law. Sean later became an assistant district attorney and was on his way.
Dean Bennett is among his biggest admirers. "I am proud that Sean Tindell is devoted to a career in public service."
She was elated when Tindell became a prosecutor in the District Attorney's Office. Early in her career, Bennett served as a prosecutor. "I am always excited when former students find that area of law interesting and pursue a career in it."
His strong work ethic as a law student-led to notable professional accomplishments, Bennett said.
"The state is fortunate to have someone with his talent, character, and distinguished service leading the Department of Public Safety," Steffey said. "The law school is proud of Sean and happy for him and his family. I know the MDPS will benefit from his leadership."
Well-schooled in the political world, Sean Tindell represented Senate District 49 from 2012 until Gov. Phil Bryant appointed him to the Mississippi Court of Appeals. From 2008 through 2011 he served as City Prosecutor for the City of Biloxi.
Tindell earned his bachelor's in business administration and MBA at Southern Miss. He and his wife, Claire, are busy parents at their Gulfport home with four children. The MDPS commissioner tends to his farm in Stone County and coaches youth sports. Born at Gulfport Memorial Hospital, he cherishes life on the Mississippi Gulf Coast. "There's something about the salt water that gets in your blood," Tindell says. "It is a wonderful place to raise a family."
Sign-up For Our Newsletter
Get the latest news about Mississippi College delivered right to your inbox by subscribing to the Along College Street e-newsletter.