Counseling Specialist, Community Bancshares AVP Join Mississippi College Faculty
---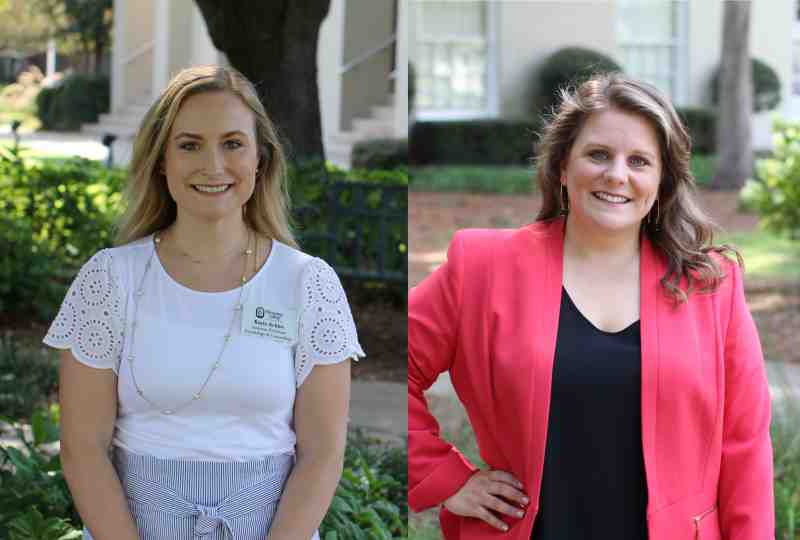 Dr. Kayla G. Acklin, left, has joined the Department of Psychology and Counseling, while Dr. Lindsey Webb Dancy has joined the Department of Communication at MC.
Mississippi College executive leaders are proud to welcome two valuable additions to the Christian University's faculty and administrative staff.
Kayla G. Acklin, Ph.D.
Dr. Kayla G. Acklin, adjunct faculty in the Department of Counseling, Psychology, and Special Education in the School of Education at Duquesne University, Pittsburgh, Pennsylvania, has joined the Mississippi College faculty as an assistant professor and program assessment coordinator in the Department of Psychology and Counseling.
Dr. Susan "Hope" Tipton, assistant professor and chair of the department, said Acklin will teach graduate courses in the counseling department.
"We are excited to have her in the department," Tipton said. "Her expertise will help us grow our department and programs."
Originally from Alabama, Acklin received her B.S. in human development and family studies and her M.Ed. in clinical mental health counseling from Auburn University and her Ph.D. in counselor education and supervision from Duquesne, where she taught "Leadership in a Diverse Society" and "Advanced Counseling and Consulting Theory."
A Licensed Professional Counselor, she has provided individual, group, and family counseling services for professional health care institutions in Pittsburgh, Pennsylvania, Warrior, Alabama, and Hoover, Alabama.
The author or coauthor of two articles in peer-reviewed professional publications and one currently in press, Acklin has presented a research poster and participated in a roundtable presentation at a statewide scientific conference. Her dissertation consisted of a qualitative, grounded theory study, "Empowering Mothers: A Conceptual Model for Perinatal Mental Wellness."
An inductee of the Kappa Omicron Nu, Phi Kappa Phi, and Iota Delta Sigma Chapter of the Chi Sigma Iota Honor Societies, Acklin was a Building Rural Alliances through Collaboration and Education (BRACE) Fellow.
Acklin and her husband of 10 years, Joshua, have two daughters: Everly, 4, and Ameila, 1.
Lindsey Webb Dancy, Ph.D.
Dr. Lindsey Webb Dancy, former assistant vice president and corporate training officer for Community Bancshares in Flowood and an MC alum, has joined the Mississippi College faculty as an assistant professor in the Department of Communication.
Dr. Reid Vance, assistant professor and chair of the department, said Dancy will teach undergraduate and graduate courses in interpersonal and organizational communication.
"We're delighted to welcome Dr. Dancy back to Mississippi College," Vance said. "In addition to her record of academic excellence, Dr. Dancy brings a wealth of knowledge from her work in corporate communications.
"She will be an outstanding resource for our undergraduates looking to make the connection to their future careers. She'll also be working closely with our graduate students, many of whom are early- and mid-career professionals who will be able to relate well to Dr. Dancy's own vocational path and experience."
After obtaining her B.S. in psychology cum laude and her M.S. in applied communication cum laude from MC, Dancy served as an account executive and on-air personality for Star 93.5 FM in Clinton and was an adjunct instructor in the Department of Communication. She later became a treasury management and sales officer at Community Bank of Mississippi in Flowood after earning her Ph.D. in organizational and interpersonal communication at the University of Southern Mississippi, where she was a graduate teaching assistant.
The author of four research papers presented at academic and national symposiums, Dancy serves as executive treasurer/secretary for the Mississippi Communication Association and vice president of communication for the Mississippi Chapter of the Association for Talent Development. An inductee of the Phi Kappa Phi Honor Society, she was also named to the Mississippi Business Journal's 50 Leading Business Women list in 2017.
Dancy and her husband, Nathan, have two children: Patrick and Liza. They are active members of Crossgates Baptist Church in Brandon.
Sign-up For Our Newsletter
Get the latest news about Mississippi College delivered right to your inbox by subscribing to the Along College Street e-newsletter.