Debate Team at Mississippi College Talks Up New Season
---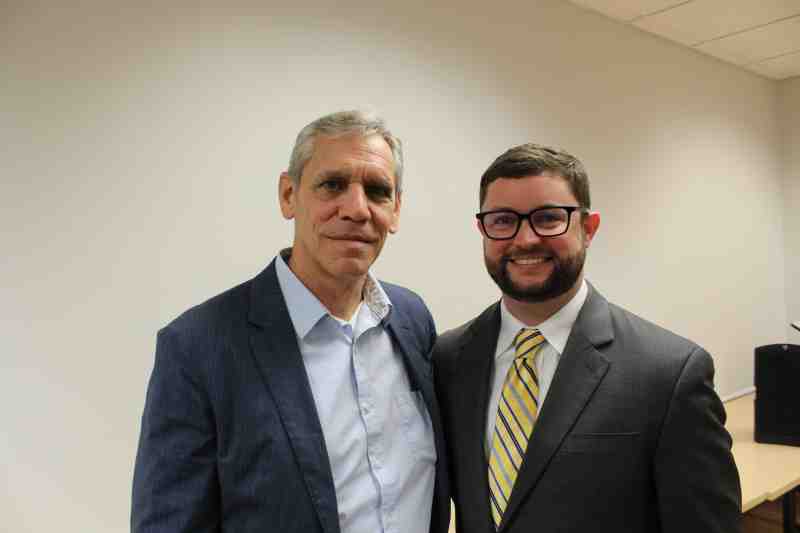 Mississippi College debate team coach Merle Ziegler joins Communication Department Distinguished Graduate of the Year Randall Miller for a photo at a 2019 Homecoming reception. A 2011 MC graduate and attorney, Miller is a former debater at the Christian university.
Mississippi College students take their verbal skills to the Lone Star State for the Tiger Invitational debate tournament.
East Texas Baptist University will host the event November 15-16 on the Marshall campus. Typically, the weekend event attracts college debate teams from Texas, Louisiana, Arkansas, Missouri, Tennessee and Mississippi.
The tournament consists of seven preliminary rounds followed by elimination matches.
The 247-mile trip to Texas for the Mississippi College team follows recent tournaments at LSU Shreveport and the University of the Cumberlands.
The Blue & Gold debate squad includes Cassandra Holcombe, Isaac Salamonson, Rodney Milner, and Matthew Bell.
Sparring with his verbal skills to face other college debaters is a challenging assignment for Milner. But the 19-year-old sophomore believes debating provides significant benefits.
"I love the fact that I can work on the skills I'll be needing in the courtroom as a lawyer," says Milner, a political science major. "I love to debate politics."
With American voters taking part in the 2020 presidential election one year from now, there will be several opportunities for the Madison, Alabama resident to tackle political issues.
Other popular topics before USA college debaters today include the use of stem cells in medicine, the American war on terror around the globe, and whether homework should be banned.
MC debate team coach Merle Ziegler believes the team sharpened its skills during the November tournaments and constant practice at the Aven Fine Arts Building.
The student debaters come from various disciplines. Cassandra Holcombe of Olympia, Washington is an English Writing major. The MC senior has been an active debate team member for four years.
Solamonson is a political science major from Jackson. A sophomore, Isaac is marking his second year on the debate team. A resident of New Albany, Matthew Bell has showcased his talents on stage in MC Communication Department theater productions in recent years.
The MC team competes in the International Public Debate Association. Debate officials select topics for the tournaments.
A communication professor, Ziegler is delighted to see MC debaters succeed after they graduate. A 2011 MC alumnus, Randall Wilson Miller was honored October 25 during the university's 2019 Homecoming as the Communication Department's Distinguished Alumnus of the Year. A native of Roseland, Louisiana, Miller serves as an attorney. Randall was a skillful MC debater as an undergraduate on the Clinton campus.
Sign-up For Our Newsletter
Get the latest news about Mississippi College delivered right to your inbox by subscribing to the Along College Street e-newsletter.