Delegation from Mississippi College Enjoys Visit to Southern Baptist Convention
---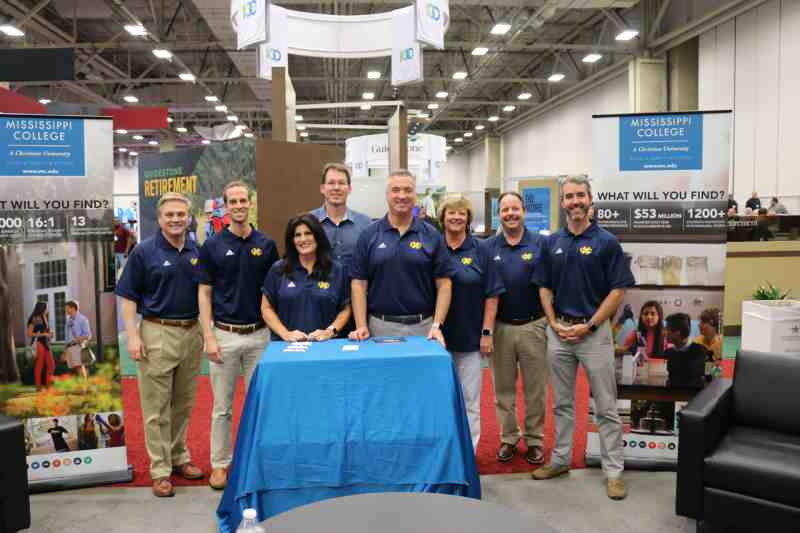 Mississippi College leaders at the 2018 Southern Baptist Convention in Dallas
Mississippi College's delegation of leaders enjoyed their June visit to the Southern Baptist Convention in Dallas.
University administrators, alumni, and friends were among about 8,000 Baptists attending the meetings at the Kay Bailey Hutchison Center. There was much to talk about for convention-goers in Texas.
North Carolina pastor J.D. Greear, 45, was elected president of the Southern Baptist Convention on June 12. He's best known as the leader of a Durham, N.C. megachurch who actively recruits scores of college students. Vice President Mike Pence spoke to the convention Wednesday. Texas Gov. Greg Abbott greeted thousands of visitors at the SBC's opening session.
MC officials welcomed alumni at their gathering Tuesday night and presented an update on new developments at the 5,200-student Baptist-affiliated university. The big news is that President-elect Blake Thompson will succeed retiring MC President Lee Royce on July 1. Dr. Blake, 43, served as a vice president at The Ohio State University the past nine years. Earlier in his career, the Alcorn County native worked on the staff of recently retired U.S. Sen. Thad Cochran of Mississippi.
As prospective students stopped by the MC booth at the convention, admissions director Kyle Brantley and assistant director Michael Wright appealed to them to consider enrolling at America's second oldest Baptist college.
"It's been a very fruitful recruiting trip," Wright said. The admissions staffers met potential MC Choctaws from Missouri, Tennessee, and Florida. Some of the students came from as far away as California, North Dakota and Alaska.
Just a few years ago, Brantley met with students at the SBC convention in Phoenix. One of them he recruited at the meeting in Arizona was Karis Nelson of Knoxville, Tennessee.
Today, Karis Nelson is an MC senior majoring in electrical engineering. At the time, Karis attended the national convention with her father, Phil Nelson, a staff member with the SBC's International Missions Board. He's a former missions pastor at First Baptist Church Knoxville.
Being part of the delegation of MC leaders at the 2018 convention was a good place to build friendships and spread the message about the vibrant Christian university.
"We enjoyed welcoming a record number of alumni, friends and prospective students who visited the MC booth," Brantley said. Tuesday evening's reception for alumni and other supporters at the convention center went well, too. "We gathered to fellowship, catch up on life and enjoy some delicious food with one another."
Mississippi College Vice President for Christian Development Eric Pratt, Vice President for Advancement Bill Townsend, and digital media & communications manager Chad Phillips made the journey to the Lone Star State. So did Angie Hardin, director of transfer recruitment, and Mark Hughes, associate vice president and dean of enrollment services on the Clinton campus. The Texas convention wrapped up Wednesday.
Sign-up For Our Newsletter
Get the latest news about Mississippi College delivered right to your inbox by subscribing to the Along College Street e-newsletter.