The End of an Era: Coach Mike Jones Announces Retirement from MC
---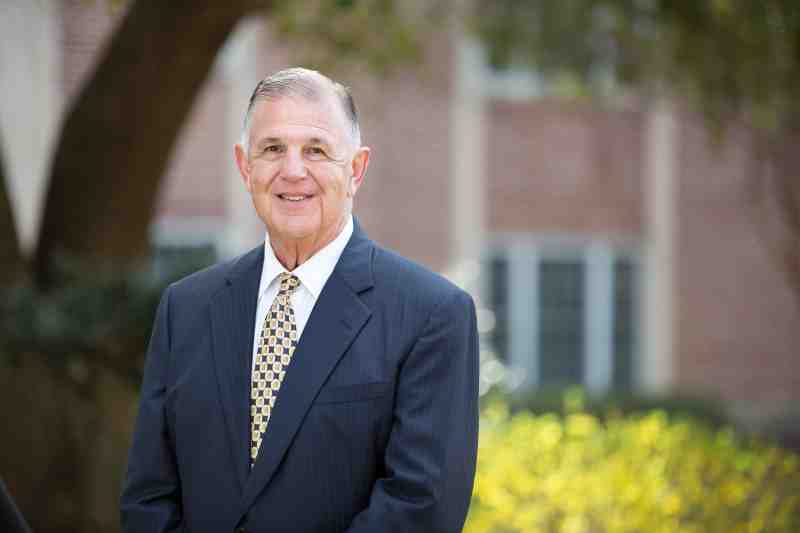 Coach Mike Jones
Coach Mike Jones '75, '77, announced his retirement as athletic director and head men's basketball coach at Mississippi College, ending a storied, 33-year career with MC.
"I am so blessed to have been a part of MC for all this time," Jones said. "Retiring has been a tough decision and an emotional thing, but I've prayed hours and hours about it, and I have peace in my heart that it's the right thing to do. It's time for someone else to come and take MC to another level."
Jones will continue to work part-time with Dr. Blake Thompson, MC president, on initiatives for MC athletics.
"Mike and I have worked very closely in all aspects of leading this university and this athletic department, and I look forward to us serving MC together for years to come," Dr. Thompson said. "I'm thankful for Mike's 40-plus year association with MC as a student, coach, and administrative leader. His legacy here is secure."
"I'm going to miss the coaches, my staff, and my colleagues greatly," Jones said. "The most difficult thing about leaving is that I love them. I have to especially thank my assistant coaches, Don Lofton and Alex Ainsworth. They've been so supportive and loyal, just incredible to work with at MC."
Coach Jones has built a winning tradition and an impressive record at MC, but he doesn't define his career in terms of wins and losses.
"Winning games is just a small part of coaching. Watching the staff and players come to know Christ at MC, and I've seen so many grow and go on to make great contributions. That's what coaching is all about – making a difference in their lives. That's what God called me to do."
Jones joined the MC team as head basketball coach in 1988. Over the past three decades, he has served as head coach and as the university's athletic director. For many of those years, he held both demanding roles simultaneously.
During his 19 seasons as MC's head basketball coach, Jones posted a 342-127 record and led the Choctaws to four American Southwest Conference (ASC) Championships, one Gulf South Conference Championship (GSC), and three appearances in the Sweet 16 round of the NCAA Division III Tournament. Jones earned three ASC Coach of the Year honors, GSC West Division Coach of the Year, and his players consistently competed on the All-Conference and All-Academic teams.
Most recently, Jones guided the 2020-21 Choctaw team, which includes his grandson, MC junior Zach Jones, through a season cut short due to COVID-19.
As athletic director, Jones helped MC transition back into NCAA Division II and the Gulf South Conference following a successful tenure in Division III. Jones' fundraising efforts led to enhanced facilities for virtually all of MC's sports programs.
While he is best known for his successful career at MC, Jones also coached basketball at Copiah-Lincoln Community College. His teams were consistently ranked among the National Junior College Athletic Association's Top 20, and he was twice named Region 23's Junior College Coach of the Year. Over his 23-year career as a head coach, Jones posted 21 winning seasons (454-147 record).
Jones earned bachelor's and master's degrees from MC, where he was a basketball standout and served as a graduate assistant responsible for scouting and recruiting. He is a member of the Mississippi College Athletic, Co-Lin Athletic, and Mississippi Sports Halls of Fame.
The basketball court floor at A. E. Wood Coliseum is named after Jones, an honor he considers a career highlight.
"Every time I walk on that court…I won't say it gives me chills, but it's definitely a different feeling."
Coach Jones is looking forward to spending more time with his wife of 46 years, Jane, and their two children and six grandchildren.
"Jane has been my rock," Jones said. "It takes a special woman to be a coach's wife. She has made so many sacrifices. My whole family has been so supportive of what I've done. It's hard to coach if that's not the case. I've been blessed to have a family that's been behind me, and I can't thank them enough."
Kenny Bizot Named MC Athletic Director
Kenny Bizot '94, '95, has been named MC's new athletic director.
Bizot brings more than 20 years' coaching and athletic administration experience and is currently wrapping up his final season as the head basketball coach at Copiah-Lincoln Community College, where Mike Jones once coached. Prior to joining Co-Lin, Bizot was an administrator and head coach at the University of Texas at Tyler, where he led his team to the ASC Championship tournament five of his six seasons and was named the ASC East Division Coach of the Year.
Bizot spent four years as MC's assistant coach and recruiting coordinator, helping lead MC to a national #2 ranking. His recruiting classes posted a five-year record of 119-35 and made three straight Sweet 16 appearances. As an MC student-athlete, Bizot played basketball under Coach Mike Jones from 1990-94 and was named the team's "Mr. Hustle" in each of his four seasons. Bizot also served as Coach Jones' graduate assistant while earning his master's degree.
"To be asked to come back and serve MC is exciting and humbling. I'm fortunate to be able to come home," Bizot said. "Following Coach Jones in this role after all of his success is motivational and inspires me to work even harder. Coach Jones has been very good to me and to follow in his footsteps means a lot."
"Kenny is a person of character with a great work ethic," Jones said. "He is probably the hardest-working player I have ever had play for me. I know he'll do the same thing as athletic director. The best advice I have to offer Kenny Bizot? Be Kenny Bizot."
One of Bizot's first responsibilities will be to recruit and hire MC's new men's basketball coach.
"Like Coach Jones, Kenny Bizot brings exceptional leadership skills and a track record of success to his new position as MC's athletic director," said Dr. Blake Thompson. "We can be confident that we'll have a smooth transition and that Kenny will lead with the same integrity that Mike brought to our athletic program. MC is fortunate to have known such strong leadership under Coach Mike Jones and to have the opportunity to build on his success with Kenny Bizot."
Sign-up For Our Newsletter
Get the latest news about Mississippi College delivered right to your inbox by subscribing to the Along College Street e-newsletter.