Equestrian Team at Mississippi College Opens New Season at Texas State in October
---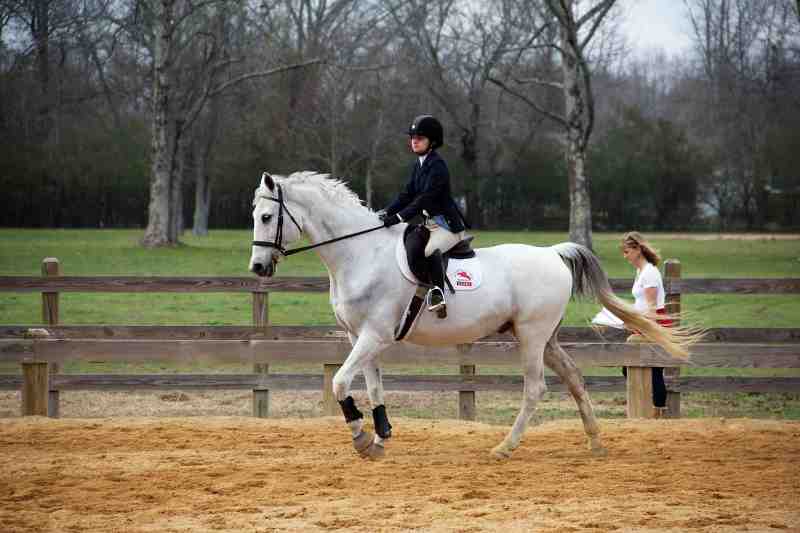 MC equestrian co-captain Kaylyn Kimpel of Orlando, Fla. is pictured riding.
Mississippi College's equestrian team riders face competitors like Tulane, Rice, LSU and Texas State in a new region as the Lady Choctaws saddle up for the 2018-19 season.
For MC senior Kaylyn Kimpel of Orlando, Florida it marks her final and fourth season in an amazing run.
"My story on the team has been a special set of circumstances that is a testament to how much the Lord has truly blessed me," Kimpel says.
Practically an inexperienced rider as a freshman, Kaylyn received a helping hand from upper class teammates from day one. "Whether it was tucking my hair into my helmet at show, giving pointers or cheering me on, they were there for me," Kimpel says. "That team molded me into the rider I am today and I will never forget all that they did for me."
Today, the Floridian serves as team co-captain on the squad that trains at 2,000-acre Providence Hill Farm. Looking like a scenic venue in Kentucky's horse country, the spacious Central Mississippi farm sits 20 minutes from the Clinton campus.
Practices at Providence Hill Farm are getting stepped up lately. MC's equestrian team faces its first taste of Intercollegiate Horse Show Association competition on October 20-21. Texas State University hosts the event near Wimberley, Texas.
Kimpel competes in Advanced Walk/Trot/Canter and is anxious to see the team mark its 2018 debut in the Lone Star State.
At Fall practices, the riders train with swift horses. Capiche is among Kimpel's favorites. The horse "likes people, but isn't overly fond of other horses. He is one of the few around from my freshman year. We've definitely been through some fun show experiences."
During MC's first 11 seasons, other horses with names like Quintessential, Hale Bopp, Mac, Quinn, and Laddie also helped the team shine as one of the South's premier squads. Head coach Mandi Powers and Ann Skogerboe, the equestrian program's new director, remain vital to the team's success.
Being a member of the equestrian team isn't for everybody. But Kimpel quickly discovered she belonged. "I love what I do, getting to go out to the barn and relaxing after a long day of classes."
While hard work is involved all season, the Mississippi College riders are making progress. Winning ribbons helps. "Those ribbons make the blood (mostly bruises), sweat and tears totally worth it," Kaylyn said.
Building friendships with teammates also makes the experience worth every minute. "We have a fantastic group of girls, and I'm so grateful to be riding with them for my last time this year. I wouldn't want it any other way."
Senior Margaret Crigler of Germantown, Tenn. is equally pumped about joining teammates for her final equestrian season. "My teammates, horses and coaches have become part of my family," Margaret says. "They encourage me not only in my pursuit to be a better rider, but also a better person."
Seniors like Kaylyn Kimpel and Margaret Crigler deserve credit for being team leaders, Skogerboe said. "We certainly appreciate the dedication and inspiration they have brought to the team."
Student-athletes on last year's team came from 10 states: Colorado, Michigan, Tennessee, Florida, Alabama, Louisiana, Tennessee, Illinois, Texas and Mississippi. The geographical makeup varies little for the MC equestrian squad's new season.
Sign-up For Our Newsletter
Get the latest news about Mississippi College delivered right to your inbox by subscribing to the Along College Street e-newsletter.