Four Mississippi College Grads Receive Medical School Scholarships
---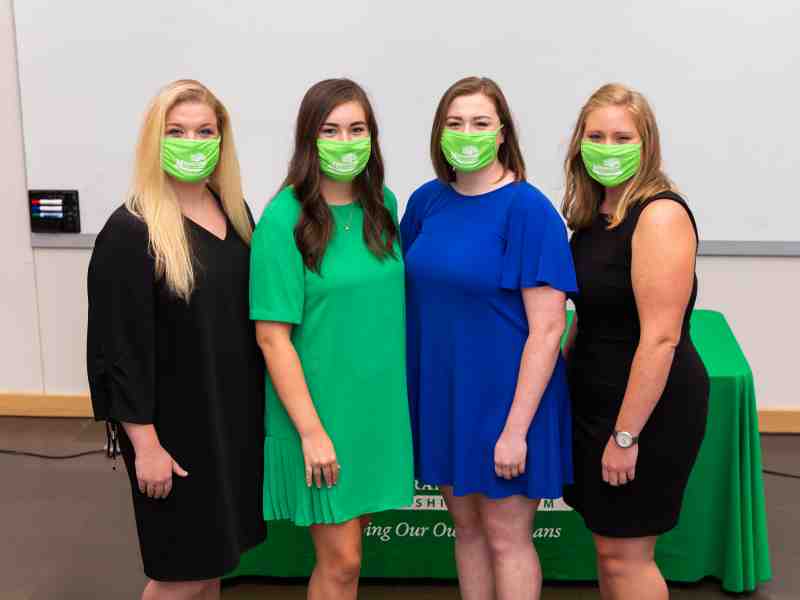 MC grads awarded scholarships to become rural physicians. Scholarship recipients: Ali Pike, Allie Boyd, Katelyn Brock and Taylor Cupit
Mississippi College professors did an extraordinary job preparing her for the rigors of medical school, Taylor Cupit says.
A 2020 MC biomedical science graduate, Taylor is now enrolled at the University of Mississippi Medical School in Jackson.
Receiving a $120,000 scholarship over four years, Cupit is on her way to becoming a physician in rural Mississippi.
"I feel that becoming a physician in a rural area will allow me to be an active member of the community," Cupit said in early September. "It will allow me to make a difference."
A graduate of North Pike High in Summit, Taylor is among four recent MC graduates getting medical scholarships. The Mississippi Legislature funded the program beginning in 2007. The initiative helps attract more physicians and dentists to serve in rural Magnolia State communities.
Other MC grads awarded the scholarships are Katelyn Brock of Vicksburg, Allie Boyd of Raleigh, and Ali Pike of Philadelphia. Katelyn is a graduate of St. Aloysius High. She's worked as a lifeguard at the Vicksburg City Pool. At MC, she was active with the Laguna social tribe.
Ali Pike is thankful to Mississippi College for giving her the tools to succeed in life. "MC gave me an environment to grow in my faith as well as in my academic pursuits," she said. "The quality of education I received here helped me tremendously in my understanding of medicine and the biological sciences."
Ali praised biological sciences professor Erin Norcross for her support every step of the way as her advisor on the Clinton campus. "She saw potential where I found myself lacking, and she offered grace in times where I needed it most."
Mississippi Rural Physicians Scholarship Program awards to 61 medical students totaled $1.83 million this fall.
Three privately funded scholarships were awarded this year from the Madison Charitable Foundation, the Selby and Richard McRae Foundation and the Medical Assurance Company of Mississippi.
Other benefits from the scholarships include personalized mentoring from practicing rural physicians and academic support.
The MRPSP scholar must provide four years of service in a clinic-based practice in a Mississippi community of 15,000 or fewer people. The program is based at the University of Mississippi Medical Center.
For more information, contact program director Steven Carter at jscarter@umc.edu
Sign-up For Our Newsletter
Get the latest news about Mississippi College delivered right to your inbox by subscribing to the Along College Street e-newsletter.