Guam Resident Graduates at Mississippi College With Online Business Degree
---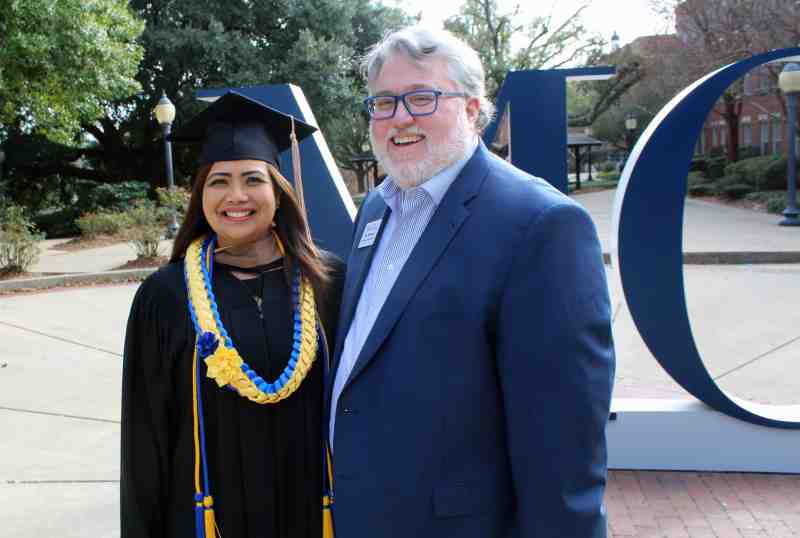 New Mississippi College graduate Rodalyn Gerardo of Guam is joined by her MC advisor, accounting professor Billy Morehead on her commencement day, December 20, 2019.
Guam is a paradise loaded with beautiful beaches in the North Pacific Ocean. An island heavily focused on tourism, Guam sits more than 7,600 miles from Mississippi College.
Ties between Guam, a United States territory with a diverse population, and MC's campus in Clinton just got stronger. That happened when Rodalyn Gerardo traveled 30 hours to receive her college diploma at Fall commencement.
Visiting MC for the first time at the December 20 ceremonies, Rodalyn is a proud graduate of the Christian university's online MBA accounting program.
Chief auditor at the Guam Memorial Hospital Authority, and a busy mom, Gerardo, 38, viewed an online education as the best avenue to fulfill her career goal. She first got connected with MC through meeting accounting professor Billy Morehead, who's taught in Guam the past 10 years. And he proved to be her invaluable advisor every step of the way.
"I praise God for giving me this wonderful, humbling opportunity to finally check the MBA off my bucket list," Rodalyn Gerardo said in late December. "I am grateful for having Dr. Morehead as my advisor."
A supportive family and friends get credit, too, for their assistance year-round. She balanced challenging single Mom duties while raising her son, Jay, 14, and 9-year-old daughter, Gabriella May. Her children and parents, Roger and Soledad Gerard, joined her on the journey to Mississippi College's commencement.
There was time for photos with Dr. Morehead and delighted family members as well as President Blake Thompson at the A.E. Wood Coliseum.
Her splendid Magnolia State visit combined with a memorable commencement celebration that Friday. Rodalyn got to see the faces she only encountered on her computer screens in Guam and exchange hugs for the first time.
It was a nice break from her duties as chief auditor at the Guam hospital the past nine months. Prior to that, Rodalyn worked 15 years with Guam's Office of Public Accountability.
Following ceremonies at the 194-year-old Baptist college, Gerardo returned to her island home with its melting pot of diverse cultures. They include people from Japan, South Korea and America as well as native islanders.
"Guam is our little paradise in the middle of the Pacific Ocean. It is known for its strategic location between the continental United States and Asia," she said, noting military bases in the north and south of the island.
Morehead was delighted to welcome the Gerardo family. He invites more people from Guam to pursue a Mississippi College education. Being so far away from Mississippi, an online education makes sense.
"This is a great example of how online education has changed our industry," said School of Business Dean Marcelo Eduardo. "It shows how a strong program such as ours can attract students anywhere in the world."
Rodalyn Gerardo came to MC well-prepared. The first generation college graduate received an undergraduate degree in accounting from the University of Guam. The CPA is a member of the Guam chapter of the Association of Government Accountants.
Professor Morehead is an active leader with that group, including service as its president in 2010-2011. During his tenure as the organization's leader he met Rodalyn. He's made 12 trips to Guam providing government financial training to accountants over the past decade.
He teamed with business professor Mark Morgan to teach accounting classes the past three summers at the University of Guam.
"These continued visits have allowed us to make great friendships and build lasting relationships," Morehead said.
One of Rodalyn's colleagues in Guam, Yuka Hechanova signed up for the same MBA online accountancy program and is on track to become an MC graduate in May 2020. The School of Business now is accredited by AACSB International. Rodalyn Gerardo says that was a key factor attracting her to Mississippi College.
Professor Morgan was thrilled he and his wife, Becky, hosted Roger and Soledad Gerardo as their Mississippi house guests. The couple showed the people of Guam "love God and life."
Sign-up For Our Newsletter
Get the latest news about Mississippi College delivered right to your inbox by subscribing to the Along College Street e-newsletter.