MC Business Students Win Awards at Entrepreneurship Forum
---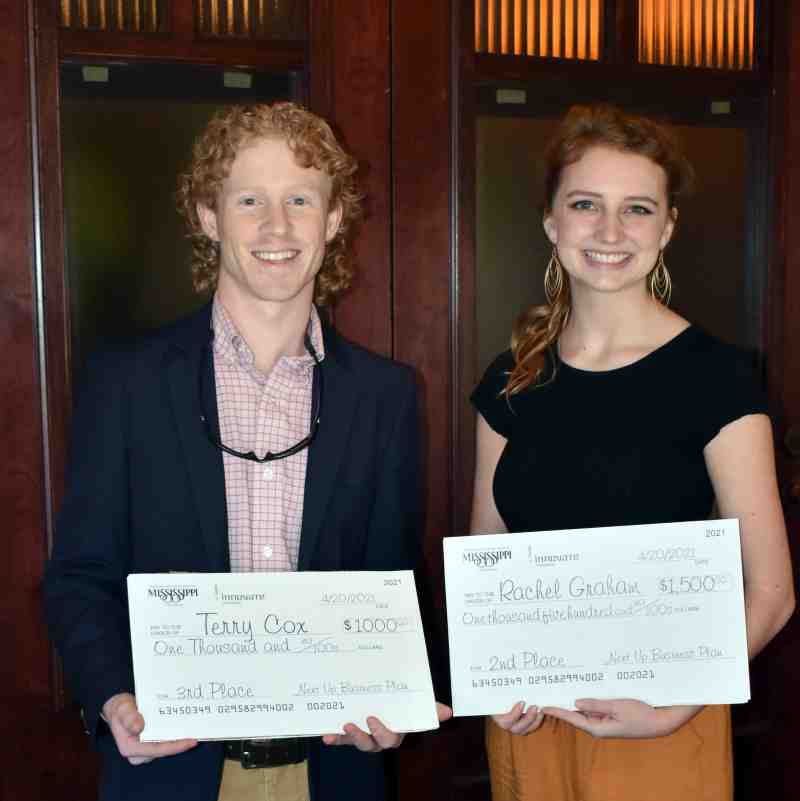 MC business students Terry Cox and Rachel Graham received awards at the 6th annual Mississippi Entrepreneurship Forum in April.
Rachel Graham pitched Studio 274 as her innovative business model at the 2021 Mississippi Entrepreneurship Forum.
A Mississippi College entrepreneurship and marketing major, Rachel impressed the judges to earn a 2nd-place award at the recent statewide competition. She received a $1,500 cash prize at the mid-April event.
Her model for ballet studios would strengthen parental involvement, get the community engaged, and make owners more business-minded. A Wetumpka, Alabama resident, Graham, 21, met with a mentor to polish her presentation several weeks before the 6th annual conference.
Mississippi College students captured two of the three top awards at the virtual event. The forum attracted students from Mississippi's eight public universities and three private institutions. MC student Terry Cox of Semmes, Alabama, achieved a third-place finish for his proposal promoting Argo Creations. It comes with a $1,000 award.
All future entrepreneurs, Graham, Cox, and Mississippi College MBA student Gema Casas presented their ideas at the April 13 activity dubbed the NextUp Student pitch.
School of Business Dean Marcelo Eduardo joined the salute to the three students at a Jackson restaurant luncheon on April 20. "We are so proud of these students and how well they represented MC and the JL Holloway Entrepreneurship Center."
The dean is elated to see the investment by J.L. Holloway is already paying dividends through the success of the MC business students.
Eduardo added their strong showing in the competition "reflects strongly on not only their natural abilities but the excellent entrepreneurship education that they receive in our program."
Eduardo commended entrepreneurship faculty members John Brandon and Tammy Arthur for their hard work to build this premier business program on the Clinton campus.
A native of Monterrey, Mexico, Casas received valuable feedback from the judges while promoting a sports-related business. "I want to encourage more women in business and be part of this trend," says the member of MC's nationally ranked table tennis team.
Leaders with the McLean Institute for Public Service and Community Engagement at the University of Mississippi partnered with Innovate Mississippi and the Mississippi Development Authority to make the conference a success. MC President Blake Thompson addressed conference attendees remotely from his office at Nelson Hall on Wednesday.
The J.L. Holloway Entrepreneurship Center is located in Self Hall on the Clinton campus. The outstanding facility is named for the distinguished Mississippi business leader, philanthropist, and generous MC supporter.
With awards announced April 14, MC's strong showing capped off a two-day virtual conference attracting 200 participants, mostly university students. The first-place award (and $2,500) went to Mississippi State University Neil Hickman for his Hickman Farms plan. It spotlighted a new way to feed cattle.
Serving as Mississippi Entrepreneurship Forum judges were extraordinary business professionals from around the Magnolia State. MC entrepreneurial development director John Brandon has been involved since the first statewide forum was held in Clarksdale in 2015. In recent years, the forum was booked in such cities as Tupelo, Greenwood, and Jackson (2019). The COVID-19 pandemic forced officials to cancel last year's conference.
Dean Eduardo and professor Brandon are eager to see what MC business students will accomplish at the 2022 Mississippi Entrepreneurship Forum. The event will be held at the Vicksburg Convention Center.
Sign-up For Our Newsletter
Get the latest news about Mississippi College delivered right to your inbox by subscribing to the Along College Street e-newsletter.