MC Equestrian Team Excels in Texas Competition
---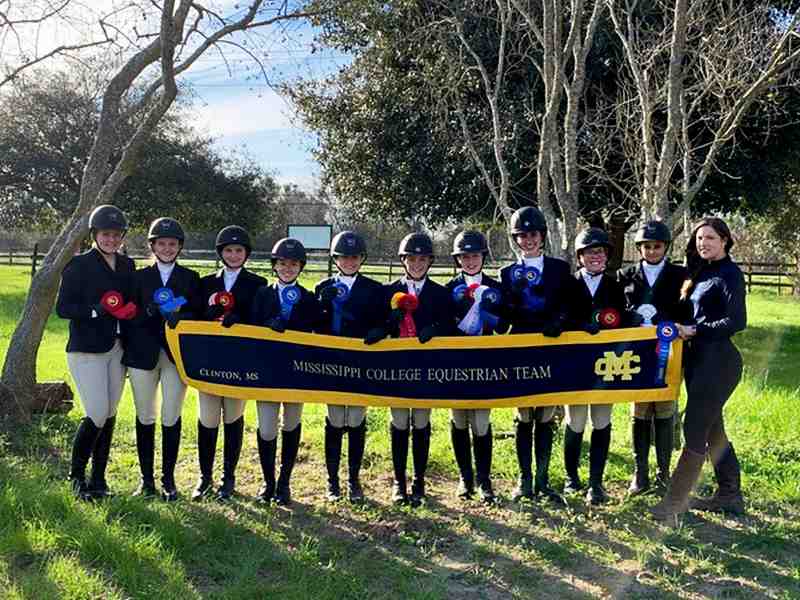 Mississippi College equestrian team in early 2020.
Mississippi College's stellar equestrian team tied for team high point champion during recent competition in Texas.
Knotted up against University of Texas and Louisiana State University, MC riders excelled on day two of the competition at Rice University in early February.
Up next: Mississippi College Lady Choctaws saddle up against Texas State University of San Marcos February 15-16.
Among MC riders with outstanding day one performances at Rice University were Grayson Manasco of Fairhope, Alabama. Grayson finished first in the intermediate division for over the fences and 2nd in over the flat.
MC's Georgia Wasson of Madison, Miss. finished first on the flat in the novice division. Kaitlin Williams of Hernando, Miss. captured first place on the flat in the introductory division. Mackenzie Beard of Katy, Texas recorded a second place showing on the flat in the limit division.
On day two, Grayson Manasco finished 1st in over the fences in the intermediate division. And she earned 2nd place ribbons on the flat.
Among other solid day two performances: Georgia Wasson in the novice division was first on the flat. Aubrey Smith of Vidalia, Louisiana was the rider recording first on the flat in the introductory division. Michelle Planchard of Covington, Louisiana earned 2nd on the flat in the pre-novice division.
Also on day two in the Lone Star State: Macy Urbanosky of North Richland Hills, Texas finished 2nd on the flat and third in over the fences in the open division. In the novice division, Miriam Berry of Brookhaven and her horse galloped to first on the flat.
"They had a great weekend as a team and as individuals," says Ann Skogerboe, the Mississippi College equestrian program director.
Skogerboe announced that MC equestrian team member Leslie Ann Fleming of Canton qualified for the Spring 2020 Intercollegiate Horse Show Association regionals in the walk/trot horse division. Macy Urbanosky qualified in two categories for regionals in the intermediate division - over the fences as well as on the flat.
In their 13th season, the Blue & Gold competes with 14 riders in a strong collegiate division spanning Mississippi, Louisiana and Texas. MC's team is based at Providence Hill Farm.
Sign-up For Our Newsletter
Get the latest news about Mississippi College delivered right to your inbox by subscribing to the Along College Street e-newsletter.