MC Law Colleagues Salute Retired Professor Lee Hetherington
---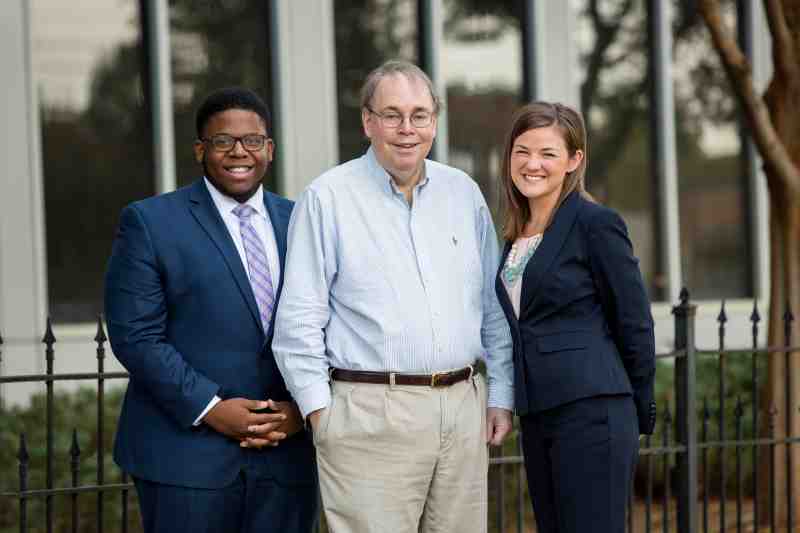 MC Law professor Lee Hetherington is pictured with students.
Lee Hetherington served as a phenomenal professor at the Mississippi College Law School for more than four decades.
Selected one of MC Law's outstanding professors on five different occasions, the Mississippi native left a void upon his retirement in May 2020.
Teaching courses in torts, negotiation, trademarks, unfair competition, copyright law and remedies, Hetherington has many admirers on the Jackson campus.
His legal career took him from New York City to California and to Jackson, Mississippi. He's represented numerous clients in the nation's entertainment industry. His first published work was an in-depth interview with country music superstar Merle Haggard.
MC Law Dean Emeritus Jim Rosenblatt is among the colleagues appreciative of his distinguished service as an educator.
"Professor Hetherington connected with his students in class in an unforgettable manner such that the lessons he taught them lived on," Rosenblatt said. "When I went on alumni trips, MC Law graduates would always ask about Professor Hetherington and tell me stories of his classroom teaching."
Phillip McIntosh, director of the Center for Civil Law Studies, calls the professor a legendary figure at MC Law. Hetherington was "famous for his tough, but entertaining examinations," he said. "He was passionate about his courses and always committed to his students."
Away from the East Griffith Street campus, the erudite educator was a huge fan of Elvis Presley, the rock 'n roll musical icon from Tupelo. "He was a noted Elvis imitator, suit and all," McIntosh said. "He is a great story teller with a great sense of humor. He is a repository of knowledge about the early days of the law school."
The former Jackson School of Law was acquired by Mississippi College in 1975. Accredited by the American Bar Association in 1980, MC Law continues to produce remarkable graduates thanks to a lineup of stellar professors.
Hetherington chaired the faculty recruitment committee when Professor Deborah J. Challener was hired at MC Law in 2003.
"He was my first introduction to MC Law, and I am forever grateful to him. He is a lovely person and good friend. He always made me laugh," says Challener, associate dean for academic affairs. "I miss seeing him around the law school. MC Law isn't the same without him!."
A graduate of Millsaps College, Hetherington earned his J.D. degree at the University of Mississippi School of Law. He holds an LL.M. with a specialty in trade regulation from the New York City School of Law. He began his legal career with Peermusic in New York City, where he was an assistant to the chief executive officer and house legal counsel.
In 1976, Lee returned to his hometown in Mississippi's capital city as a partner in the law firm of Frascogna & Hetherington where he represented clients in America's entertainment industry. He also began his teaching career at MC Law. In 1984, he moved to the West Coast as vice president of administration for Columbia Pictures Television Group in Burbank, California. But three years later, Hetherington returned to teaching law full-time.
The Mississippian recently formed Pathstar Education Group Inc. The company is an all-purpose educational resource for the gaming, hospitality and entertainment industries as well as serving law schools, law firms and corporate legal departments across the USA. He partnered with Jackson attorney Mike Frascogna to co-author the book "This Business of Artist Management." Published by Billboard Books in New York, the award-winning work is in its fourth edition. He's penned other books with Frascogna, including "The Lawyer's Guide to Negotiation." It was published by Billboard Books in 2011.
Hetherington served MC Law with distinction for decades, and colleagues say he's been missed this fall.
Lee Hetherington "was an insightful, creative and beloved teacher," said Professor Matt Steffey. "He shared a wealth of experience gained in entertainment law practice that spanned the country from New York to Los Angeles," Steffey said. "We will all miss his wit and wisdom."
Sign-up For Our Newsletter
Get the latest news about Mississippi College delivered right to your inbox by subscribing to the Along College Street e-newsletter.