MC Showcases Unique Campus Atmosphere to High School Students During Junior Day Event
---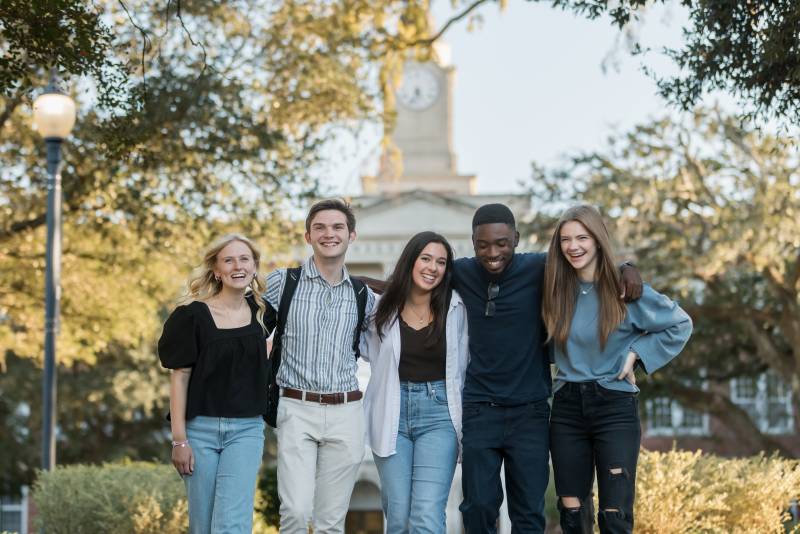 High school juniors and their relatives can interact with Mississippi College faculty, staff, and students and experience the Christian University's unique environment by participating in Junior Day at MC.
Like many high school students in the Magnolia State, Olivia Chance had always known about Mississippi College. What hadn't been clear were the many ways that the Christian University could enrich her life academically, socially, and spiritually.
All the McCall Creek native needed was an introduction.
"Junior Day was one of my first visits to Mississippi College," said Chance, now a freshman elementary education major at MC. "I got the opportunity to not only learn more about the University, but also meet new people who I am here with now. I got to walk around campus and see what a typical day was like here.
"Junior Day helped me realize I am right where I need to be."
Hundreds of high school juniors and their families from across the Southeast will discover what Mississippi College offers during a special "inside look" at the Christian University's Clinton campus tailored just for them.
Junior Day at MC, scheduled from 10 a.m.-3 p.m. on Tuesday, April 18, is an opportunity for the students, parents, relatives, and friends to experience MC's unique college environment, said Angie Hardin, director of admissions and enrollment operations.
"This is a crucial time for these students," Hardin said. "As juniors in high school, they are starting to look more closely at their options for college. We want to provide them with a great opportunity to include Mississippi College in that process.
"Junior Day gives this group of students the opportunity to come to campus and experience what it would be like to be a student at MC. They are in the serious college decision-making time, and students need to get a feel of the campus to see if it is a fit for them."
Hardin's team of admissions staff and student volunteer "Scouts" provide a comprehensive snapshot of campus life at the state's oldest institution of higher learning.
"We try to expose them to not only academics, but also the everyday life of a college student so they can see how wonderful MC is," she said. "Students can expect to speak with faculty members to learn about our incredible academics. They will also hear from their admissions counselors, tour the campus, and spend time with current students.
"These interactions allow the students to ask questions about our institution, but more importantly, they allow them to see how incredible the people of MC are."
After 10 a.m. check-in, the fun will begin with a dynamic opening session at 10:30 and campus tours led by MC student Scouts at 11. The visitors will be invited to lunch in Anderson Hall in the B.C. Rogers Student Center at noon, followed by separate breakout sessions at 1 p.m., where students will meet with admissions counselors, and parents will receive an overview of academic and financial aid opportunities at MC.
"The admissions counselors will answer questions about scholarships and financial aid, how to get admitted to MC, and anything else about the admissions process," Hardin said. "The Admissions Team will also walk alongside these students and make their college-decision process as smooth as possible."
The festivities will conclude with a spring social at 2 p.m., where the visitors will have an opportunity to visit with MC faculty and students on what event organizers hope will be a gorgeous spring afternoon.
Hardin said attendees can expect to leave the event with a greater understanding of how the students can benefit intellectually, socially, and spiritually from the MC experience, which should help simplify their college decision-making process.
"We want Junior Day to be an event where these students come and get a glimpse of college life before they are in the throws of making college decisions their senior year," she said.
For more information about Junior Day at Mississippi College or to register for the event, visit mc.edu/juniorday.
Sign-up For Our Newsletter
Get the latest news about Mississippi College delivered right to your inbox by subscribing to the Along College Street e-newsletter.