Melissa Bagwell Love Honored as 2020 Young Alumna of the Year
---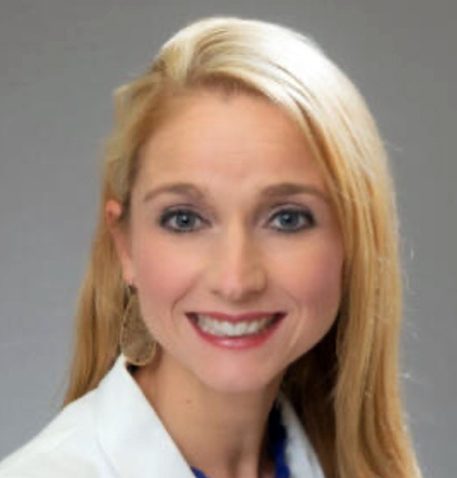 Dr. Melissa "Missy" Bagwell Love
A prominent Louisiana physician, Dr. Melissa "Missy" Bagwell Love, strengthened her interest in chemistry as a Mississippi College student.
Recently, MC Department of Chemistry and Biochemistry leaders honored Dr. Love as their Young Alumna of the Year for 2020.
The president of the student chapter of the American Chemical Society as an MC senior, Missy, graduated Summa Cum Laude at the Baptist-affiliated university in 2002. She discovered a love to serve as a primary care physician while attending the University of Mississippi Medical School from 2002-2006. She led the Family Medicine Interest Group as president as a fourth-year medical student in Jackson.
Significant honors have come her way before. The Baton Rouge resident was named the "New Physician of the Year" in 2009 for the entire Ochsner Health System in Louisiana. It is the largest health care system in the Bayou State.
At Ochsner, Dr. Love went on to complete several physician leadership programs. She serves on key committees – from primary care to the patient experience and virtual visits through telemedicine. Dr. Love is a member of the UMMC School of Medicine alumni board.
In Louisiana's capital city of Baton Rouge, she enjoys teaching medical students. An MC education helped Missy achieve her dreams in the medical field.
Mississippi College, Dr. Love said, "laid a wonderful foundation for me spiritually, academically, and professionally. I will be forever grateful for the amazing education, friendships, and connections that I continue to embrace at MC. Thank you for this amazing honor and recognition."
Away from serving patients, Dr. Love makes family a big priority. She and her husband, Jim Love, have been married for nearly 14 years. They are the proud parents of two sons, James, 6, and Joseph, 5, with both boys filled with energy. So is their mom. Missy enjoys running, cooking, and playing tennis.
Two decades ago, Missy was a very active student at Mississippi College. The Mississippi native participated in MC's London Semester program during the spring of 2000. The following summer, she began undergraduate research in the Computational Chemistry Group under the direction of chemistry professor Dr. David Magers. Before graduating from MC, she presented her research at several conferences and completed her Senior Honors Thesis.
While at Mississippi College, Missy was involved in the Laguna Social Tribe, multiple honor societies, and clubs.
Through the Computational Chemistry Group, Dr. Love forged friendships that became even stronger throughout medical school, residency, and private practice.
A 1998 Starkville Academy graduate, the Eupora native notes her love for chemistry dates back to 10th grade in high school. She volunteered to work on an international medical mission trip with her uncle, Dr. Jerry Graham, through the Southern Baptist Medical Mission Board. That great experience in Venezuela sparked her interest in service and a future career path to medicine.
The daughter of William Lee Bagwell and Lanell Dorroh Kellum, Missy, was thrilled to receive a scholarship to attend Mississippi College. As an MC freshman, she served as a student worker in the Department of Chemistry & Biochemistry. An excellent student worker back then on the Clinton campus, Dr. Love continues her pursuit of excellence as an extraordinary physician today.
Sign-up For Our Newsletter
Get the latest news about Mississippi College delivered right to your inbox by subscribing to the Along College Street e-newsletter.