Mississippi College Builds Partnership with Tufts Dental School
---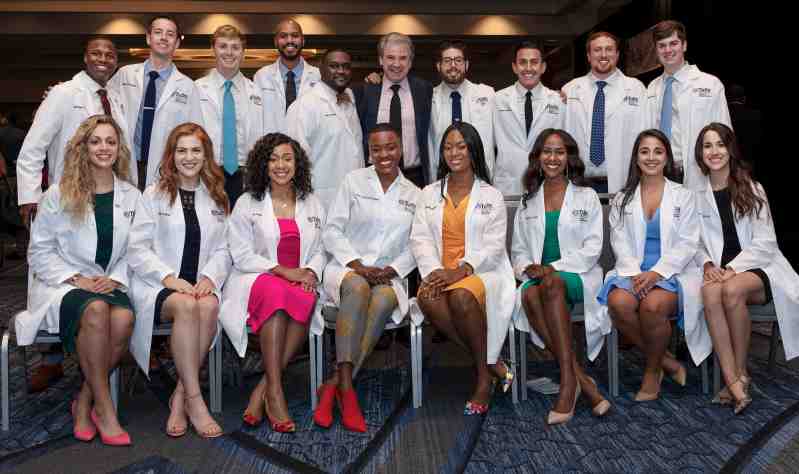 Dr. Stan Baldwin, dean of the Mississippi College School of Science & Mathematics, joins MC graduates at a recent Tufts University School of Dentistry White Coat ceremony. There are 18 MC graduates enrolled at the Tufts dental school in Boston this Fall.
Located in the Deep South, Clinton, Mississippi sits more than 1,400 miles from Boston, Massachusetts.
But Mississippi College leaders forged a path to make the cultural hub of New England a destination point for MC grads training to becoming dentists.
Thanks to a successful partnership, 18 MC graduates are enrolled at the Tufts University School of Dental Medicine this Fall. They're learning how to do root canals, pull wisdom teeth, and install braces, while serving thousands of Massachusetts citizens.
Founded in 1868, the private dental school in Boston ranks among the USA's very best. MC's master's degree in medical sciences helps hundreds of students prepare for rigorous dental or medical schools nationwide.
Sounds like a perfect marriage, and it is.
Stan Baldwin, dean of the School of Science and Mathematics, recently attended the White Coat ceremony at Tufts University to celebrate MC graduates advancing their dental education in Boston.
More MC grads will attend the Tufts School of Dental Medicine next year and beyond, Dr. Baldwin said.
Taylor Welborn believes his training at MC's medical sciences program got him well-prepared for his Tufts dental studies. "The grad program was extremely hard work, but it was a proving ground for me and my peers applying to professional schools," says the Ridgeland resident. "I wouldn't trade my time at MC for anything."
Classes like gross anatomy on the Clinton campus were perfect. "My foundational medical knowledge I gained from MC helped me tremendously here at Tufts."
Welborn earned his undergraduate degree at the University of Southern Mississippi. Taking his Southern accent to New England, he embraces the endless attractions in Beantown from museums to Fenway Park.
Other MC graduates at Tufts dental school are thankful they tackled tough classes in biochemistry, histology, and neuroanatomy on the Clinton campus. "Mississippi College was truly the most challenging and fulfilling academic experience I've had," said Camila Pachon, a native of Cali, Colombia.
After living most of her life in New England, Pachon hopes to return to Portsmouth, New Hampshire to practice dentistry. "Both MC and Tufts are amazing schools that I recommend to people all the time."
Other MC graduates like Anshelle Tucker of Nevada, Diego Lopez of Texas, Chris Hines of Illinois and Yadelie Beauvil of Florida are reaping the benefits of the pipeline to Tufts. "I am beyond blessed to have gone to MC," said Beauvil, a Miami resident who received her bachelor's degree at Florida State. "I made wonderful friends at MC, and we're able to continue on with our journey here together at Tufts."
Mississippi College put him on track for dental school, said Lopez after the San Antonio resident earned a bachelor's in applied mathematics at Texas A&M. "My experience at MC was life changing," he said. "I credit MC with teaching me to be a consistent and successful student."
A resident of Edwardsville, Illinois, Hines serves as vice president of his class at Tufts.
Dr. Robert Kasberg, associate dean for admissions and student affairs at Tufts dental school, recruits heavily from stellar master's programs like the one at Mississippi College.
Kasberg and Tufts dental school director of outreach, recruitment and admissions Dr. Jeanette Sabir Holloway regularly visits Clinton twice a year. "We hope to recruit as many MC medical sciences graduates to the Tufts University School of Dentistry as possible."
Graduate Dean Debbie Norris is impressed with the Mississippi College bridge to the New England school. "Our partnership with Tufts is a win-win for our students."
A professor of neuroscience and anatomy, Dr. Baldwin remains a key part of the Tufts partnership. He's the architect of the MC master's degree in medical sciences drawing outstanding students from across the USA and other countries.
Last year, the Baptist-affiliated university in Clinton placed 142 students into medical and dental schools.
The University of Mississippi Medical School and School of Dentistry in Jackson also remain popular choices for Mississippi College graduates. The UM dental school only accepts Mississippi residents. Many MC graduate students later attending dental schools come from outside the Magnolia State.
Sign-up For Our Newsletter
Get the latest news about Mississippi College delivered right to your inbox by subscribing to the Along College Street e-newsletter.