Mississippi College Chemistry Club Wins Major Award
---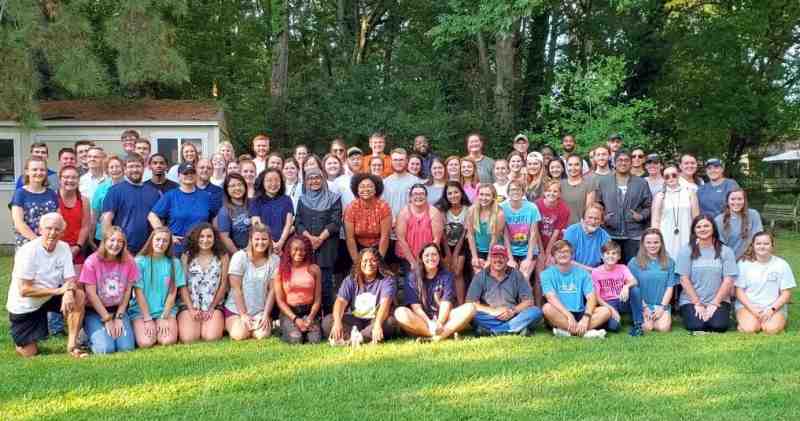 Mississippi College chemistry club members gather for a group picture.
Kayla Ryan loves tutoring students at area schools as a member of Mississippi College's chemistry club.
It is one of many activities for the award-winning chemistry club recently winning a prestigious award. The honor comes from the American Chemical Society. MC's club is recognized in "In Chemistry Magazine."
MC's 109-member chemistry club engages in a marathon of activities from one year to the next. The Mississippi College student organization ranks No. 2 worldwide in the events category for campus chapters. Students at the Baptist-affiliated university participated in 142 activities.
Tutoring teens from metro Jackson schools, Kayla says, is her favorite event.
Students coming for tutoring sessions "are incredibly smart, and eager to learn," says Ryan, 21, an MC junior from Picayune. "I feel we are really helping them, and often we can share insights with them as they begin thinking about their own college plans."
Receiving this annual award from the American Chemical Society is quite an honor for the Mississippi College club. It comes after hard work each year to ensure all events "are meaningful and enjoyable to the community," Ryan said.
"This club continues to get me excited about chemistry and gives me opportunities to work with my teachers and fellow peers on projects."
A member of Mississippi College's Class of 2021, Kayla Ryan serves as one of the club's officers. The 2017 Pearl River Central High graduate is in her third year with the group. Since the American Chemical Society's annual meeting in Philadelphia, Pennsylvania in late March was cancelled due to the COVID-19 crisis, the MC award will be mailed.
Professor Trent Shelby, the club's sponsor, is pleased to report MC's chemistry club received an "outstanding" award for the fifth consecutive year.
On a weekly basis, students offer free tutoring in the fields of chemistry, physics, math and biology to teens from nearby high schools.
MC chemistry club students also received six grants. Students pitched in at 21 science demonstration events. Stops included local schools, the Mississippi Museum of Natural Science and Olde Towne Market in Clinton. The MC students also grew a garden and sold produce at Clinton's "Fresh at Five Market." The list of achievements goes on.
The American Chemical Society includes more than 156,000 members and is the world's largest scientific society. In 2019, MC's members included Department of Chemistry & Biochemistry professors. Members listed: Trent Shelby, Clinton Bailey, David Magers, Shelley Smith and Shelby Raines.
Sign-up For Our Newsletter
Get the latest news about Mississippi College delivered right to your inbox by subscribing to the Along College Street e-newsletter.