Mississippi College Edges Delta State in Blood Drive
---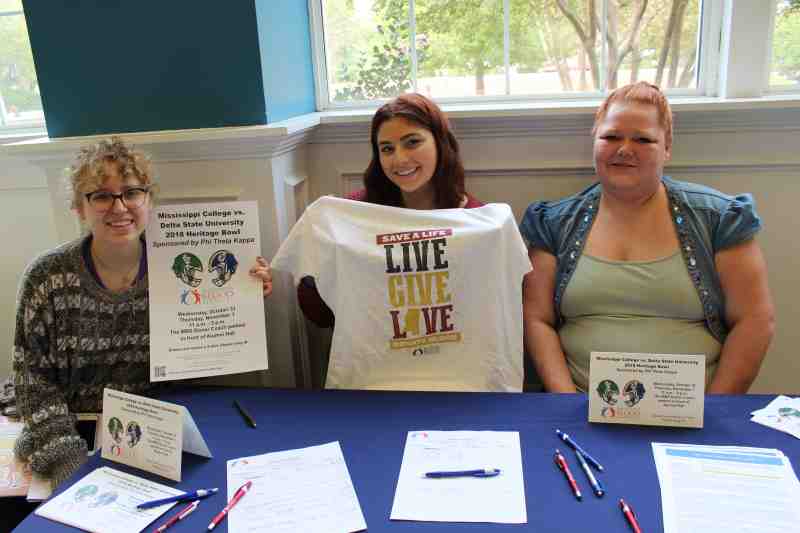 These Mississippi College students promoted the MC vs Delta State blood drive battle in Fall 2018.
Mississippi College students earned bragging rights in their 2018 blood drive battle with rival Delta State University.
MC tallied 67 units of blood compared to 46 units for Delta State. As a result, the Mississippi Blood Services Heritage Bowl trophy will go to representatives from Mississippi College.
The honor will be presented at Saturday afternoon's MC football game with Delta State on the Cleveland campus. Kickoff is 2 p.m. for the Gulf South Conference contest on November 10.
The MBS Heritage Bowl blood drive trophy remained in Delta State's hands the past two years. Bringing it back to MC's Clinton campus should be a nice post-game journey for supporters of the MC Choctaws. The trip takes two hours.
But really, both Mississippi schools remain winners by donating a total of 113 units of blood to serve patients at dozens of hospitals across the Magnolia State.
"We rely heavily on our colleges and universities (for donations) during the Fall months," says Tammy Bouchillon, a marketing staffer with Mississippi Blood Services based in Flowood.
Mississippi College's Phi Theta Kappa chapter sponsored the two-day blood drive on the Clinton campus. "They did an excellent job rallying the students to donate blood and reclaim the title," Bouchillon said.
There were 35 units of blood collected at Mississippi College on October 31, and 32 additional units on November 1.
It was great to see both Mississippi institutions in the Gulf South Conference step up their game in terms of blood donations, she said.
The timing couldn't have been better.
"The Fall months are critical as they serve during a period when we must overcome summer shortages," Bouchillon said. Also, the blood drives are important when holidays approach and donations take a dip statewide.
Mississippi Blood Services sponsors other friendly collegiate campaigns. The Transylvania Bowl features competition between students at the University of Mississippi, the University of Southern Mississippi and Mississippi State University.
MBS drives also pit students at Jackson State University against rivals Alcorn State University and Mississippi Valley State University.
In the end, Mississippi hospital patients are the ones who triumph.
In early 2019, Mississippi Blood Services drives are set for January 22-23 at Mississippi College. Large MBS buses with their employees aboard will park near Alumni Hall and Provine Chapel.
Founded in 1979, Mississippi Blood Services is an FDA licensed blood center. Donors never leave empty-handed on college campuses. All donors receive free MBS T-shirts.
Sign-up For Our Newsletter
Get the latest news about Mississippi College delivered right to your inbox by subscribing to the Along College Street e-newsletter.