Mississippi College Entrepreneurship Center Welcomes Business Leaders
---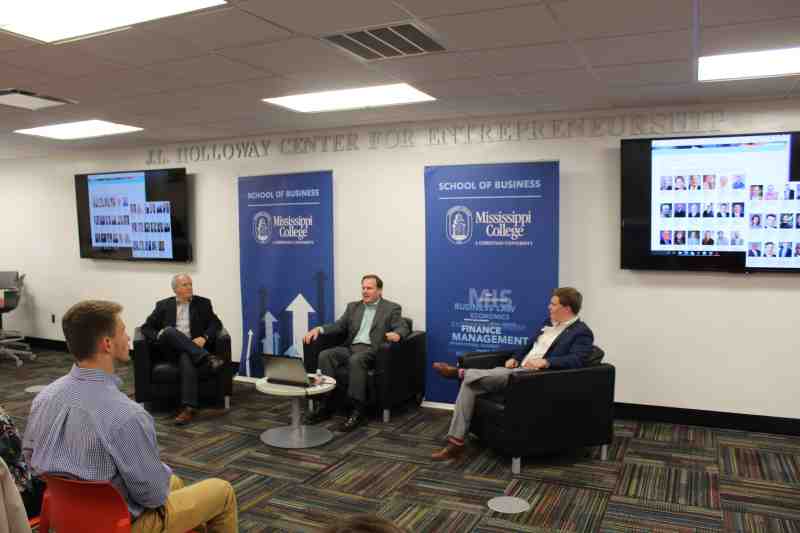 Executives Bruce Deer and Tony Jeff of Innovate Mississippi join business student Drew Donahoe at a February 28 forum at Mississippi College's School of Business. Jeff serves as president and CEO of the Jackson-based company.
The J.L. Holloway Center for Entrepreneurship at Mississippi College is the place where business students learn from some of the most innovative executives in the nation.
That was the case when Tony Jeff, president & CEO of Innovate Mississippi, shared his knowledge about the state's growing list of startups. His "think tank" firms works with at least 70 companies annually to help them succeed.
Lots of companies fail, but many firms overcome obstacles and are thriving. "We are like Mississippi's Shark Tank," Jeff told students at the School of Business. At a February 28 forum on the Clinton campus, he encouraged students to share their ideas, build a team, and keep driving to pursue their dreams.
Mississippi College students with dynamic business models may never appear on ABC's hit show "Shark Tank" before millions of TV viewers. But they can still achieve a great deal despite a few failures along the way, students were advised.
Tony Jeff gave students plenty of food for thought at the center named for J.L. Holloway, founder of Tenax Aerospace in Madison, Mississippi in 2003. The company leases aircraft to the U.S. government. The self-made industrialist also launched HAM Marine more than 40 years ago. Holloway received an honorary Doctor of Business degree from Mississippi College in 2016 to salute his generous support to the university.
Forums with proven leaders like Tony Jeff at the J.L. Holloway Center for Entrepreneurship are beneficial to students. "These programs provide our students with a wonderful opportunity to bounce ideas and learn from successful entrepreneurs," says School of Business Dean Marcelo Eduardo.
Joining the discussions were Bruce Deer, entrepreneur-in-residence at Innovate Mississippi, and Drew Donahoe, president of the MC student entrepreneurship group.
Deer advised students to keep in mind it will take longer to achieve goals than initially expected. And it will usually require more money to get there as well.
Based in Jackson, Tony Jeff's company is making a major economic impact in Mississippi by helping create more than 1,300 startups over two decades.
Launched in 2018, the Baptist-affiliated university's center and new entrepreneurship major are attracting students to the School of Business.
"What we are seeing on a university level is an increased interest in entrepreneurship from our student population," says business professor John Brandon, who heads the program.
Creativity, and bold new business ideas are encouraged at the Lloyd E. Roberts Innovation Classroom in Self Hall.
The School of Business forum on Thursday won't be the last. Other professionals in the business world will be booked at Mississippi College to share their insights for years to come.
Successful leaders at companies like Innovate Mississippi give students a fresh glimpse of what's happening in a fast-changing business climate, Brandon said. "Our students in entrepreneurship have so many possibilities for their future."
Sign-up For Our Newsletter
Get the latest news about Mississippi College delivered right to your inbox by subscribing to the Along College Street e-newsletter.