Mississippi College Family Donates to Help Hurricane Laura Victims
---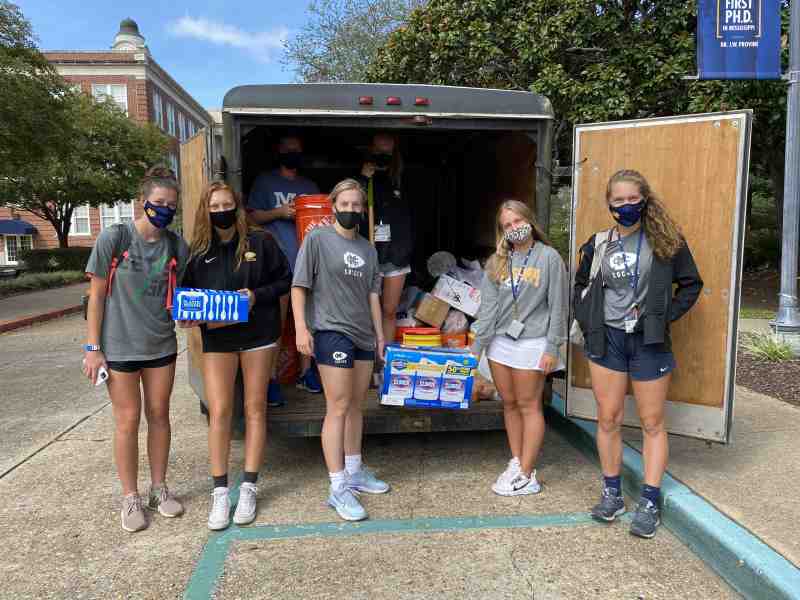 MC Lady Choctaws soccer players helped collect donations for Hurricane Laura victims in Louisiana on September 14. Pictured in front of the trailer: Heather Sullivan, Emma Young, Katie Crochet, Maryella White and Avery Hederman. In the back of the trailer: Beatrice Currie and Ashton Storey.
Mississippi College students, faculty and staff teamed to provide supplies to help Louisiana neighbors recover following the fury of Hurricane Laura.
A trailer parked near Provine Chapel was packed with bottled water, cleaning supplies and much more. MC Office of Community Service staff coordinated the campus effort with Morrison Heights Baptist Church in Clinton. MC Lady Choctaws soccer players stayed busy early this week collecting items to help fill an 18-wheeler at the church.
In late August, Laura slammed into southwestern Louisiana communities including Lake Charles, Holly Beach and Cameron, as well as east Texas. There were at least 25 deaths due to the powerful storm.
Hurricane relief efforts at Mississippi College in recent days tallied 4,018 items from at least 105 individuals, says Community Service Center director Shari Barnes.
"We felt that giving to the victims of the hurricane was a concrete way that we could use our platform to serve others," said MC Lady Choctaws soccer player Avery Hederman. The Jackson Academy graduate noted the MC soccer team holds itself to high standards, encompassing such qualities as humility, grace and selflessness. "Everyday we work to live out these values within our team and across our community."
The campaign ending in mid-September reflects the core values of a Christian university that repeatedly steps up when disasters strike, leaders say.
"Giving back to the community is always a great way to demonstrate Jesus' command to love our neighbors," says Wayne VanHorn, dean of the School of Christian Studies and the Arts.
"However, when natural disasters, like hurricanes and tornadoes strike, the imperative to love our neighbors intensifies. God's love is greater than the worst disasters, but God wants His people to demonstrate that love through sharing."
The USA's hurricane season in 2020 impacted millions of people, and is far from over. This week, Hurricane Sally hammered cities such as Mobile, Gulf Shores, Alabama and Pensacola, Florida with extensive flooding reported.
Student Government Association Vice President Damon Wright says MC efforts to help neighbors fits the Christian university's focus this year to be "Strong and Courageous," during the COVID-19 pandemic.
"We need to be strong and lift up those that are dealing with this natural disaster," Wright said. Mississippi College, he said, must be "courageous in our attempts to extend a helping hand to our brothers and sisters in Christ."
An SGA leader from Alabama and Choctaws football player, Damon believes students "must love our neighbors as ourselves. I feel as though that greatly applies with those affected by this hurricane."
In early September, Morrison Heights Baptist Church in Clinton partnered with a Louisiana church to provide disaster relief. An 18-wheeler was loaded with food, water, generators and other items to a church in Loganville. The city in the Bayou State is located 30 miles north of Lake Charles. The first load on September 2 included 14 pallets of bottled water, 7 generators, non-perishable foods, paper goods and other necessities.
Laura hammered Louisiana in late August or 15 years after Hurricane Katrina devastated the Mississippi Gulf Coast, New Orleans, and other communities in the region. Hurricane Laura ripped apart buildings, destroyed power grids and littered streets with debris. Repairs are expected to take weeks, if not months, in Louisiana.
Sign-up For Our Newsletter
Get the latest news about Mississippi College delivered right to your inbox by subscribing to the Along College Street e-newsletter.