Mississippi College Family Mourns Loss of Quintessential Alumnus, Magnanimous Supporter
---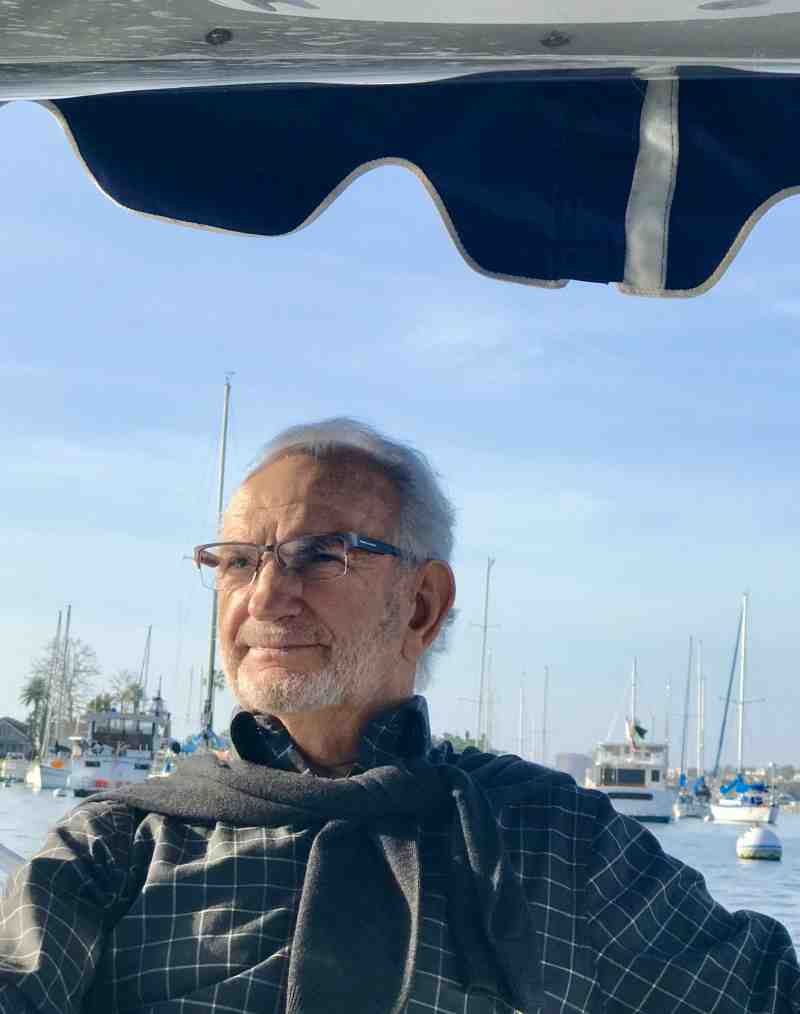 In one of his favorite photos, Dr. Sam Anderson enjoys a bright day on the water. The ardent MC supporter died April 6 in his adopted state of California.
Dr. Sam Anderson, a successful businessman and careerlong supporter of Mississippi College whose ardent promotion of his alma mater among his friends and colleagues in his adopted state of California earned him the nickname "Mississippi," died April 6. He was 86.
A memorial service is scheduled for 2 p.m. on Saturday, May 14, at St. Mark Presbyterian Church in Newport Beach, California.
Dr. Blake Thompson, MC president, said although Anderson lived more than 2,000 miles away, he remained a constant presence on the MC campus.
"Sam Anderson's support for Mississippi College was generous and selfless, and his commitment to this University was unequaled," Thompson said. "His was a story of exceptional resilience and faith, and he made the most of the abilities God gifted him with to improve the lives of others.
"The contributions he has made to MC will benefit generations of students."
"Sam Anderson was one of the finest and most magnanimous supporters of MC," said Dr. Bill Townsend, MC vice president and general counsel. "He was interested in all things Mississippi College, from athletics to zoology. He cared about everything."
Dr. Jim Turcotte, vice president and executive director of the alumni association at MC, called Anderson a "once-in-a-generation" MC graduate.
"He has been very generous to the college through the years and has supported us in many different ways," Turcotte said. "He's helped us recruit students and helped us with our residential property, and he was just a fantastic individual.
"He kept up with whatever was going on at MC, and made trips back to campus as often as he could. We have been blessed that he was among a handful of individuals to have had a great impact on the college, and he'll be missed greatly."
Katrina Pace, executive director of Giving and Development at MC, enjoyed a longstanding relationship with Anderson and visited with the quintessential Mississippi College alum in California recently. She said he was as excited to hear about his alma mater as ever.
"He had detailed questions about MC and was engaged and supportive of Dr. Thompson and the administration," Pace said. "He was vivacious and considerate with how he might support the college. He was always such a vibrant person, and wanted to make sure everybody on campus was included and had the ability to be involved.
"He was such a solid human being. He was genuinely interested in every single person. He treated everybody the same. He cared about their success, individually and collectively, no matter what group they happened to be in, and had a wide impact on a broad audience of people."
Born into a sharecropping family in Smith County during the Great Depression, Anderson worked numerous jobs as a teenager, including stints as a carhop, a grocery store stock clerk, and a construction worker. A small-statured yet scrappy offensive lineman, he earned Little All-America honors while playing on the MC football team, served as vice president of the Student Government Association, and met his first wife, Mary Ann Holland '57, at the Christian University.
Anderson earned a degree in chemistry at MC in 1957 and planned to attend medical school. After two years at the University of Mississippi Medical Center, he decided to enter the pharmaceutical industry as a salesman. His uncanny knack for sales and business management led to a successful career that saw him move into high-profile leadership positions. His profession eventually led him to Newport Beach, California, but he never lost sight of Mississippi College.
In 1995, Anderson served as a volunteer for "Think Together," a tutoring program for underprivileged children in California, and mentored several students who went on to attend college and begin successful careers of their own. In 2006, he established a similar tutoring center in Clinton, teaming with his alma mater to establish the MC Discovery Center.
A 1988 Order of the Golden Arrow recipient, Anderson was presented an honorary doctorate from Mississippi College in 1993. He was named MC's Alumnus of the Year in 2001 and the MC Department of Chemistry's Distinguished Alumnus in 2002, and was a charter member of the Mississippi College Foundation Board. He was inducted into the MC Sports Hall of Fame in 2003. The banquet hall in the B.C. Rogers Student Center is named the "Samuel D. and Mary Ann Anderson Family Hall" in his honor.
"He received a lot of awards and honors from MC, and he was grateful for every one of them," Turcotte said. "He was the kind of person who did not seek attention – he just wanted to give back to the college, and he did so his whole life."
Mary Ann died soon after the couple's 39th wedding anniversary. Their son, Sam '86, daughter, Ann '87, and daughter-in-law, Kathryn Mann '86, all graduated from MC. In 2001, Anderson married Susan Smith Jenkins.
In 2018, Anderson published a memoir, "From the Cotton Patch to High Cotton," that became an inspirational tome for many of his friends and business associates. In it, he summed up his devotion to Mississippi College:
"My early, transformative years at MC have made a significant impact on my character, empathy, and faith in God, and have given me a singular pride in the institution," he wrote. "Mississippi College and I have a bond that I expect never to be broken.
"We each forgive the other for our foibles."
Sign-up For Our Newsletter
Get the latest news about Mississippi College delivered right to your inbox by subscribing to the Along College Street e-newsletter.