Mississippi College Homecoming 2020 Rated a Success
---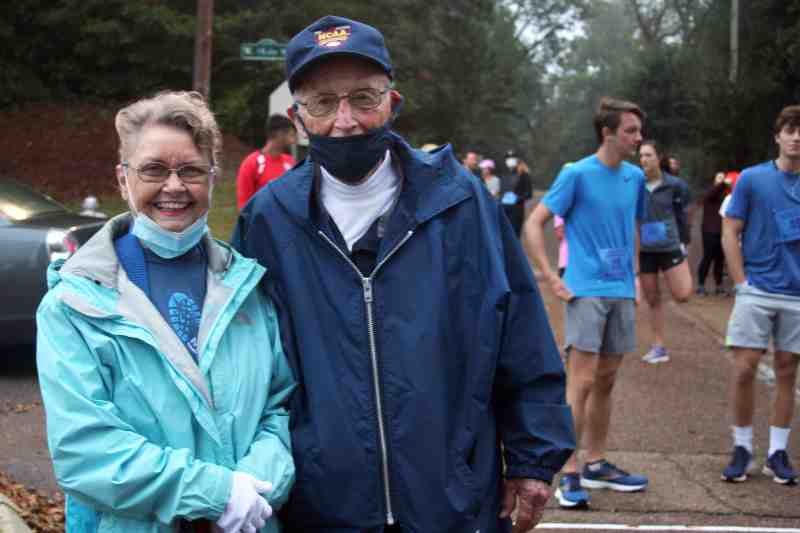 Hap and Johnny Ruth Hudson
Mississippi College's 2020 Homecoming consisted of an alumni golf tournament, a 5K road race, and several virtual class reunions.
With in-person events drastically limited due to the COVID-19 pandemic, school leaders viewed the annual fall Homecoming to be a success. The plethora of activities, from a Choctaws football game to a Homecoming parade, an MC Singers concert & more, will return to the Clinton campus in October 2021, officials say.
The tournament at the Patrick Farms Golf Course in Pearl drew more than 50 participants on October 23. One day later, there were 87 runners taking part in the 5K run/walk starting at Cockroft Hall. The event is a tribute to beloved MC coach and educator Hap Hudson of Clinton.
"All in all, I thought it was a great event, even in somewhat unpleasant conditions (cold & wet)," said MC Kinesiology Department Chair Chris Washam.
Once again, the Kinesiology Department served as the race sponsor. Professor Suzanne McDonough did an outstanding job as the race director. The 5K run/walk beginning always attracts a large number of Hap's admirers in Central Mississippi and beyond. The Kinesiology Student Association adopted the race as one of its fall projects.
The alumni golf tournament also was a hit, and the fall weather cooperated at the 18-hole course in Rankin County. The tournament had a record number of 13 sponsors and 16 teams.
Adding more spice to the Homecoming events on October 23-24 was a series of alumni reunion meetings via Zoom. Classes of MC grads normally gather on the Clinton campus for lunches, photos, and time to renew friendships.
"Homecoming went very well," said administrator Jim Turcotte. "Our Zoom reunion meetings were very well-attended and enthusiastic."
Zoom sessions reached alumni across the USA. "We also connected with alumni in other countries like China, Saudi Arabia, Brazil, Germany, and South Korea," Turcotte said. "By all accounts, this was a very successful event."
There were a few technical glitches with some of the Zoom gatherings and some were dropped from the schedule. Officials say they plan to reschedule those meetings.
But the Blue & Gold Homecoming spirit was there even though many alums couldn't participate in person, with the exception of two popular sporting events. "All indications are that Mississippi College is very strong and has many loyal alumni," says Turcotte, vice president for enrollment services and executive director of alumni affairs.
MC's major award winners and those receiving departmental honors this fall will be invited to the Clinton campus for the 2021 Homecoming next October.
Sign-up For Our Newsletter
Get the latest news about Mississippi College delivered right to your inbox by subscribing to the Along College Street e-newsletter.