Mississippi College Hosts 2020 Dixie Division Table Tennis Tournament
---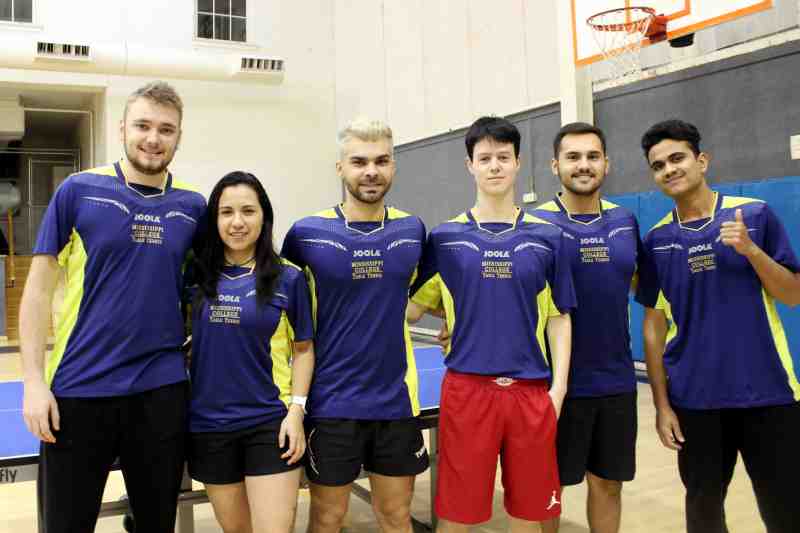 Mississippi College table tennis players are pictured at a January practice at Alumni Gym.
In 2015, Mississippi College's table tennis team captured the national championship. Led by stars from China, including Cheng Li and Yichi Zhang, the Choctaws edged perennial champ Texas Wesleyan University in Wisconsin.
A year ago at the national championships in Greensboro, North Carolina, the MC team finished No. 2 in North America. The Blue & Gold takes a big step toward competing on the national stage again by hosting the Dixie Division tournament February 8.
The free event at Alumni Gym on the Clinton campus begins at 9 a.m. that Saturday and is open to the public. The lively games should wrap up by mid-afternoon.
Paddlers from the University of Alabama, South Alabama, and Alabama-Huntsville are among MC's opponents. The University of Mississippi is expected to bring a team to Clinton for their first appearance this season.
Part of the National Collegiate Table Tennis Association, the Dixie Division spans Mississippi, Alabama, along with portions of Tennessee and Florida. MC won the 2019 Dixie Division tournament during the university's 2019 Homecoming in late October. The South Alabama Jaguars finished as the runner-up.
"If you haven't seen them compete before, the MC table tennis team is a mighty bunch in 2020," says squad sponsor Andy Kanengiser. "We encourage table tennis lovers on the Clinton campus and across Central Mississippi to cheer the Choctaws. Their amazing skills with their paddles – from offense to defense - are off the charts."
The MC squad in the new decade resembles the United Nations. There are talented student-athletes from Mexico, Brazil, Ukraine, Japan and the USA.
Players include Paola Casas, an MBA student from Mexico, Vladislav Totkalo of Ukraine, Captain Harry Sharma of Japan, and Boliang Lyu of California. Newcomers include Brazil's Daniel Godoi, who seeks a bachelor's degree in electrical engineering. Vladimir Lushnikov and Gustavo Souza round out the team.
Vlad Totkalo showed off his jaw-dropping game skills by finishing second in a New Orleans tournament in November. Away from table tennis and his studies, Vlad is a huge fan of the Toronto Raptors, the 2019 NBA champs.
If Mississippi College finishes No. 1 at the Dixie Division tournament, the Choctaws get invited to the NCTTA Regionals. The February 29-March 1 games will be played at Texas Wesleyan University in Fort Worth. The 2020 national championships are set for early April in Round Rock, Texas.
NCTTA leaders oversee the Olympic sport for more than 150 college table tennis teams across the USA and Canada.
Sign-up For Our Newsletter
Get the latest news about Mississippi College delivered right to your inbox by subscribing to the Along College Street e-newsletter.