Mississippi College Nursing Graduate Katie Roberts Serves on Frontlines in New York
---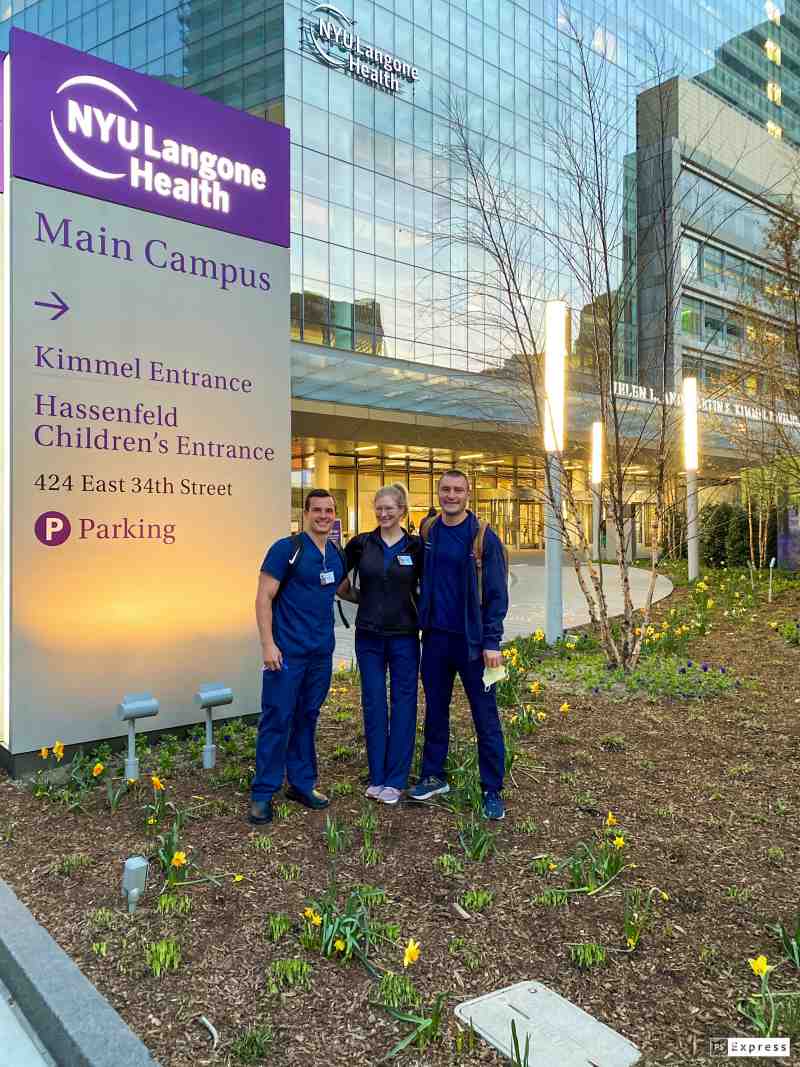 University of Akron nursing students Mike Hronec, Katie Roberts and Cody Ellis are recently pictured outside a New York City hospital where they work. Katie earned her undergraduate degree in nursing at Mississippi College. Photo courtesy of the University of Akron.
Mississippi College nursing graduate Katie Roberts felt called to serve COVID-19 patients at a New York City hospital.
New York is the epicenter of the pandemic with more than 353,000 coronavirus cases and over 22,843 deaths in the Empire State the past few months. Roberts worked demanding 48-hour weeks treating COVID-19 patients at the New York University Langone Health Hospital in Manhattan.
At the NYC hospital's intensive care unit, Katie teamed with two other graduate students from the University of Akron's Nurse Anesthesia Program.
A registered nurse, Roberts joined many health professionals stepping up in the midst of the health crisis across the USA. New York City reports more than 15,789 coronavirus deaths as of May 20.
"I couldn't stay quarantined in the comfort of my home thinking one person could die from a lack of staffing," Roberts said in a May 14 news story released by the University of Akron.
Katie joined fellow Akron graduate students Mike Hronic and Cody Ellis on the frontlines at the NYC hospital for more than a month this Spring. The Akron program is the largest in Ohio, with its work stretching to 35 clinics statewide.
A May 2008 Mississippi College School of Nursing graduate, Roberts is viewed as an extraordinary role model for all healthcare professionals.
She's got many admirers on the Clinton campus – from School of Nursing Dean Kimberly Sharp to faculty members. Katie is the niece of retired Mississippi College business professor and dean Lloyd Roberts of Clinton.
In the hospital's intensive care unit, the three Akron graduate students administered breathing treatments for COVID-19 patients, managed ventilators, checked their blood flow and handled other critical care assignments. Katie was on the job near the ICU bed of one COVID-19 patient when his wife connected with him via Facetime.
MC School of Nursing professors salute Katie Roberts for serving with excellence during the pandemic.
More than a decade ago, Ricky Lewis was an adjunct professor in the School of Nursing and remembers Katie as a stellar student. She served with various community service programs – from area health fairs to initiatives designed for students in Clinton public schools.
Lewis now chairs the School of Nursing's undergraduate program. He's thankful to Katie Roberts "for being a professional role model for all healthcare professionals, especially for students in the School of Nursing. We are so proud of you."
Her accomplishments at the NYC hospital at 424 East 34th Street speak to the core mission of the Mississippi College School of Nursing.
"The philosophy of our program is based on the concept of Christian caring," Lewis said.
Katie's willingness to serve COVID-19 patients in the middle of the health emergency in New York City, the professor said, represents "an example of what we teach in the School of Nursing."
School of Nursing Dean Sharp joins colleagues taking on additional duties at Mississippi College during the COVID-19 crisis. Dr. Sharp and Dr. Steve Martin, director of the university's physician assistant program, are co-chairs of MC's Medical Crisis Response Task Force. The group will help guide Christian university leaders to make crucial decisions to safeguard the health of MC employees and students.
Sign-up For Our Newsletter
Get the latest news about Mississippi College delivered right to your inbox by subscribing to the Along College Street e-newsletter.