Mississippi College Receives Solid National Rankings in Magazine Survey
---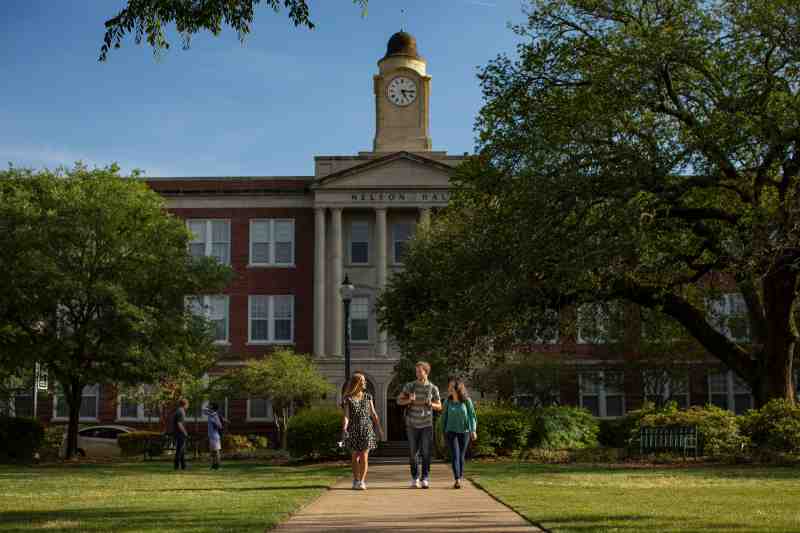 Hanna Tucker believes Mississippi College's strong rankings in "U.S. News & World Report" are well-deserved.
"It's a great school and I love it here," says Tucker, 20, an MC junior from Pearl. "We have great professors. Our teachers are very helpful."
A Central Hinds Academy graduate and history major on the Clinton campus, Hanna says the new rankings released September 10 come as no surprise.
The magazine's annual profile of America's colleges ranks MC No. 16 as a Best Value School among the South's top Regional universities. The survey weighs costs, while measuring academic quality. MC lists tuition and fees as $18,026 for the 2018-19 academic year.
Smaller classes are a big plus for students taking courses on the Clinton campus. The magazine points out that nearly 55 percent of MC's classes have fewer than 20 students.
Mississippi College is also ranked No. 22 among the South's leading regional universities as an institution that addresses the needs of military veterans. MC also is rated 22nd best in terms of its undergraduate teaching in the region.
Overall, MC is rated No. 32 among the South's regional universities when examining costs, graduation rates, class size, retention and other key factors. It exceeds the No. 42 ranking for both the University of Tennessee-Martin and Marshall University in West Virginia and No. 46 rating for Radford University in Virginia. Elon University in North Carolina is listed No. 1.
The annual "U.S. News & World Report" guide serves as a handy reference for students and parents exploring higher education possibilities.
Mississippi College administrators say the magazine's latest rankings reflect what they've been saying for years.
"MC faculty and staff care deeply about our students," says Mark Davis, director of admissions for graduate programs. "It's great to see rankings such as these reflect those sentiments."
There are numerous college rankings now used across the USA. But "U.S. News & World Report" is "one of the most prestigious," says Graduate School Dean Debbie Norris.
The magazine's "Best Colleges" guide looks at 16 measures of academic quality, including first-year student retention, graduation rates and strength of the faculty, she noted. A peer assessment is done along with it.
From one year to the next, Mississippi College "consistently exemplifies quality in numerous collegiate areas," Norris said.
The ranking comes out just days after the Baptist-affiliated university announced an uptick in Fall enrollment, growth of 77 students from a year ago. There are now 5,138 students enrolled as of August 30. MC recently began its 193rd academic year under new President Blake Thompson.
Ron Howard, vice president for academic affairs, says the "U.S. News & World Report" survey reflects what university recruiters are telling prospective students and parents.
"This superb ranking represents not only the academic quality of our professors and students," Howard said. It speaks to MC's "dedication to providing the very best education at the most affordable price."
School of Business Dean Marcelo Eduardo says the new ranking showcases the university's outstanding professors. "This is an appropriate recognition for the quality and value that we bring to the marketplace," he says. "It also attests to the dedication of our faculty who ultimately deliver that quality."